You are here
Jordanian women excelling in science, technology invited to apply to US exchange programme
By Mohammad Ghazal - Nov 27,2016 - Last updated at Nov 27,2016
AMMAN — Jordanian women leaders in science, technology, engineering and mathematics have the opportunity to compete for a mentorship programme in the US under the TechWomen initiative.
The initiative, implemented by the US Department of State, brings emerging women leaders in science, technology, engineering and mathematics (STEM) from Africa, South and Central Asia, and the Middle East together with their professional counterparts in the US for a mentorship and exchange programme based in San Francisco.
During the five-week programme, participants engage in project-based mentorships at leading companies in the San Francisco Bay Area and Silicon Valley, Molly Pyle, the programme officer at the TechWomen, told The Jordan Times via e-mail recently.
The 2017 programme will include 100 women from Algeria, Cameroon, Egypt, Jordan, Kazakhstan, Kenya, Kyrgyzstan, Lebanon, Morocco, Nigeria, Pakistan, the Palestinian Territories, Rwanda, Sierra Leone, South Africa, Tajikistan, Tunisia, Turkmenistan, Uzbekistan and Zimbabwe, Pyle added.
The deadline for applications to the 2017 programme is January 17, 2017.
Semi-finalists will be contacted via e-mail by March 2017. Final decisions will be made no later than early May 2017, according to the initiative's website.
"We are looking for women who have demonstrated themselves as emerging leaders in their chosen profession, through their work experience, volunteer experience, community activities and education," the statement said.
TechWomen's mission is centred on empowering and supporting change agents around the world, according to the organisers.
TechWomen empowers, connects and supports the next generation of women leaders in STEM by providing them with the access and opportunity needed to advance their careers, pursue their dreams, and inspire women and girls in their communities, the organisers said.
Through mentorship and exchange, TechWomen strengthens participants' professional capacity, increases mutual understanding between key networks of professionals, and expands girls' interest in STEM careers by exposing them to female role models, according to the programme's website.
Related Articles
Jan 08,2018
AMMAN — Jordanian women leaders in science, technology, engineering and mathematics (STEM) are offered the opportunity to compete for a ment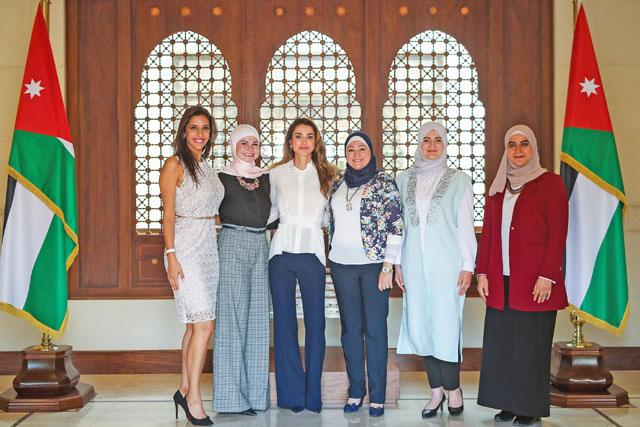 Nov 13,2017
AMMAN — Her Majesty Queen Rania on Monday met with five Jordanian entrepreneurs and businesswomen to congratulate them on their success at T
Sep 28,2017
AMMAN — Five Jordanians were selected to participate in "TechWomen", the "largest gathering for women in tech in the US", the Jordan News Ag
Newsletter
Get top stories and blog posts emailed to you each day.