You are here
Queen meets with TechWomen 2017 winning Jordanian team
By JT - Nov 13,2017 - Last updated at Nov 13,2017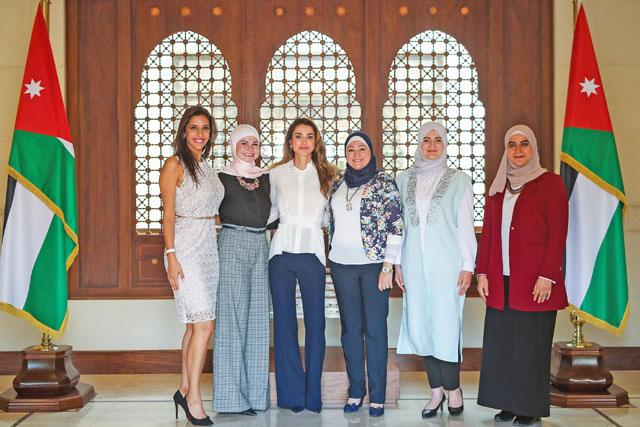 Her Majesty Queen Rania meets with five Jordanian entrepreneurs and businesswomen in Amman, on Monday (Photo courtesy of Royal Court)
AMMAN — Her Majesty Queen Rania on Monday met with five Jordanian entrepreneurs and businesswomen to congratulate them on their success at TechWomen 2017, which was held in Silicon Valley in October.
The Queen commended them on their winning project, titled "Orphans in Jordan", which consists of a digital platform aimed at increasing orphan's low enrollment rates in institutes of higher education, according to a statement from Her Majesty's office.
Her Majesty also expressed her pride in their achievements, and discussed with them the important impact their project will have on their community, paving the way for other Jordanians to similarly excel.
Hailing from across the Kingdom, the Jordanian team consisted of Aseel Al Musa, Nour Al Tobasi, Ala'a Agha Karss, Hiba Shabrouq and Dhelal Shorman, who were among 100 participants chosen from a total of 4,000 applicants from 20 countries.
The team was awarded one of five socioeconomic seed grants, with the remaining four awarded to teams from Cameroon, Kenya, Pakistan and South Africa.
Inspired by the women's time spent volunteering at local orphanages, their project will encompass a series of intensive personality and capacity-building workshops, as well as a mentorship programme to provide positive role models toward which orphans can aspire.
As part of TechWomen's exchange programme, the five women received three-week project-based internship placements at leading companies Twitter, Fitbit, Unity, and LinkedIn in Silicon Valley and the San Francisco Bay Area.
The women told Her Majesty that the internship experiences had a tremendous personal impact on their confidence and entrepreneurial skills, encouraging them to develop new business ideas and partnerships after returning to Jordan. They also described how their experiences in the US had emboldened them to fight stereotypes about Arabs and correct misconceptions about Islam.
Aiming to empower, connect, and support emerging women leaders in science, technology, engineering and mathematics, TechWomen is a US based mentorship and exchange programme.
During TechWomen 2017, participants from around the world engaged in development workshops and mentorships.
Related Articles
Oct 17,2017
AMMAN — Five Jordanian women participating in the TechWomen 17, the biggest gathering for women in technology in the world, held in the US,
Nov 27,2016
AMMAN — Jordanian women leaders in science, technology, engineering and mathematics have the opportunity to compete for a mentorship program
Jan 08,2018
AMMAN — Jordanian women leaders in science, technology, engineering and mathematics (STEM) are offered the opportunity to compete for a ment