You are here
Jerash Festival returns after pandemic pause
By JT - Sep 23,2021 - Last updated at Sep 23,2021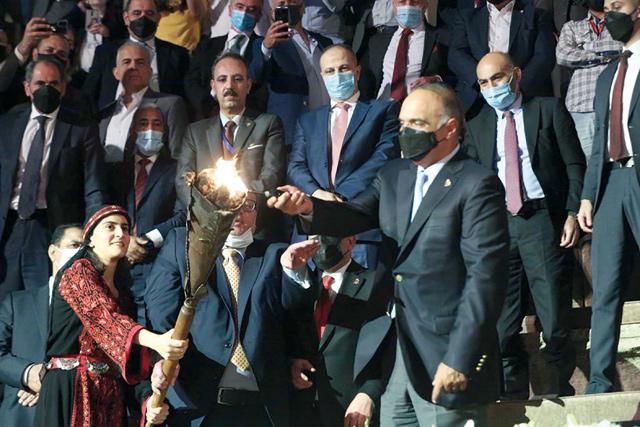 Prime Minister Bisher Al Khasawneh lights the torch of the 35th Jerash Festival for Culture and Art in Jerash on Wednesday (Petra photo)
AMMAN — The 35th Jerash Festival for Culture and Arts kicked off on Wednesday in the ancient city of Jerash, 45km north of Amman, after a short halt imposed by the coronavirus pandemic in 2020.
Prime Minister and Minister of Defence Bisher Al Khasawneh lit the torch of the festival, announcing the launch of the activities.
During the opening ceremony, Culture Minister Ali Ayed said that the return of the Jerash Festival is "a return to joy, brilliance and delights" after a long absence.
The festival features a rich programme of poetry, music, dance and theatrical performances by Jordanian, Arab and international folklore groups, Ayed noted.
This year's festival bears the slogan "Jerash: Decorated with Joy". The event witnesses the participation of more than 70 Jordanian and Arab artists, traditional Jordanian, Arab and international folk troupes, and a number of poetic and literary figures.
Celebrating the Kingdom's centenary, the festival's higher committee decided to exempt attendees from entry fees, with the exception of concerts of Arab stars who will perform on the southern stage, which will continue until October 2.
On Wednesday evening, Lebanese singer Majida El Roumi will inaugurate the first concerts of the festival, which will be held on the southern stage.
Featured Arab stars will also include Najwa Karam from Lebanon, George Wassouf and Hussein Al Deek from Syria and Saif Nabeel from Iraq.
Daily concerts will be held for 11 days in the southern theatre.
The festival will witness the participation of Jordanian artists: Zain Awad, Linda Hijazi, Hussein Salman, Saad Abu Tayeh, Bashar Sarhan, Yahya Sweis, Najm Salman, Ghaleb Khoury, Yazan Sabbagh, Samer Anwar, Nancy Petro, Osama Jabour and Tawfiq Al Dalou.
The festival's concerts will conclude at the beginning of next month with the participation of Omar Al Abdallat and Nidaa Sharara, winner of The Voice 2015.
At the northern stage, a number of performances will be delivered by Al Bayader troupe from Palestine, as well as other groups from Greece, Mexico, South Korea and Azerbaijan, in addition to Jordanian, Arab and international folklore groups.
Related Articles
Jul 22,2017
AMMAN — The first two days of Jerash festival saw a large turnout of local and foreign visitors, an official said.Thousands of fans attended
Jul 16,2017
AMMAN — One of the region's oldest and leading cultural events, the Jerash festival combines art, culture and entertainment, all happening a
Jul 20,2015
AMMAN — All is set for this year's Jerash Festival for Culture and Arts, which opens on Thursday, Mohammad Abu Summaqa, the festival's execu