You are here
Group exhibition put spotlight on young local talents
By Camille Dupire - Dec 07,2017 - Last updated at Dec 07,2017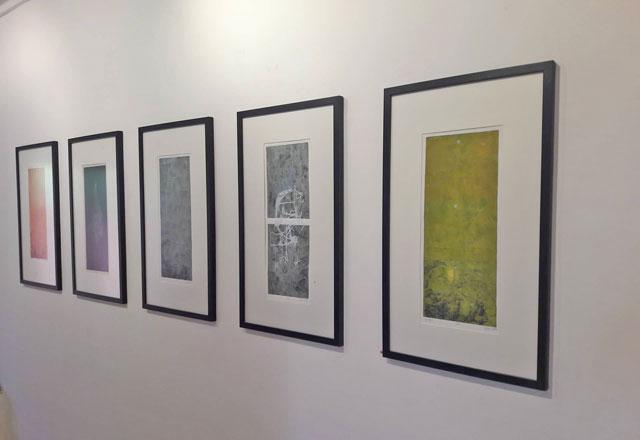 The six young artists' work is exhibited at Gallery 14 in Jabal Amman (Photo by Camille Dupire)
AMMAN — "Art is not accessible for everyone to enjoy it and I wanted to show that it can and should be," said Lina Salah, a 22-year-old artist exhibited in a group exhibition held at Gallery 14 in Jabal Amman.
Bothered by the idea that art exhibitions tend to focus on visual stimuli, Salah decided to create art pieces combining the "vision" of blind individuals, the inspiration of music and her own creative methods.
Asking a group of blind and blind-folded people to draw or paint what they felt while immersed in a creative musical setting, the young artist then used those drawings to create abstract powerful pieces, using etching and silk screens.
"I think it brings a new dimension to art, which is accessible to more," she told The Jordan Times over the phone, voicing her hope to see galleries based on the touching sense open in the future.
Salah is one of the six young artists whose works are currently on display at the gallery in a group exhibition that gathers the work of local talents all under 25 years of age.
"We realised that galleries in Amman, including ours, tend to showcase renowned artists, leaving youngsters who haven't achieved fame yet out of the spotlight. This is why we decided to expose those six young talents to show the public that Jordan's new generation has a lot to offer in terms of art and creativity," said Hind Nasser, owner of Gallery 14.
Sama Shahrouri's pieces, displayed in a series titled "Art from an awkward angle", catch the visitors' attention with its sketches of headless human figures.
"I chose this title because, on one hand, these figures look so realistic yet they are missing something crucial [the head]. On the other hand, the angles chosen are ones that make the body look very odd and different from a body in a normal position," she told The Jordan Times.
"I come from a sculpture background and these sketches were a result of years of studying the human anatomy. I would choose a pose that I like and portray it. The bodies that I depict are not meant to be women as a gender, but to reflect humanity as a whole, without a specific identity," Shahrouri added.
She noted that, because of the nature of her work, reactions were very diverse. "I was shocked by what people thought of my artwork; they had interpretations I never thought of. But this gave me an insight into what viewers see in my painting and it is really enriching," the young artist explained.
For 23-year-old Asil Jabr, painting is "an attempt to give life to everything materialistic with colour and passion".
She said that art is a constant challenge "to decode behaviours of people, expressions, movement and create a composition referring to internal relations".
The young Jordanian artist also works with other media sectors to express herself such as writing, filmmaking, theatrical art and photography.
Bayan Kiwan, Diana Shawabkeh, Lina Salah and Tasnim Ja'abo were the other artists in the group exhibition which will run through December 9.
Related Articles
Nov 09,2017
AMMAN — An artist's preliminary drawings give an insight into how they perceive a painting — the composition, shadows and forms develop in s
Nov 19,2016
AMMAN — Drawing inspiration by the colours of the Jordanian desert, international and regional artists participated in a symposium in Aqaba,
Oct 23,2017
AMMAN — "An 'Easternised' Scandinavian": this is how an art critic described the Danish painter Bente Christensen-Ernst, whose latest work i
Newsletter
Get top stories and blog posts emailed to you each day.