You are here
Coffee-table book on parenting launched
By JT - Jul 21,2022 - Last updated at Jul 24,2022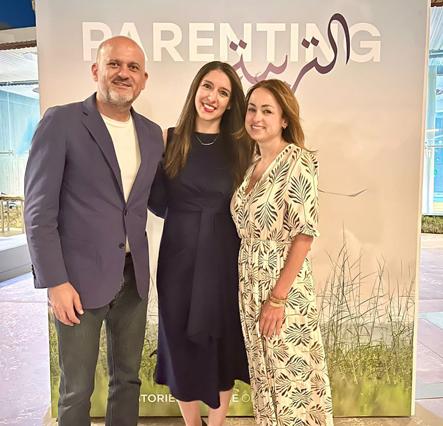 AMMAN — Seven Circles, a consulting agency, and 360Moms, an online parenting website, launched a parenting book on Wednesday.
The book, titled "Parenting - Jordan", includes the stories and advice of 48 mothers and fathers living in Jordan who come from different backgrounds, religions, socioeconomic levels, struggles and talents, according to a statement from the publishers.
The book brings together the public and private sectors, civil society, academia, impact funds and aid agencies to support parents economically and socially across Jordan.
A portion of the proceeds from every book sold has been committed to The Children's Museum Jordan. The coffee-table book features articles by experts and success stories of inspiring people who have contributed to the parenting sector in Jordan.
The book is by published by Jabal Amman Publishers, and printed locally by the National Press, with the support of Bernard van Leer Foundation and The Kyan Project, the Ministry of Social Development, among others.
Andrea Torres, programme director at the Bernard van Leer Foundation, said: The book is "a powerful collection of intimate testimonies of mothers and fathers and their daily parenting journey. Their stories are unique and powerful but have one major element in common, the love and care for their children."
Dina Abdul Majeed, founder of 360Moms and project manager, said: "We are sharing real life stories of parents in Jordan that will hopefully bring love and inspiration to our readers."
Sinan Sweis, Jabal Amman Publishers CEO and founder noted: "From what I've seen, I sense that there is a new level of challenges in raising children. That's why I believe that this book will be beneficial since it conveys life experiences from people of different backgrounds."
"We are grateful to our partners and contributors and are thrilled to shed light on stories of our inspirational parents with the world," Seven Circles' co-founders Dina Saoudi and Abdul Majeed Shoman Jr said in the statement.
Related Articles
Aug 24,2021
AMMAN — Jordan, United Nations Development Programme (UNDP), the Crown Prince Foundation (CPF) and Empowering through™ on Monday launched th
Jan 16,2018
AMMAN — An online platform providing Arab moms with ideas, tips and testimonials about parenting and self-care is helping women in the regio
Jan 17,2021
AMMAN — A group of women activists from different socio-economic backgrounds have joined a joint endeavour seeking women empowerment through