You are here
Praying hands
By Nickunj Malik - Dec 27,2017 - Last updated at Dec 28,2017
As the year draws to a close, I find myself in an ancient church in a small sleepy town of Portugal. It is Christmas Day, and people of the adjoining villages have gathered in the house of worship, to listen to the pastor's sermon that is delivered in a deep baritone.
The wail of a small infant rents the air, but nobody pays any attention to it. The spiritual proceedings continue and I get carried away with the sombreness of it all, even though I do not understand a word of what is being said. My Portuguese is still restricted to "Bom Dia — good morning" and "Obrigada — thank you", which means that I can only decipher the initial greeting of the chaplain, and the concluding one.
But when the Hallelujah hymn is sung, I join in the chorus, modulating my voice to blend in with the other singers. An elderly lady who is kneeling in the pew beside me, nods her approval, making me marvel at the flexibility of her limbs. "I don't think I would be able to even sit on a wooden bench when I reach her age, leave alone kneel down in front of it," says the voice in my head.
To seem a part of the alien sounding congregation, I start reading the plaque hanging on the wall. To my amazement, I discover that this Gothic style 13th century cathedral is actually built over a mosque! It was rebuilt by an Italian neo-classicist following earthquake damage 500 years later, retaining some original elements — namely, the main doorway, two side chapels and the Arabic style windows in the clock tower. The clergyman's service continues as I am awed by the karmic significance of the building we are all huddled inside. If history had played out differently, the consequences would have been quite unlike what I was witnessing today.
What strikes me, when I am in the midst of such spirituality, is the futility of fighting over religion because ultimately all doctrines teach the same thing. Like Swami Vivekananda — an Indian Hindu monk who is credited with raising interfaith awareness — said in his address to the Parliament of World Religions in Chicago in the year 1893, "as the different streams all mingle their water in the sea, so, O Lord, the different paths which men take, crooked or straight, all lead to Thee". The Dalai Lama also says that "every major religious tradition carries identical messages of love, tolerance and forgiveness. The important thing is they should be a part of our daily lives".
Right! In a Christian church which was once an Islamic mosque, hearing the voice of a Portuguese cleric on the day that Jesus Christ was born, I have thoughts of Hindu and Buddhist preachers running through my head. The compassionate teachings of the nuns in my school must be responsible for my secular foundation.
As I join my hands in prayer, the events of the last twelve months, flash in my mind's eye. They have enough suspense, drama, comedy and tragedy to sustain a full length Bollywood movie. Only the songs are missing.
"Which ones?" my husband asks.
I realise I have spoken aloud.
"Jingle Bells?" he prompts when I don't answer.
"Or Silent Night?" he suggests.
On cue the singers start the Christmas carol.
"Round yon Virgin Mother and Child," they croon in English.
"Holy infant so tender and mild," I find my voice.
"Sleep in heavenly peace," we sing together.
Related Articles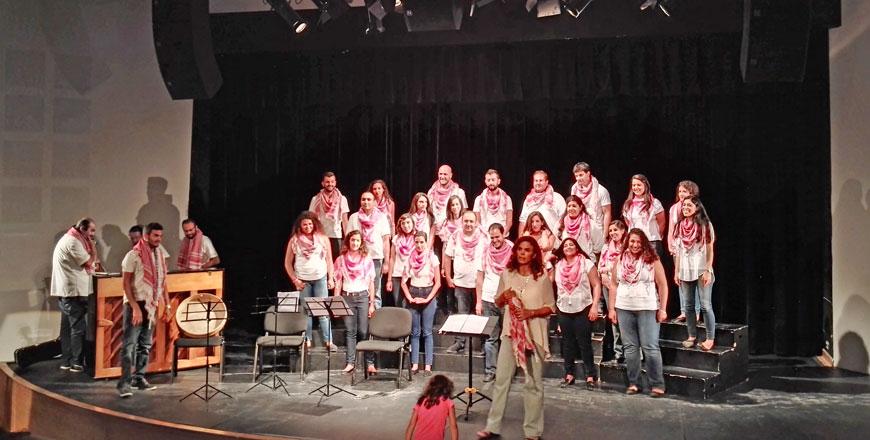 Jul 27,2016
AMMAN — Jordan's Dozan wa Awtar choir has won two gold medals at the 9th World Choir Games in Sochi, Russia, choir manager Nedy Muna announc
Nov 15,2017
Through my expatriate experience of more than two decades, I have had the opportunity of living in plenty of commonwealth countries, which w
Aug 18,2014
After five decades in show business, the man who shaped Motown with instantly recognisable hits like "My Girl" and "Tears of a Clown" says he can't stop writing.
Newsletter
Get top stories and blog posts emailed to you each day.