You are here
Top N. Korea official visits China in bid to mend ties
By AFP - May 31,2016 - Last updated at May 31,2016
North Korea's Foreign Minister Ri Su-yong addresses the conference on disarmament at the United Nations in Geneva on March 3, 2015 (Reuters photo)
BEIJING — A top North Korean official made a rare visit to China on Tuesday in an apparent attempt by Pyongyang to mend frayed ties with its powerful neighbour.
China is North Korea's largest trading partner and has been its key diplomatic protector for decades. But relations have soured following Pyongyang's internationally condemned nuclear tests, with Beijing supporting UN sanctions against its isolated neighbour.
The visit by Ri Su-yong, vice chairman of the North's ruling Workers' Party and former foreign minister, came even as South Korea said Tuesday the North had tried and failed to launch a powerful new medium-range missile.
The attempted launch is the latest in a series of setbacks for a ballistic weapons programme that aspires to threaten the US mainland.
UN resolutions ban North Korea from any use of ballistic missile technology, although it regularly fires short-range missiles into the sea off its east coast.
Ri Su-yong met Chinese official Song Tao, head of the international department of the Chinese Communist Party (CCP) Central Committee, to brief him on the North's once-in-a-generation party congress, according to the CCP.
North Korea held its first party congress for nearly 40 years in early May, formally endorsing leader Kim Jong-un's policy of expanding the country's nuclear arsenal.
The lack of any official Chinese representation at the congress was viewed as a sign of friction between the two traditional allies.
"Both sides pledged to cherish the traditional friendship, strengthen exchanges and cooperation," the website of the CCP's international department said of Tuesday's visit.
Kim has not visited China since coming to power and his Chinese counterpart Xi Jinping has not visited Pyongyang.
But the North Korean leader watched the local Sobaeksu basketball team beat China's Olympic squad in three matches on Monday, Pyongyang's official news agency reported.
Kim "expressed great satisfaction over the successful game", it said.
China's official Xinhua news agency said Ri would visit for three days as part of a delegation.
He is the highest-ranking North Korean official to visit China since last year, when Kim Jong-un's close aide Choe Ryong-hae attended a military parade in Beijing to mark the 70th anniversary of Japan's defeat in World War II.
South Korea's foreign ministry said Tuesday it "hopes relations between North Korea and China will advance in a way that could contribute to peace and stability on the Korean Peninsula [and] get the North to give up its nuclear weapons".
Related Articles
May 03,2018
SEOUL — Beijing hopes that talks between the United States and North Korea will be "smooth and achieve substantial progress", China's foreig
Apr 10,2017
SEOUL — China has agreed to "strong" new measures to punish North Korea if it carries out a nuclear test, Seoul said on Monday after the US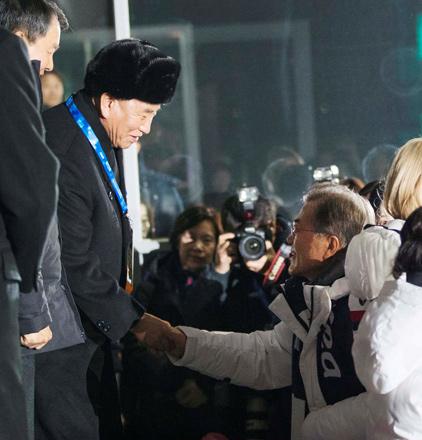 Feb 25,2018
SEOUL — Senior officials from Pyongyang visiting South Korea on Sunday said North Korea was open to talks with the United States, according
Newsletter
Get top stories and blog posts emailed to you each day.