You are here
Thai court sets date to rule on PM dismissal
By AFP - May 06,2014 - Last updated at May 06,2014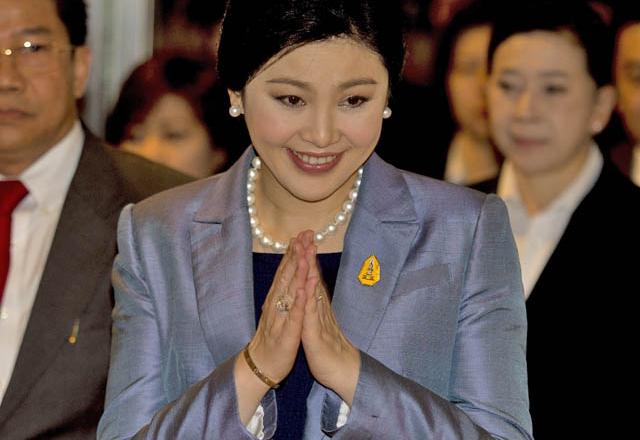 BANGKOK — Thailand's constitutional court said it will rule on Wednesday whether to remove Prime Minister Yingluck Shinawatra from office on abuse of power charges, a verdict that could plunge the country deeper into crisis.
The premier appeared at the court on Tuesday to deny the allegation, filed by a group of senators who said that then-national security chief Thawil Pliensri was replaced after her 2011 election for the benefit of her party.
But the court's president Charoon Intachan said the nine-member bench had heard enough evidence and was ready to rule.
"The hearing is over... the court has decided to rule on May 7 at noon," he said.
The case, one of two potential knockout legal moves against her premiership, comes as Thailand's political crisis reaches a critical juncture.
Anti-government protesters are still massed on Bangkok's streets — although in diminished numbers — and Yingluck's supporters are also threatening to rally to defend her.
"I didn't violate any laws, I didn't receive any benefit from the appointment," a composed Yingluck told the court.
Under the constitution — forged after a 2006 coup that ousted Yingluck's billionaire brother Thaksin Shinawatra as premier — such an offence could lead to her removal.
The court could also extend its verdict to Cabinet members who endorsed the decision to remove Thawil, potentially dislodging a layer of ruling party decision makers with ties to Thaksin, who lives overseas to avoid jail for corruption convictions.
Pro-government "Red Shirts" have vowed to defend Yingluck from being toppled and any decision to remove the premier will kindle fears of deadly clashes between rival political sides.
At least 25 people have died and hundreds more have been wounded in political violence linked to the six-month protests.
End game near?
If Yingluck alone is dismissed then a deputy prime minister can replace her until a new government is formed through elections.
But observers say a ruling to sack Yingluck and her Cabinet could send the kingdom into uncharted territory.
"Thailand will enter a legal limbo," according to Paul Chambers, director of research at the Institute of South East Asian Affairs at Chiang Mai University.
"There will be no Cabinet, prime minister and no lower house. Only the senate."
The Thai senate is part appointed, part elected and it is unclear which side of the political divide holds sway over the chamber — which could be given a role in appointing a new premier.
The Constitutional Court, which oversees cases of violations of Thailand's charter rewritten in the wake of Thaksin's removal, has played a key role in recent chapters of Thai politics.
Critics accuse it of rushing through Yingluck's case and allege previous rulings show that it is politically biased against the Shinawatras.
In 2008, the court forced two Thaksin-linked prime ministers from office.
It also annulled a February election called by Yingluck to shore-up her flagging administration, citing widespread disruption by opposition protesters.
The chairman of the pro-government "Red Shirts" accused the court of being bent on "overthrowing democracy".
"We Red Shirts will not allow any undemocratic change," Jatuporn Prompan added, confirming a mass rally in the Bangkok suburbs on Saturday.
The backdrop to the current crisis is an eight-year political rupture since Thaksin was booted out of office by an army coup.
The kingdom has become fractured since then, split between the Bangkok-based elites and middle-classes, backed by the royalist south — and the rural north and northeast and urban poor who have powered Thaksin-led or allied governments to office in every election since 2001.
Street protests, sparked by a bungled bid to push through an amnesty that could have allowed Thaksin to return, have so far failed to force Yingluck from office.
Yingluck has also been charged by the National Anti-Corruption Commission (NACC) with neglect of duty in connection with a costly rice subsidy scheme that critics say fomented rampant corruption.
If indicted on those charges, Yingluck would be suspended from office and face an impeachment vote in the upper house of parliament that could lead to a five-year ban from politics.
Election authorities and the ruling party have agreed on July 20 for new polls, but the date has been rejected by the opposition Democrat Party, and still requires a royal decree to be carried out.
Related Articles
May 07,2014
A Thai court ordered Prime Minister Yingluck Shinawatra to step down on Wednesday after finding her guilty of abusing her power, prolonging a political crisis that has led to violent protests and brought the economy close to recession.
Feb 18,2014
Thailand's embattled premier will be charged with neglect of duty, anti-graft officials said Tuesday, as clashes between police and opposition protesters left four dead, and dozens wounded in central Bangkok.
May 24,2014
Thailand's coup leaders said Saturday that they would keep former prime minister Yingluck Shinawatra, Cabinet members and anti-government protest leaders detained for up to a week to give them "time to think" and to keep the country calm. 
Newsletter
Get top stories and blog posts emailed to you each day.