You are here
Spain's Pedro Sanchez, risk-taker with a flair for political gambles
By AFP - May 29,2023 - Last updated at May 29,2023
MADRID — Spain's Pedro Sanchez, who announced snap elections on Monday after his ruling Socialists were routed in local polls, is a consummate risk-taker who's shown a flair for daring gambles during his rollercoaster political career.
Weakened by five turbulent years in power that covered the COVID pandemic and the economic crisis linked to the Ukraine war, Spain's 51-year-old prime minister caught everyone off guard by announcing an early general election in late July.
The vote had been widely expected at the year's end, but after his Socialists and their allies suffered a major blow in Sunday's local polls, Sanchez took a risky gamble — in what observers said has been a hallmark of his career.
"The alternative was six months of governmental bloodletting," said Oriol Bartomeus, a political scientist at Barcelona's Autonomous University.
"He's decided to gamble it all. It's typical Pedro Sanchez, it's just what he does," he told AFP.
It was, agrees Paloma Roman, a political scientist at Madrid's Complutense University, a "strategic calculation" to hang on for the next two months and improve what he already has.
"For the Socialists, it's the lesser of two evils... If they'd held out [until the year's end] it would have been so much worse," she said.
A Madrid-born economist and former basketball player, Sanchez went from being an unknown MP who emerged from obscurity in 2014 to seizing the reins of Spain's oldest political party.
And he has enjoyed a rollercoaster political career.
Written off, bounces back
A leap-year baby who was born in Madrid on February 29, 1972, Sanchez grew up in a well-off family, the son of an entrepreneur father and a mother who worked as a civil servant.
He studied economics before getting a Master's degree in political economy at the Free University of Brussels and a doctorate from a private Spanish university.
Elected to the party leadership in 2014, Sanchez was written off politically after leading the Socialists to their worst-ever electoral defeats in 2015 and 2016.
Ejected from the leadership, Sanchez unexpectedly won his job back in a primary in May 2017 after a cross-country campaign in his 2005 Peugeot to rally support.
Within barely a year, he took over as premier in June 2018 after an ambitious gamble that saw him topple conservative Popular Party leader Mariano Rajoy in a no-confidence vote.
"He is a politician who often makes these kinds of decisions," said Bartomeus.
"So far it's mostly worked for him... although things are more complicated now," he said, noting Sanchez had been weakened by his time in office.
Stubborn and tenacious
Always immaculately suited and booted, this telegenic politician — who likes to go running and looms over his rivals at 1.9 metres tall — has made a name for himself as stubborn and tenacious.
Over the past five years, he has had to play a delicate balancing act to stay in power.
In February 2019, the fragile alliance of left-wing factions and pro-independence Basque and Catalan parties that had catapulted him to the premiership cracked, prompting him to call early elections.
Although his Socialists won, they fell short of an absolute majority, and Sanchez was unable to secure support to stay in power so he called a repeat election later that year.
Forced into a marriage of convenience with the hard-left Podemos, despite much gnashing of teeth inside his own party, Sanchez has managed to stay in power despite his coalition holding only a minority in parliament.
He has managed to push through a wide range of reforms clearly rooted in the left and overseen a government with the highest-ever number of women.
The first Spanish premier to speak English fluently since the country returned to democracy in the 1970s, Sanchez is married with two teenage daughters.
In February 2019, he detailed his triumphs in an autobiography called "Resistance Manual", the first to be published in Spain by a sitting premier.
Related Articles
Jun 08,2018
MADRID — Spain's King Felipe VI on Thursday swore in the country's new pro-EU government, with women holding the majority of ministerial pos
May 28,2023
MADRID — Spaniards were voting on Sunday in local and regional polls seen as a barometer for a year-end general election which surveys sugge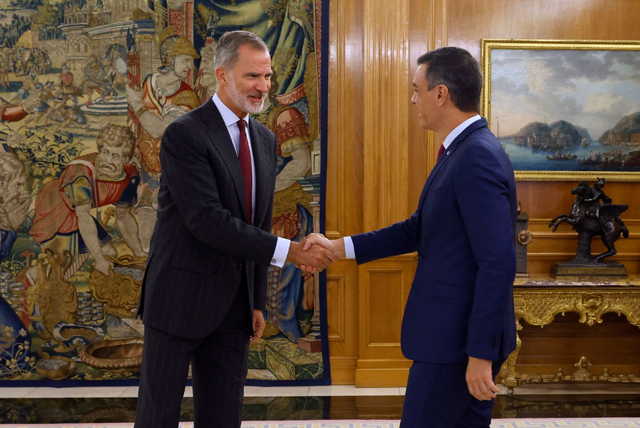 Oct 03,2023
MADRID — Spain's acting Prime Minister Pedro Sanchez vowed on Tuesday to be "generous" with Catalan separatists whose support he needs to re