You are here
Serbian President Vucic steps down as head of ruling party
By AFP - May 27,2023 - Last updated at May 27,2023
BELGRADE — Serbian President Aleksandar Vucic stepped down as the leader of his party on Saturday after more than a decade at the helm, but he is widely expected to remain the most powerful political figure in the Balkan country.
Vucic's Serbian Progressive Party (SNS) won parliamentary elections by a landslide last year, but has been regularly accused of corruption, as well as recently coming under increased pressure from mass protests over two shootings.
Despite no longer being party chief, Vucic will remain Serbia's president and the country's most influential politician — just as he did when he stepped down from being prime minister and became president in 2017.
The 53-year-old, who has served as SNS chief since 2012, said he will not leave the party he helped found.
"Whatever you do, I will always be with you and by your side," Vucic told party members during a televised convention.
"I just think a slightly different approach is needed to unite a greater number of forces of those who want to fight for the victory of a patriotic, successful Serbia."
Plans for new movement
Vucic has already announced plans to form a nationwide movement that is planned to include prominent intellectuals, artists and other public figures, and is expected to gradually combine with the SNS.
According to analysts, Vucic is significantly more popular than his party, which is regularly the target of accusations of corruption, and a fresh coalition would help rebrand the side, potentially avoiding poor election results in the future.
"It's a way to overcome a crisis that could potentially brew inside the Serbian Progressive Party," Bojan Klacar, the head of the independent election monitor CESID, told AFP.
"By creating a new movement, he wants to secure himself another mandate in the office," Klacar added.
Vucic's opponents accuse him of increasingly relying on autocratic measures to keep the opposition in disarray and media outlets and state institutions under his thumb.
Vucic's ruling party has also been under rising pressure over the last month, after back-to-back shootings triggered a mass movement against the government which brought tens of thousands of people onto the streets.
Defence Minister Milos Vucevic, the former mayor of Serbia's second largest city Novi Sad, was elected as the new president of the SNS Party, and he immediately rebuffed the protesters.
The new SNS leader shot down a request from some of the protesters for a transitional government ahead of new elections, saying the government cannot be elected "off the streets and through violence".
Related Articles
Dec 30,2018
BELGRADE — Serbians protested against President Aleksandar Vucic and his ruling Serbian Progressive Party (SNS) in downtown Belgra
Oct 16,2023
TIRANA — European leaders urged dialogue between Kosovo and Serbia after a recent spike in tensions, as a regional Balkan summit opened on M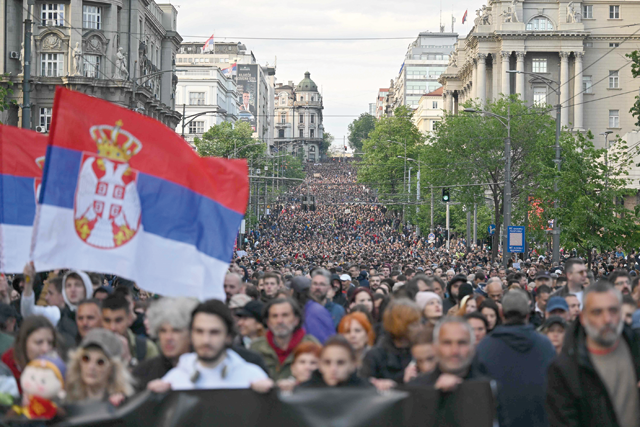 May 13,2023
BELGRADE — Tens of thousands of demonstrators blocked a major motorway in the Serbian capital Belgrade on Friday to demand the resignation o