You are here
Rescuers struggle to reach Afghan, Pakistani quake survivors
By AFP - Oct 28,2015 - Last updated at Oct 28,2015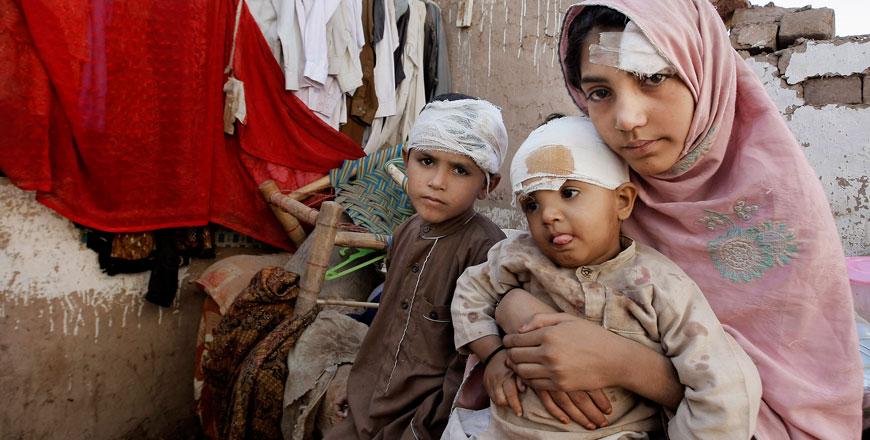 Pakistani children sit in the rubble of their home damaged from an earthquake in Peshawar, on Wednesday (AP photo)
ISLAMABAD — Rescuers raced against time Wednesday to reach cold and hungry survivors of an earthquake that left entire communities in Afghanistan and Pakistan marooned in remote mountain regions, as the death toll climbed to 370.
Rugged terrain, severed communication lines and an unstable security situation have impeded relief efforts since Monday's 7.5 magnitude quake ripped through the region, triggering landslides and flattening buildings.
Desperate victims appealed for blankets, warm clothes and food after the quake levelled thousands of homes, forcing many to camp out in the open in freezing weather.
"No one came to help us. We are sitting in open area. There was rain yesterday and no one came to help us," said Jamil Khan, a 24-year-old quake victim in Shangla, one of the worst-hit districts of Pakistan's northwestern province of Khyber Pakhtunkhwa.
Pakistan's confirmed death toll stood at 255 with nearly 1,700 people injured, and authorities warn that the number could spike with many isolated regions still cut off.
People were reported to be running out of food in many remote areas, with children and the elderly helping to dig through piles of rubble for survivors as they waited for aid to arrive.
"We lost everything. We could not save anything," said another Shangla resident, 60-year-old Hakim Khan, adding that the only thing they had been able to retrieve from the rubble was the body of a boy.
Pakistan's Prime Minister Nawaz Sharif on Tuesday pledged compensation for those whose homes have been destroyed. He was speaking during a trip to Khyber Pakhtunkhwa, which has seen the bulk of the casualties so far.
The military has been leading Pakistan's rescue efforts, sending in medical teams, tents and rations and evacuating some people by helicopter.
"Initial assessments suggest that shelter and hygiene will be most likely the main needs, as it is already snowing in some of the more mountainous areas," said Shelagh Woods, country representative for medical charity MSF in Pakistan.
'Deadly threats'
Afghan officials said 115 people were confirmed dead and hundreds more injured, with casualties reported from around half a dozen of the country's 34 provinces, and more than 7,600 homes reported damaged.
Desperate survivors were left marooned on mountaintops in Badakhshan, the remote province where the epicentre was located, but Western charities said the Taliban presence there and in other quake-stricken areas was hindering relief efforts.
The insurgents on Tuesday urged aid organisations not to delay in delivering relief, and vowed their fighters would provide "complete help" in affected areas.
But there was no let-up in fighting despite those assurances, as the militants Wednesday claimed to have overrun the remote district of Darqad in the quake-hit northern province of Takhar.
"What is most needed at this stage is medical assistance to the injured, medical equipment and shelter for the affected populations," said Kjersti Haraldseide, acting country director for Afghanistan for the Norwegian Refugee Council agency.
Antoine Sagot-Priez, country head of French aid agency Premiere Urgence Internationale, said they had already seen a "large influx of casualties" at one of their hospitals in the badly hit Afghan province of Kunar.
Mass burials were being conducted across the country, including those of 12 Afghan schoolgirls who were trampled to death as they rushed to escape their classrooms in Takhar province when the quake struck.
"Children in earthquake-hit areas... are facing further deadly threats as extreme conditions and insecurity cut off communities from aid," said the UN children's agency UNICEF.
The World Health Organisation said it has distributed medical supplies to help thousands of victims and more trauma kits for 1,200 patients would be sent in the coming days.
On Tuesday Pope Francis offered prayers for the dead and missing, invoking the "divine blessings of consolation and strength" for aid workers trying to help the victims.
Related Articles
Oct 26,2015
KABUL/PESHAWAR, Pakistan — A major earthquake struck the remote Afghan northeast on Monday, killing at least 135 people in Afghanistan and n
Oct 27,2015
KABUL/ISLAMABAD — The Taliban encouraged aid groups to help victims of the massive earthquake in northern Afghanistan and Pakistan as rescue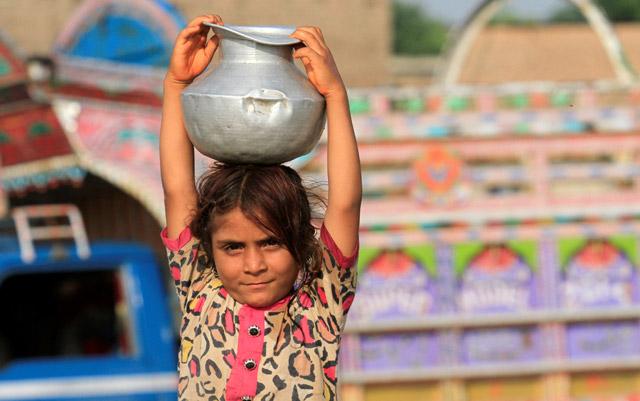 Jul 16,2017
ISLAMABAD — Pakistan's military has launched a major operation in its volatile tribal areas to stop the Daesh terror group making inroads in
Newsletter
Get top stories and blog posts emailed to you each day.