You are here
Pakistan ex-PM Imran Khan calls for nationwide protests
By AFP - May 14,2023 - Last updated at May 14,2023
LAHORE — Pakistan's former prime minister Imran Khan called for nationwide "freedom" protests on Sunday, after his brief arrest and detention this week triggered deadly unrest.
The one-time cricket superstar, who has been tied up in dozens of legal cases since being ousted from power in April last year, was freed on bail on Friday after his detention was declared unlawful by the Supreme Court.
Enraged by the arrest, supporters set fire to government buildings, blocked roads and damaged property belonging to the military, which they blame for Khan's downfall.
"Freedom does not come easily. You have to snatch it. You have to sacrifice for it," he said in an address broadcast on YouTube Saturday night.
He called for supporters to hold protests "at the end of your streets and villages" across the country on Sunday evening for one hour starting at 5:30 pm (1230 GMT).
After five days of tumult across Pakistan, Sunday morning was quiet, but Khan has also pledged to return to campaigning on Wednesday for immediate elections.
For months, the Pakistan Tehreek-e-Insaf (PTI) Party leader has waged a campaign of defiance against the military.
His arrest on Tuesday came just hours after he was rebuked for claiming senior officials were involved in an assassination attempt against him last year.
Pakistan's powerful military has directly ruled the country off and on for nearly half of its 75-year history, and continues to wield power over the political system.
"The army chief's actions have made our military bad. It is because of him, not because of me," Khan said from his home in Lahore, although it was unclear whether he meant the serving chief, or his predecessor, whom Khan has held responsible for his ouster.
He previously told reporters that "one man, the army chief" was behind his arrest.
But Khan distanced himself from the attacks against the military's installations at the protests, denying his party workers were involved and calling for an independent investigation into the violence.
The army, which denies the accusations made by Khan, on Saturday warned against attempts to create "misperceptions" against the institution.
'Anti-state behaviour'
At least nine people died in the unrest last week, police and hospitals have said.
Hundreds of police officers were injured and more than 4,000 people detained, mostly in Punjab and Khyber Pakhtunkhwa provinces, according to authorities.
At least 10 senior PTI leaders have been arrested since the protests began, one of Khan's lawyers said.
Prime Minister Shehbaz Sharif, the head of a shaky coalition, on Saturday warned that those involved in "facilitating, abetting and perpetrating" the violence should be arrested within 72 hours.
"Those who demonstrated anti-state behaviour will be arrested and tried in anti-terrorist courts," he said during a visit to Lahore.
Interior Minister Rana Sanaullah has repeatedly vowed that police will rearrest Khan, who remains wildly popular ahead of elections due in October.
The Islamabad high court ruled that Khan should be given protection from arrest until Monday.
'Everyone knows'
Khan won the 2018 election on an anti-corruption campaign, voted in by an electorate weary of decades of dynastic politics.
Independent analysts say he was brought to power with the support of the military, before falling out with the generals.
"Everyone knows who it is. It's the military behind [Khan's arrest]," 21-year-old PTI supporter Mohsin Khan told AFP outside the party chief's home.
The pushcart seller added that he wanted the military and politicians "to work together".
The political crisis has simmered for months, with Khan attempting to disrupt the coalition government by dissolving two provincial parliaments he controlled and agitating for early elections.
Mobile data services and access to social media platforms including Facebook and YouTube, which were cut shortly after Khan's arrest on Tuesday, had been partly restored around the country as of Saturday.
The country now seems primed for a "progressively ugly showdown in the days and weeks to come", read an editorial in Dawn, the country's leading English language newspaper.
"None of the leaders, political or institutional, who are invested in this tug-of-war appear ready to take a step back," it said.
Related Articles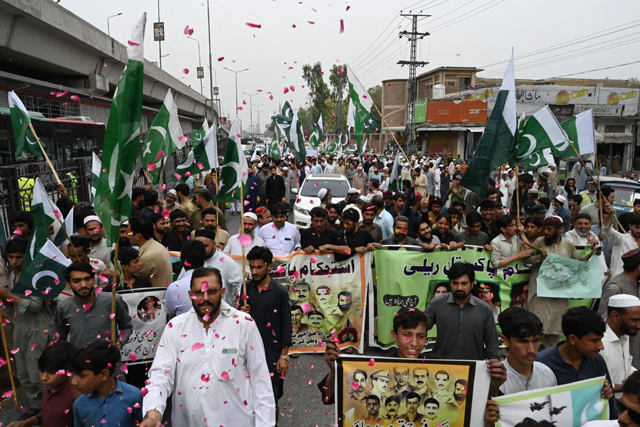 May 18,2023
ISLAMABAD — Former prime minister Imran Khan's Pakistan Tehreek-e-Insaf party accused intelligence agencies on Tuesday of being responsible
May 10,2023
ISLAMABAD — Former Pakistan prime minister Imran Khan was remanded in custody for eight days on Wednesday by an anti-graft court as violent
Mar 05,2023
LAHORE, Pakistan — Police in Pakistan said officers on Sunday attempted to arrest former prime minister Imran Khan, who is battling several