You are here
New rules spur migrants to seek legal path to US
By AFP - May 14,2023 - Last updated at May 14,2023
MATAMOROS, Mexico — With tough new asylum rules in place, many migrants on the US-Mexico border were seeking legal routes to enter the United States on Saturday, despite warnings of a chaotic surge in crossings.
Gustavo Rodriguez, who fled Venezuela after deserting the military, was among those who saw official channels as offering the best chance of being allowed to stay on US soil.
"I want to enter legally," he told AFP in Matamoros, one of several Mexican cities along the border where thousands of migrants fleeing poverty, crime or persecution are gathered.
US President Joe Biden's right-wing opponents predicted a rush across the border after pandemic-era restrictions allowing for immediate expulsion ended at midnight Thursday.
So far the surge failed to materialise, though thousands of migrants had tried to enter the United States in the days leading up to the rule changes.
That was because anyone crossing the border illegally now faces a five-year ban on applying for legal entry as well as possible criminal charges.
Asylum-seekers are supposed to set up an interview appointment through a smartphone application called CBP One or processing centers the US plans in Colombia, Guatemala and other countries.
But migrants say using the app is a lottery, despite Washington's promise to increase the number of appointments available each day to 1,000.
Jose Manuel Tovar was one of the lucky ones — after four months of trying he finally got an appointment.
"I cried. My family, all my colleagues were crying with joy," the Venezuelan told AFP.
Political controversy
The policy shift has been contentious, with Biden's supporters on the left saying the new rules are too strict while opponents on the right have claimed, without evidence, that he is "opening the borders".
Mexican President Andres Manuel Lopez Obrador called for patience on Saturday when reporters asked about the migration crisis during a visit to a border checkpoint in Matamoros.
Mexico said on Friday that the number of US-bound migrants crossing its territory was ebbing and the situation at the frontier was calm.
"The flux is dropping today. We have not had confrontations or situations of violence on the border," Foreign Minister Marcelo Ebrard told reporters.
Around 26,500 migrants were estimated to be waiting in the main Mexican cities along the frontier, he said.
The national immigration agency ordered its offices to stop issuing documents authorising migrants to transit through Mexico, authorities announced.
Guatemala said that it was bracing for a major humanitarian situation there because it would have to offer shelter to migrants in transit applying for US asylum.
Erika Guevara Rosas, Americas director at rights group Amnesty International, said the US government was "outsourcing its border enforcement to Mexico and now Colombia and Guatemala, but it's not willing to take responsibility for the chaos its policies have created".
The legal channels available to migrants also include family reunification programmes and humanitarian permits for Venezuelans, Haitians, Nicaraguans and Cubans.
In any of these cases, however, migrants must process their claims before arriving at ports of entry.
There are a few exceptions, such as if they were denied asylum in a transit country, have been unable to use the CBP One app or in the case of unaccompanied children.
A particular fear of human rights campaigners is that the situation will continue to be exploited by people smugglers who have turned illegal migration into a multimillion-dollar business.
"Some of the most cruel solutions produce disorder and empower people smugglers," said David Miliband, president of the International Rescue Committee (IRC).
"The IRC is convinced that there is a practical, safe and orderly way through the current situation, grounded in international experience," he added.
Despite the tough deterrents, Randy Vargas was doubtful that his fellow Venezuelans would stop arriving at the US-Mexico frontier.
"We're talking about thousands of Venezuelans just on the border and thousands more coming," he told AFP in Ciudad Juarez, south of El Paso, Texas.
"What are they going to do with them?... Migrants will never be stopped," he said.
Related Articles
May 11,2023
EL PASO, United States — Pandemic-era controls barring migrants from claiming US asylum expire at midnight Thursday amid fears of chaos at t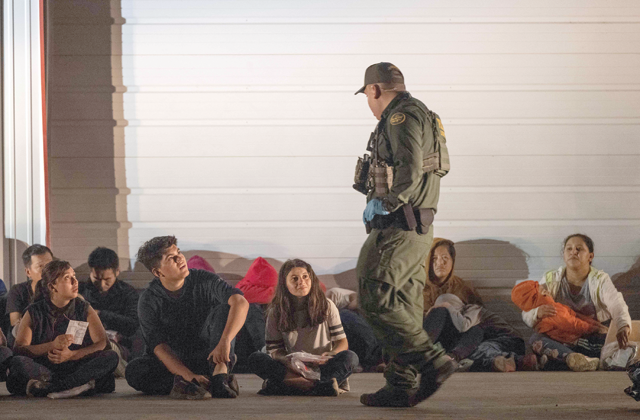 May 13,2023
EL PASO, United States — The US-Mexico border appeared calm on Friday as tough asylum rules come into force, with senior officials in Washin
Mar 27,2021
WASHINGTON — A nine-year-old Mexican child died while trying to cross the Rio Grande into the United States, the Border Patrol said on Frida