You are here
Mali in mourning as siege hotel yields clues
By AFP - Nov 23,2015 - Last updated at Nov 23,2015
BAMAKO — French and UN investigators joined a Mali police probe into a militant siege at a luxury hotel that left at least 19 dead as flags were lowered Monday for three days of mourning.
As flags flew at half-mast after Friday's attack, security was tightened at hotels in the capital, Bamako, and neighbouring nations Senegal, Mauritania and Guinea joined in the three days of mourning in solidarity.
Benin's President Thomas Yayi Boni said after visiting the Radisson Blu hotel, where the killings took place, that the "odious attack" was aimed at "frightening off international investors".
"The investigation is advancing," said prosecutor Boubacar Sidiki Samake, who is in charge of the anti-terrorist probe.
Samake said police hoped to soon "flush out the attackers and bring them to justice," adding that "it is clear that they had accomplices who helped them come to the hotel."
"You will see developments in the coming days," he said, adding that police had staged several raids on homes.
The police found a suitcase with grenades in the hotel lobby and were following up "several leads" linked to "objects" left by the gunmen, a Malian police source told AFP.
The attack has been claimed by two separate militant groups and a manhunt launched for three suspects.
Gunmen went on the rampage at the hotel from early morning on Friday, shooting in the corridors and taking 170 guests and staff hostage.
The assault, which ended when Malian and international troops stormed the building, left 19 people dead, including 14 foreigners, as well as two attackers, according to a "definitive" report by the government.
The victims included six Russians, three Chinese, two Belgians, an American, an Israeli, a Senegalese and a member of the Malian special forces.
The UN peacekeeping force in Mali, MINUSMA, however spoke of 22 fatalities, including two attackers.
New claim of responsibility
Al Murabitoun group, an Al Qaeda affiliate led by notorious one-eyed Algerian militant Mokhtar Belmokhtar, has claimed responsibility for the attack.
The group said Sunday there were only two attackers and suggested they were Malian.
In a recording broadcast by Al Jazeera, a spokesman identified them as Abdelhakim Al Ansari and Moez Al Ansari, the term "Al Ansari" indicating they were indigenous militants.
But a militant group from central Mali, the Macina Liberation Front, also claimed the attack in a statement sent to AFP Sunday, saying it was carried out by a squad of five, including "three who came out safe and sound".
An informed source spoke of "three or four accomplices" believed to have aided the "foreign" gunmen who attacked the hotel frequented by businessmen, diplomats and other expatriates.
"Everything points to two foreigners," the source said.
The same source said "it appears that the two foreigners went from bar to bar to avoid attracting attention, and at dawn [Friday], Malians may have guided them in the attack on the Radisson".
Guinean singer Sekouba Bambino Diabate, who was among the survivors, told AFP the gunmen spoke English among themselves.
On Monday, national TV released photos of two dead men said to be the attackers, along with a telephone number to call to offer information.
French Defence Minister Jean-Yves Le Drian has said Belmokhtar, one of the world's most wanted men, was "likely" the brains behind the assault.
"He is circulating," he said of the Algerian militant believed to be in Libya.
Return to normal life
Despite a state of emergency imposed late Friday, residents of Bamako were trying to return to normal life.
Security remained high at the major hotels and was tighter than usual, though more discreet, at public buildings and banks.
"People are not being vigilant. We forget. I don't know whether it's because of the problems of daily life, but people just aren't being careful here," said hotel worker Daouda Sissoko.
Others are concerned that Friday's attack will have more economic repercussions for a country still recovering from a 2012-13 civil war.
Mali has been torn apart by unrest since the north fell under the control of militant groups linked to Al Qaeda in 2012.
The militants were largely ousted by a French-led military operation launched the following year, but large swathes of Mali remain lawless.
France has more than 1,000 troops in its former colony, a key battleground of the Barkhane counter-terror mission spanning five countries in Africa's restive Sahel region.
MINUSMA head Mongi Hamdi said that "the terrorists are well implanted in Mali despite the efforts" to get rid of them.
Related Articles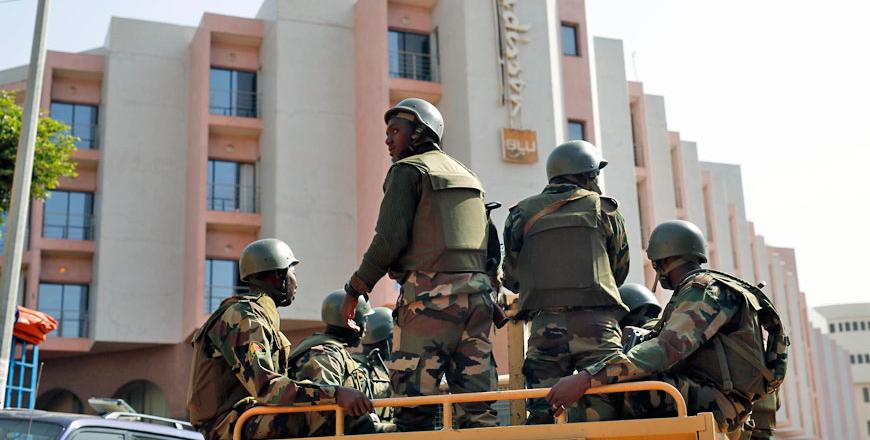 Nov 21,2015
BAMAKO — Mali was hunting Saturday for suspects over the militant siege at a luxury hotel that left 19 people dead, mostly foreigners, as th
Aug 19,2015
BAMAKO/SEVARE — Imam Elhadji Sekou Ba was one of the few people in his village of Barkerou who dared to speak out against the rise of Islami
Nov 04,2019
BAMAKO — Mali's President Ibrahim Boubacar Keita on Monday declared three days of mourning after a militant attack on an army base killed mo