You are here
Macri topples Argentina's Peronists
By Reuters - Nov 23,2015 - Last updated at Nov 23,2015
BUENOS AIRES — Conservative challenger Mauricio Macri turned Argentine politics on its head on Sunday, kicking the ruling Peronist movement out of power with a promise to liberalise the ailing economy and end a culture of divisive politics.
Macri, the son of an Italian-born construction magnate, won the election by tapping into frustration over anemic growth, high inflation and corruption, and will become only the third non-Peronist leader since the end of military rule in 1983.
The other two failed to finish their terms, however, a reminder of the difficulties that Peronist labour unions, state governors and opponents in Congress could cause Macri if he is unable to get the economy growing quickly.
After an unpredictable campaign that pitted poorer Argentines grateful for generous welfare programmes against others exasperated with state shackles on the economy, Macri will need to deliver on pro-business reforms without hurting the poor.
"We've been saying from Tierra del Fuego in the south to Jujuy in the north that we have to build an Argentina with zero poverty, and that's what we're going to do together," Macri told his jubilant supporters on Sunday night.
Argentine sovereign debt rose on Monday on news of his election, with the 2033 dollar discount bond hitting its highest level since April 2007. While Argentina's stock market was not yet open for business, the Frankfurt-listed American Depository Receipt of Argentina's Grupo Financiero Galicia jumped 6.28 per cent.
Macri defeated leftist ruling party candidate Daniel Scioli as voters punished outgoing President Cristina Fernandez for her handling of the economy and her abrasive style of leadership.
The 56 year old faces a number of economic challenges. Slow growth is driven by unsustainable spending, inflation is at well above 20 per cent and capital controls have backfired to leave foreign reserves at nine-year lows.
The country is also mired in a messy debt default that is blocking access to global credit markets.
Macri, who served two terms as mayor of Buenos Aires, has promised to dismantle a web of currency controls and trade restrictions that have deterred investors and hobbled growth.
Policy changes such as eliminating hefty taxes on grains exports and revamping economic data long viewed as manipulated by Fernandez's government will be quick hits to underscore his intent to bring change.
But elsewhere he will have to move carefully.
Removing capital controls that have curbed access to dollars and unifying a multi-tiered exchange rate may lead to a sharp devaluation which, while needed to restore trade competitiveness, will likely feed into consumer prices.
In the final stages of campaigning, Macri indicated he favoured a more staggered lifting of currency curbs.
"We cannot solve all the problems that this government is leaving behind on the first day," Macri said ahead of the run-off vote on Sunday.
He is expected to scale back energy and transport subsidies in his first year in order to narrow a yawning fiscal deficit.
Economists estimate about 20 per cent of government spending is on subsidies, but weaning Argentines off cheap power and transport may prove unpopular.
Hard transition ahead
"The transition from failed country to global power is likely to be both bumpy and slow," said Roberto Lampl, Head of Latin American Investments at Alquity Investment Management. "Macri will have to undo twelve years of damage but looks set to prioritise the economy and growth."
"Today there is an optimism in Buenos Aires which hasn't been seen for over a decade, change has finally come to Argentina."
Scioli, a moderate Peronist, had the support of Fernandez loyalists but he failed to convince others he would restore investor confidence at a time when Argentina seeks to exploit vast shale oil and gas reserves.
Even so, his warnings that Macri's pro-market policies will put the interests of big business ahead of workers, erode salaries and destroy pensions have laid down possible battle lines between Macri and his opponents over the next four years.
"If Macri devalues then people could go out into the streets and protest," said Scioli voter Ana Marchessi, a 56-year-old lawyer.
Macri's margin of victory was less than 3 percentage points and his challenge will be to show an economic recovery is taking root by late 2016 or he could face a hammering in a mid-term Congressional elections the following year.
The past two non-Peronist leaders since democracy was restored in 1983 failed to complete their terms.
Both were from the Radical Party. Raul Alfonsin stepped down six months early in 1989 as hyper-inflation raged, and Fernando de la Rua fled the presidential palace in a helicopter during the 2001-02 depression.
Lacking a majority in Congress, Macri is likely to move quickly with his reform agenda during an expected early honeymoon period and try to draw on cross-party support.
He is expected to court the backing of lawmakers loyal to centrist Sergio Massa, who placed third in the first round of the presidential election last month, and other smaller parties to outmaneuver Fernandez hardliners.
Control over discretionary transfers that boost provincial budgets, meanwhile, will give Macri leverage over governors and in turn their senators in the upper house.
His "Let's Change" alliance will control Argentina's three main bases of power: the federal government, the populous Buenos Aires province that traditionally was a Peronist stronghold, and the capital city.
"This is a huge shift for Argentine politics," said Juan Cruz Diaz, head of the Cefeidas Group.
"For years the opposition, controlled by an unsuccessful Radical Party, claimed it was impossible to govern with Peronism in opposition. Macri has a big opportunity to prove that wrong".
Related Articles
Dec 10,2015
BUENOS AIRES — Business-friendly conservative Mauricio Macri was sworn in as Argentina's new president Thursday, turning the page on 12 year
Mar 24,2016
BUENOS AIRES — President Barack Obama said the United States was too slow to condemn human rights atrocities during Argentina's 1976-1983 di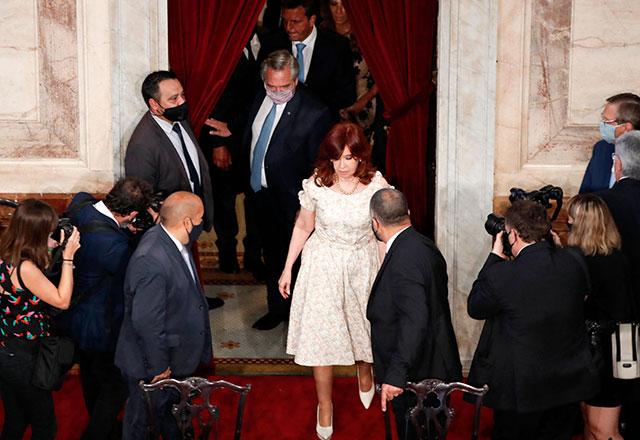 Mar 05,2021

BUENOS AIRES — Argentina Vice-President Cristina Kirchner accused the judiciary of persecution as she appeared in court virtually on Thursd