You are here
Italy unveils two-billion-euro package for flooded northeast
By AFP - May 24,2023 - Last updated at May 24,2023
ROME — Italian Prime Minister Giorgia Meloni announced on Tuesday an aid package worth 2 billion euros ($2.2 billion) to help northeastern areas affected by floods that killed 15 people, displaced thousands and left swathes of farmland submerged.
After an emergency cabinet meeting, Meloni declared help for households, businesses, farms, transport systems, schools, healthcare services and the tourism industry, while warning that the full extent of the damage has yet to be determined.
"In the current situation in which Italy finds itself, finding 2 billion euros in a few days is not an easy thing," said Meloni, who visited the worst-hit areas of the Emilia Romagna region on Sunday.
"We clearly know that we are talking about emergencies, that there will be a reconstruction phase in which we are not yet able to quantify the overall need and the damage," she said.
Late Tuesday, local news media reported that the death toll from the floods had risen to 15 with the discovery of the body of a 68-year-old man in the small city of Lugo, in the southeast of Emilia Romagna.
Some flooded areas remain under water after six months' worth of rain fell over just 36 hours a week ago.
Around 23,000 people were still unable to return to their homes, officials said on Tuesday, with 2,700 sleeping in emergency shelters.
After the region requested a special commissioner to investigate the state of the country's drainage systems, Meloni said the task would go to an official appointed just weeks ago to deal with what had been a national drought.
"It's a bizarre transition whereby today the commissioner of drought is also dealing with floods," Meloni said.
Tax on museum tickets
The money is being diverted from different departmental budgets, with no immediate indication on the possible impact on debt-laden Italy's public finances.
Almost half has been earmarked to help employees and the self-employed, while there are also funds to help businesses, particularly exporters, and farmers, including those who have to replace damaged machinery.
Meloni said that businesses and taxpayers in affected areas would also benefit from a suspension of tax and mortgage payments.
The package also calls for a temporary one-euro hike in the price of tickets for state-run museums, to begin mid-June for three months.
The floods were the second to hit the area within weeks, following a deluge earlier in May that killed two people.
In the most recent disaster, almost two dozen rivers burst their banks.
Water flooded entire neighbourhoods in the wealthy region, which boasts both rich agricultural farmland and industry.
'Lost everything'
In the province of Ravenna, where schools reopened on Tuesday, teams from Slovenia and Slovakia helped pump water from sodden areas overnight.
French President Emmanuel Macron wrote on Twitter that pumping equipment and a team of 40 soldiers were on their way to help in the efforts.
But in nearby Forli, schools remained closed until Wednesday due to continuing disruption on the road network.
The region estimates that damage worth more than 620 million euros has been caused to infrastructure, including roads and railways.
The agricultural lobby Confagricoltura said at least 10 million fruit trees would have to be uprooted, and possibly as many as 40 million.
"There are people who have lost everything," said the head of the Emilia Romagna region, Stefano Bonaccini.
Some 14 mostly inactive bombs from World War I or World War II also emerged from the floodwaters, which were "all blown up as a precaution" by the army, a local military source said.
Italy has been beset by a number of extreme weather events in the past year, which many people — including former premier Mario Draghi — have linked to climate change.
A dozen people died after flash floods in the Marche region in September, while a landslide on the island of Ischia in November killed 12.
Related Articles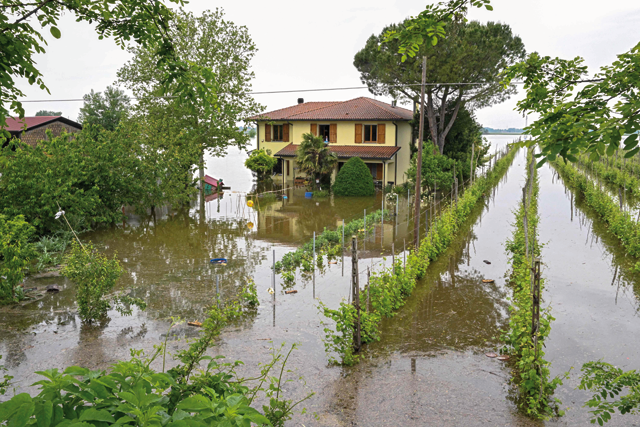 May 21,2023
FAENZA, Italy — The toll from floods that have devastated Italy's Emilia Romagna region rose to 14 on Friday, amid calls for the government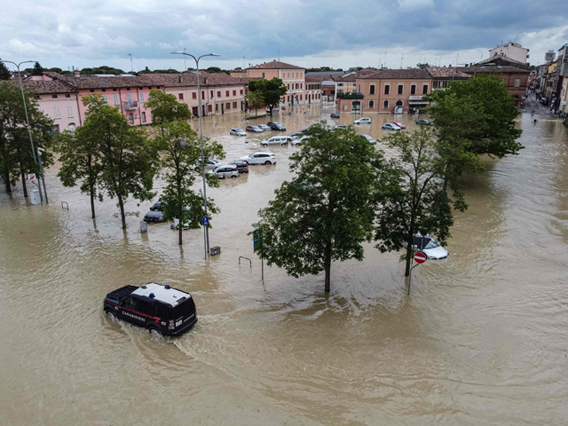 May 18,2023
LUGO, Italy — The death toll from floods that devastated an area of northeastern Italy rose to 11 on Thursday after the bodies of two more p
Apr 05,2023
MILAN — When Mario Draghi left Italy's government last year, Brussels fretted over the fate of the EU recovery funds he negotiated for his c
Newsletter
Get top stories and blog posts emailed to you each day.