You are here
Harvey swamps Louisiana, eastern Texas with heavy rains
By Reuters - Aug 31,2017 - Last updated at Aug 31,2017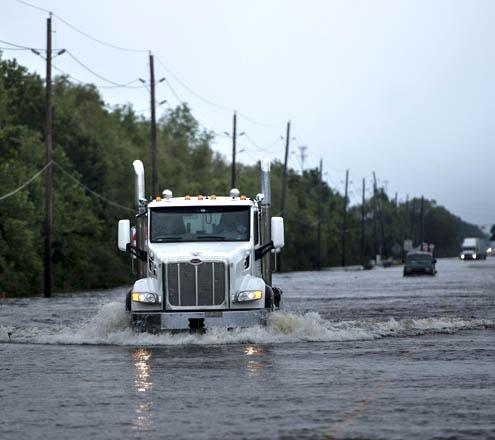 Trucks make their way through floodwaters on a main road leading to the Arkema Inc. chemical plant that was in crisis during the aftermath of Hurricane Harvey on Wednesday in Crosby, Texas (AFP photo)
HOUSTON/LAKE CHARLES, Louisiana — Tropical Storm Harvey bore down on eastern Texas and Louisiana on Wednesday, bringing the catastrophic downpours that paralysed the US energy hub of Houston with record rainfall and drove tens of thousands of people from their homes.
The storm that first came ashore on Friday near Corpus Christi, Texas, as the most powerful hurricane to hit Texas in more than 50 years has killed at least 17 people and forced 30,000 people to flee to emergency shelters.
Damage has been estimated at tens of billions of dollars, making it one of the costliest US natural disasters.
Clear skies in Houston on Wednesday brought relief to the fourth-largest US city after five days of downpours but Harvey pushed northeast, drenching cities including Port Arthur, Texas, and Lake Charles, Louisiana.
Some Houston residents began to leave emergency shelters, apprehensive about discovering what remained of the homes they had fled.
Handyman Mike Dickerson, 52, carried a grocery bag of his possessions through the city's streets as he tried to figure out how to make it back to his home, which was waist-deep in water the last time he saw it.
"A lot of people are going back now because everything looks dry around here. But people who lost everything have nowhere to go and are still at the convention centre," Dickerson said. "They are just telling everyone to call FEMA, tell them about the damage."
As Harvey churned out of the Houston area, it made landfall for a third time early on Wednesday near the Texas border at 11 am EDT (1600 GMT) with winds up to 75 kph. It was expected to bring an additional 7.5cm to 15.2cm of rain to an area about 80 miles east of Houston as well as southwestern Louisiana, where some areas have already had more than 18 inches of rain.
Hundreds of people who had fled their homes around Lake Charles packed into a civic centre that served as an emergency shelter. Pat Ortego, a retired nurse who was working as a volunteer, said the shelter was bracing for more displaced people.
One shelter resident, Edward Lewis, 54, said he awoke from a deep sleep on Monday night in his home in Lake Charles, swung his legs out of bed and landed in ankle-deep water. He flagged down a passing rescue boat and spent the rest of the night at a church before being taken on a city transit bus to the Lake Charles civic centre on Tuesday.
"No one has said when we can go home," he said.
Moody's Analytics is estimating the economic cost from Harvey for southeast Texas at $51 billion to $75 billion.
As of Wednesday morning, Texas officials said close to 49,000 homes had suffered flood damage, with more than 1,000 destroyed. Some 195,000 people have begun the process of seeking federal help, FEMA said.
Houston Mayor Sylvester Turner imposed a curfew from 12am to 5am amid reports of looting, armed robberies and people impersonating police officers.
Texas is investigating hundreds of complaints of price gouging involving loaves of bread offered for $15, fuel for $100 a gallon and hotels raising room rates, the state's attorney general said on Wednesday.
US President Donald Trump visited Corpus Christi and Austin on Tuesday to survey damage from the first major natural disaster to test his crisis leadership and discuss the response with state officials.
"After witnessing first hand the horror and devastation caused by Hurricane Harvey, my heart goes out even more so to the great people of Texas!" Trump said on Twitter on Wednesday.
The storm made it less likely that Trump would act on his threat to shut the federal government over funding for a border wall, Goldman Sachs economists said on Wednesday. They now estimate the probability of a shutdown at 35 per cent, down from 50 per cent previously.
Largest US refinery shut
The nation's largest refinery, Valero Energy Corp's 335,000 barrel-per-day facility in Port Arthur was shut, said sources familiar with plant operations.
The storm has affected nearly one-fifth of US refining capacity, sparking concerns about gasoline supply. The national average gasoline price rose to $2.404 a gallon, up six cents from a week ago, with higher spikes in Texas.
Harvey has drawn comparisons with Hurricane Katrina, which devastated New Orleans 12 years ago, killing more than 1,800 people and causing an estimated $108 billion in damage.
Among the confirmed fatalities in Houston was Police Sergeant Steve Perez, a 34-year veteran of the force who drowned while attempting to drive to work on Sunday.
In Beaumont, northeast of Houston, a woman clutching her baby daughter was swept away in raging flooding. The baby was saved but the mother died, Beaumont police said.
In all, 17 people have died, according to government officials and the Houston Chronicle.
US Coast Guard helicopters and boats have rescued more than 4,000 people. Thousands of others have been taken to safety by police, rescue workers and citizen volunteers.
The National Hurricane Centre on Tuesday afternoon said a record 131.78cm of rain had fallen in Texas due to Harvey, a record for the continental United States.
Related Articles
Aug 29,2017
HOUSTON — US President Donald Trump headed to Texas on Tuesday to survey the response to devastating Tropical Storm Harvey, the first natura
Aug 28,2017
HOUSTON — Houston rescue agencies were struggling to find beds on Monday for tens of thousands of Texans driven from their homes by an unpre
Aug 27,2017
HOUSTON, Texas — Emergency crews raced to pull people from cars and homes as flood waters rose across southeast Texas on Sunday, rescuing mo
Newsletter
Get top stories and blog posts emailed to you each day.