You are here
In escalation, India says launches strikes on militants in Pakistan
India says 'surgical strikes' inflict serious casualties
By Reuters - Sep 29,2016 - Last updated at Sep 29,2016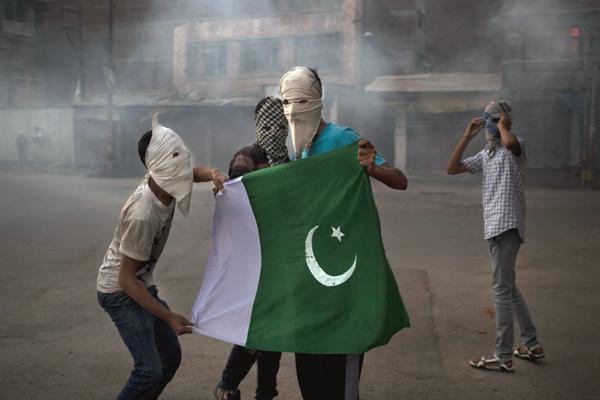 Kashmiri protesters hold Pakistani flag during a protest after funeral prayers in absentia for Pakistani soldiers killed in cross border firing in Srinagar, Indian controlled Kashmir, on Thursday (AP photo)
NEW DELHI/ISLAMABAD — India said on Thursday it had conducted "surgical strikes" on suspected militants preparing to infiltrate from Pakistan-ruled Kashmir, making its first direct military response to an attack on an army base it blames on Pakistan.
Pakistan said two of its soldiers had been killed in exchanges of fire and in repulsing an Indian "raid", but denied India had made any targeted strikes across the de facto frontier that runs through the disputed Himalayan territory of Kashmir.
The cross-border action inflicted significant casualties, the Indian army's head of operations told reporters in New Delhi, while a senior government official said Indian soldiers had crossed the border to target militant camps.
The announcement followed through on Prime Minister Narendra Modi's warning that those India held responsible "would not go unpunished" for a September 18 attack on an Indian army base at Uri, near the Line of Control, that killed 18 soldiers.
The strikes also raised the possibility of a military escalation between nuclear-armed India and Pakistan that would wreck a 2003 Kashmir ceasefire.
Lt General Ranbir Singh, the Indian army's director general of military operations (DGMO), said the strikes were launched on Wednesday based on "very specific and credible information that some terrorist units had positioned themselves... with an aim to carry out infiltration and terrorist strikes".
Singh said he had called his Pakistani counterpart to inform him of the operation, which had ended. India later briefed opposition parties and foreign ambassadors in New Delhi but stopped short of disclosing operational details.
"It would indicate that this was all pretty well organised," said one diplomat who spoke on condition of anonymity because the briefing by Foreign Secretary Subrahmanyam Jaishankar was confidential.
Pakistan's military spokesman slammed the Indian account as "totally baseless and completely a lie", saying the contact between DGMOs only included communication regarding cross-border firing, which was within existing rules of engagement.
"We deny it. There is no such thing on the ground. There is just the incident of the firing last night, which we responded to," Lt General Asim Bajwa told news channel Geo TV.
"We have fired in accordance with the rules of engagement We are acting in a responsible way."
Pakistan said nine of its soldiers had also been wounded. Neither side's account could be independently verified.
India's disclosure of such strikes was unprecedented, said Ajai Sahni of the Institute for Conflict Management in New Delhi, and sent a message not only to his own people but to the international community.
"India expects global support to launch more focused action against Pakistan," Sahni told Reuters. "There was tremendous pressure on the Indian prime minister to prove that he is ready to take serious action."
No more strategic restraint
The border clash also comes at a delicate time for Pakistan, with powerful Army Chief of Staff General Raheel Sharif due to retire shortly and Prime Minister Nawaz Sharif still to decide on a successor.
The Pakistani premier condemned what he called India's "unprovoked and naked aggression" and called a Cabinet meeting on Friday to discuss further steps.
Share markets in India and Pakistan fell on India's announcement. India's NSE index closed down 1.6 per cent after falling as much 2.1 per cent to its lowest since August 29, while Pakistan's benchmark 100-share index was down 0.15 per cent.
India announced its retaliation at a news conference in New Delhi that was hurriedly called, only to be delayed, as Modi chaired a meeting of his Cabinet committee on security to be briefed on the operation.
"The prime minister is clear that this is exactly what we should have done," a senior government official told Reuters on condition of anonymity. "Informing the world about the surgical strike was important today."
US National Security Adviser Susan Rice spoke with her Indian counterpart, Ajit Doval, before news of the Indian cross-border operation broke, the White House said.
Rice discussed deepening collaboration between the United States and India on counter-terrorism and urged Pakistan to combat and delegitimise individuals and entities designated by the United Nations as terrorists.
Six-hour exchange
Exchanges of fire took place in the Bhimber, Hot Spring, Kel and Lipa sectors in Pakistan-administered Kashmir, and lasted about six hours, the Pakistani military said earlier.
An Indian army officer in Kashmir said there had been shelling from the Pakistani side of the border into the Nowgam district, near the Line of Control, and the exchange of fire continued during the day.
There were no casualties or damage reported on the Indian side of the frontier. An Indian military source told Reuters that the operation was carried out on the Pakistani side of the Line of Control where there were between five and seven infiltration "launchpads".
"It was a shallow strike. The operation began at around midnight and it was over before sunrise," this source, who had been briefed by his superiors on the operation, said. "All our men our back. Significant casualties inflicted. Damage assessment still going on."
Both India and Pakistan claim Kashmir in full, but govern separate parts, and have fought three wars since independence from Britain in 1947, two of them over Kashmir.
Tension between the South Asian rivals has been high since an Indian crackdown on dissent in Kashmir following the killing by security forces of Burhan Wani, a young separatist leader, in July.
Related Articles
Sep 19,2016
Srinagar, India — India's prime minister on Monday summoned top security advisers to thrash out a response to a deadly raid on a Kashmir arm
Oct 01,2016
NEW DELHI —Indian and Pakistani troops exchanged fresh fire across their border on Saturday as UN chief Ban Ki-moon offered to mediate betwe
Oct 02,2016
MANDHOLE, Pakistan — Pakistani military officials point to an Indian army post high on a forested ridge along the Line of Control divi
Newsletter
Get top stories and blog posts emailed to you each day.