You are here
Erdogan calls on US to extradite rival Gulen
By Reuters - Apr 29,2014 - Last updated at Apr 29,2014
ANKARA — Prime Minister Recep Tayyip Erdogan said on Tuesday he would ask the United States to extradite an Islamic cleric he accuses of plotting to topple him and undermine Turkey with concocted graft accusations and secret wire taps.
Fethullah Gulen has lived in self-imposed exile in Pennsylvania since 1997, when secularist authorities raised accusations of Islamist activity against him. Erdogan accuses him of building a "parallel state" of followers in institutions such as the police and judiciary and using them to try to pull the levers of state power.
Gulen, a former ally, denies engineering a police graft investigation which has seen three Cabinet ministers quit, but has denounced Erdogan over moves to shut down the inquiry by purging police and judiciary of his followers.
Asked by a reporter at parliament after a meeting of his ruling AK Party if a process would begin for Gulen's extradition, Erdogan said: "Yes, it will begin."
In an interview with PBS talk show host Charlie Rose broadcast late on Monday, Erdogan said Gulen could also pose a threat to US security by his activities.
"These elements which threaten the national security of Turkey cannot be allowed to exist in other countries because what they do to us here, they might do against their host," Erdogan told Rose in the interview, according to a transcript.
Erdogan has drawn accusations of increasing authoritarianism with his response to the graft investigation, which has included removing thousands of police officers and hundreds of judges and prosecutors, as well as imposing a two-week ban on Twitter and broadening the powers of the state intelligence service.
Human Rights Watch on Monday criticised a new law giving the national intelligence agency (MIT) more scope for eavesdropping, greater immunity from prosecution for top agents and jail terms for leaks of sensitive information, saying it gave the agency "carte blanche" and was open to abuse.
The government has said the law replaces outdated legislation and brings Turkey in line with international norms.
German President Joachim Gauck criticised Erdogan's leadership style during a trip to Turkey on Monday and warned against curbing freedom of expression.
"Presumably he still thinks he is a clergyman," Erdogan said of Gauck, a former Lutheran pastor, adding his comments showed a lack of statesmanship and that he was "saddened" by his attitude.
Extradition
Erdogan said Turkey had complied with more than 10 extradition requests from the United States and now expected the same response from its NATO ally. But it was not clear on what basis an extradition might be agreed.
Turkish authorities would first need to issue an arrest warrant for Gulen and produce evidence indicating he has committed a crime, according to the 1979 treaty signed between the two countries.
"If he was tried in Turkey and had been convicted, then you can send that court ruling. You can request extradition for the implementation [of that sentence]," said former European Court of Human Rights judge Riza Turmen, a deputy from the main opposition CHP Party.
"But none of these are currently the case," he told Reuters.
The 1979 treaty also exempts all crimes of a "political character" unless they can be shown to have targeted either the head of state or head of government, or their families.
Erdogan said Turkey had cancelled Gulen's passport and that he was in the United States as a legal resident on a green card.
The US embassy in Ankara had no immediate comment.
Gulen runs a network of businesses and schools, well-funded and secular in nature, across the world. The schools are a major source of influence and funding and have become the target of government efforts to have them shut down.
Erdogan accuses Gulen of contriving criminal allegations that his son and the children of three ministers were involved in a corruption scandal and took billions of dollars of bribes.
He has also accused Gulen's Hizmet (Service) movement of bugging thousands of phones and leaking audio recordings, including purportedly of his foreign minister and senior security officials discussing possible armed intervention in neighbouring Syria, on the website YouTube.
Gulen has denied these accusations.
The recordings appeared ahead of a March 30 municipal election, but did little to affect Erdogan's popularity, with his AK Party dominating the electoral map.
Related Articles
Feb 24,2014
The network of a US-based cleric illegally tapped thousands of telephones in Turkey to blackmail and concoct criminal cases as part of a campaign of covert influence over government, a top adviser to Prime Minister Recep Tayyip Erdogan said on Monday.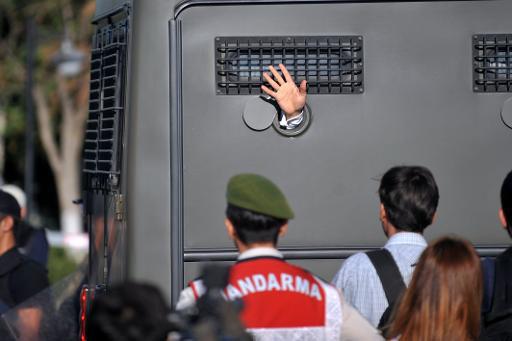 Mar 06,2014
Turkey's constitutional court backed former army chief Ilker Basbug's bid for release from a life jail sentence on Thursday, increasing disarray in the trial of coup plots against Prime Minister Recep Tayyip Erdogan who is now battling a new foe.
Jul 23,2016
ISTANBUL/ANKARA — President Recep Tayyip Erdogan tightened his grip on Turkey on Saturday, ordering the closure of thousands of private scho
Newsletter
Get top stories and blog posts emailed to you each day.