You are here
19 dead in fighting between Myanmar army, rebels — military
By AFP - May 12,2018 - Last updated at May 12,2018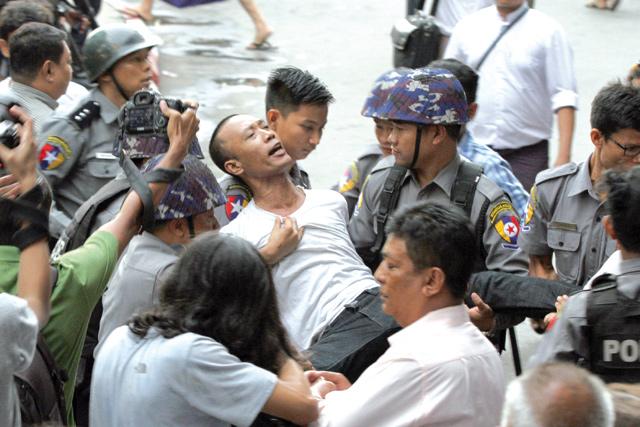 Myanmar police officers detain a student who takes part in a rally demanding peace at the war-torn Kachin State, in Yangon, Myanmar, on Saturday (Reuters photo)
MYITHYINA, Myanmar — At least 19 people were killed on Saturday in northern Myanmar when ethnic rebels attacked security force posts and a casino in an area bordering China, the most deadly flare-up in recent years that undercuts government efforts to win peace in the troubled country.
Rights defenders say clashes in the north have ramped up since January as the international community focuses on the Rohingya crisis in the west of the country.
The military stands accused of carrying out an ethnic cleansing campaign against the stateless minority in Rakhine.
The Ta'ang National Liberation Army, or TNLA, one of several insurgent groups fighting for more autonomy in the north, said it launched the operation on Saturday, while government and military sources confirmed the death toll.
Images and video from the skirmishes shared on social media showed armed men fanning out across a residential street while a rebel soldier took cover behind a car. The sound of automatic gunfire filled the air as ambulances picked up the wounded.
"Nineteen [people] were killed in fighting," an official with Myanmar's military told AFP, adding that two dozen had been wounded.
Government spokesman Zaw Htay said in a Facebook post that one police officer and three state-backed militia members had been killed while 15 of the dead were innocent civilians.
He called the operation terrorism.
"The attack to target innocent people is not asking for ethnic rights," he said. "It is just a destructive terrorist attack."
A statement posted on the page of Myanmar's commander-in-chief said military columns were in pursuit of the "terrorist insurgents".
TNLA spokesman Major Mai Aik Kyaw told AFP that they attacked joint military and militia posts and a casino just outside the Shan state town of Muse and on a road to Lashio.
"We fight because of heavy fighting in our region and the serious offensive in Kachin state," he said, referring to fresh confrontations in Myanmar's northernmost state between the military and the TNLA-aligned Kachin Independence Army.
He challenged the government statistics about the civilian toll from Saturday's violence, saying it was much lower.
"We feel sorry for civilian deaths. We are sorry. But it's hard to say how they were killed during the fighting," he said.
The TNLA said later on Saturday on its Facebook page that six civilians died, but they put the number of state-backed militia members killed at 25, well above the government figure.
Muse in Shan state is situated at a crossing between Myanmar and China's Yunnan province, a major source of trade between the two countries.
The TNLA spokesman said he believed some residents had fled over the border.
It is unclear if members of the powerful Kachin Independence Army, or KIA, took part in the attacks though the commander-in-chief's post said they did.
More than 100,000 displaced people now reside in camps in Kachin and Shan states since a ceasefire between the KIA the military broke down in 2011, according to the latest UN statistics.
Those fleeing violence have sheltered in tents and even churches in Kachin, which is mainly Christian, as rights groups and rebels accuse the military of blocking aid.
Myanmar's patchwork of ethnic groups makes up around a third of the population, but the Bamar, or Burmese, have filled the Buddhist-majority country's power structures since independence in 1948.
Civilian leader Aung San Suu Kyi said ending Myanmar's long history of clashes was her main priority after she took power in 2016, but she shares power with the military that fought the insurgencies for decades.
More than a third of Myanmar's townships are affected by unresolved conflict, according to a 2017 report from the Asia Foundation.
Suu Kyi managed to bring two ethnic groups into a ceasefire accord in February, adding to eight others who had signed the deal before she took office.
Reverend Hkalam Samsun, chairman of the Kachin Baptist Convention, said the Kachin people were "disappointed" with Suu Kyi.
"She should stand firm with the people but she compromised with the military," he said.
"She ignored the ethnic issue."
At an anti-war protest in Myanmar's former capital Yangon late Saturday police scuffled with demonstrators and several were detained, according to an AFP reporter on the scene.
Related Articles
Feb 28,2017
NAYPYIDAW, Myanmar — At least 160 people have died in three months of clashes between the military and ethnic armed groups in Myanmar's Shan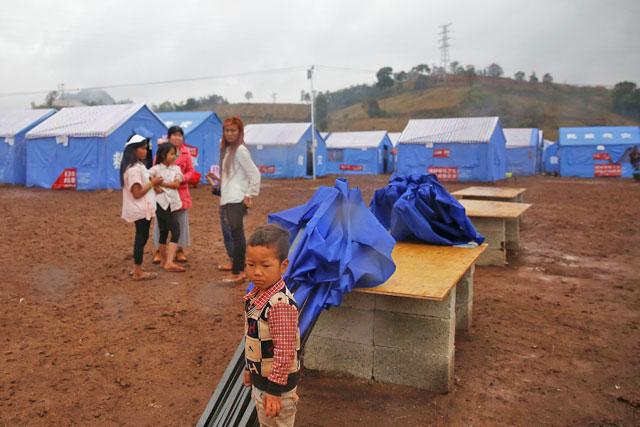 Mar 15,2017
YANGON — Raging battles on Myanmar's border with China have claimed dozens more lives, military and official sources said Wednesday, as the
Apr 28,2018
YANGON — Thousands of people have fled renewed fighting between Myanmar's army and ethnic insurgents in the country's remote north, a United
Newsletter
Get top stories and blog posts emailed to you each day.