You are here
Westbrook, Thunder put Warriors on brink of elimination
By Agencies - May 25,2016 - Last updated at May 25,2016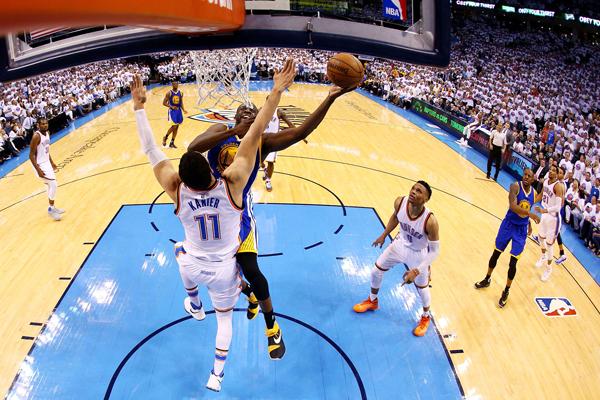 Draymond Green of the Golden State Warriors shoots against Enes Kanter of the Oklahoma City Thunder in Game 4 of their Western Conference finals during the 2016 NBA play-offs in Oklahoma City, Oklahoma, on Tuesday (AFP photo by Ronald Martinez)
OKLAHOMA CITY — Suddenly, the Golden State Warriors team that a short time ago were being favourably compared to the all-time great teams of NBA history is now on the brink of elimination from the Western Conference finals.
Oklahoma City beat Golden State 118-94 on Tuesday to take a 3-1 lead in the series and move within one win of prematurely ending the Warriors' record-breaking season.
Russell Westbrook had 36 points, 11 rebounds and 11 assists for his first triple-double of the play-offs after posting 18 in the regular season, and Kevin Durant added 26 points and 11 rebounds for Oklahoma City.
Golden State, who won a league record 73 games in the regular season, lost consecutive games for the first time this season. The Warriors must win Game 5 on Thursday in Oakland to keep their season alive.
"We all have to bounce back," Warriors coach Steve Kerr said. "The idea now is to go home and get one win. Do that, and we put some pressure on them and we'll see what happens."
Klay Thompson led Golden State with 26 points. Two-time league MVP Stephen Curry was limited to 19 points on 6-for-20 shooting, but Kerr insisted he was not still being affected by the knee injury that troubled him in the late stages of the regular season.
"He's not injured," Kerr said. "He's coming back from the knee, but he's not injured. He just had a lousy night. It happens, even to the best players in the world."
Oklahoma City got a boost from an unlikely source. Andre Roberson, a player the Warriors have ignored at times during the series, scored a career-high 17 points and grabbed 12 rebounds.
Kevin Durant added 26 points and 11 rebounds and Serge Ibaka added 17 points and seven rebounds.
Nine teams have rallied from 3-1 deficits in NBA play-off series to win 4-3.
"We're in a good place, but like I said, this game is over," Westbrook said. "We've got to move on to the next game. Every game is different."
The Thunder led 30-26 at the end of the first quarter, then gained control in the second. In the most unlikely of connections, Adams threw a bullet pass to Roberson near the basket for a dunk that gave the Thunder a 56-43 lead with just over four minutes left in the first half.
Oklahoma City finished with a flurry and led 72-53 at halftime. The Thunder matched the most points they have scored in a first half in franchise play-off history, a mark they set the previous game against the Warriors. It also matched the most points Golden State has allowed in a half this season for the second straight game.
Westbrook had 21 points, nine assists and five rebounds in the first half, and Durant had 18 points and six boards.
Thompson tried to keep the Warriors in it, scoring 19 points in just over seven minutes to start the third quarter. But the Thunder maintained their composure, led 94-82 at the end of the period and remained in control in the fourth.
"This is a tough situation to be in, but the series isn't over," Curry said.
The Warriors are fast becoming a pale shadow of the 73-win team that stormed through the regular season and there is no shortage of theories as to why the league's most dominant team are now on the verge of play-off elimination.
After Oklahoma City pummeled the Warriors 118-94 to take a commanding 3-1 lead in their best-of-seven Western Conference Finals series on Tuesday, questions poured in like Thunder fast-break points.
Is the team's talismanic MVP Stephen Curry healthy? Did Draymond Green buckle under the pressure of his near suspension? Is Golden State finally being crushed by the burden of fulfilling a record campaign?
Following their latest setback, the first consecutive losses of the season for the Warriors, the defending NBA champions did their best to deflect questions demanding an explanation for their demise.
"We had a tremendous season and did something no one has done before. We're proud of that. But in the play-offs, everyone starts 0-0, so there's no extra pressure," Golden State coach Steve Kerr told reporters.
On the court, however, the fun-loving Warriors of the regular season appear to have been transformed into a struggling unit, devoid of form or fluidity against a highly motivated opponent.
Curry buried half-court shots on command as he claimed a second consecutive MVP award but he has been outplayed by Thunder point guard Russell Westbrook in the conference finals, prompting inquiries about the right knee he sprained last month.
"I'm fine," said Curry, who has made just 13-of-37 shots in his last two games.
"In our locker room it's frustration and trying to figure out how we can get back to being ourselves."
Related Articles
May 17,2016
Oklahoma centre Steven Adams converted an errant pass by teammate Russell Westbrook into two critical free throws with 1:01 left on Monday t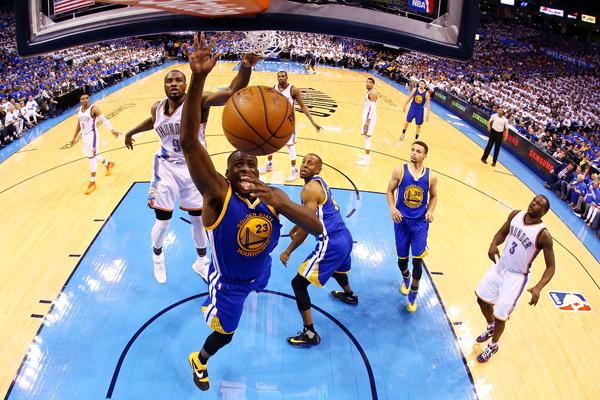 May 23,2016
OKLAHOMA CITY — Oklahoma City handed Golden State a more complete beating than anything the Warriors had experienced during their record-set
Apr 17,2016
OAKLAND, California — Stephen Curry dazzled from long range and drove to the hoop with fire and flair, scoring 24 points before tweaking his
Newsletter
Get top stories and blog posts emailed to you each day.