You are here
Warriors shake off slow start to beat Knicks
By AP - Feb 01,2016 - Last updated at Feb 01,2016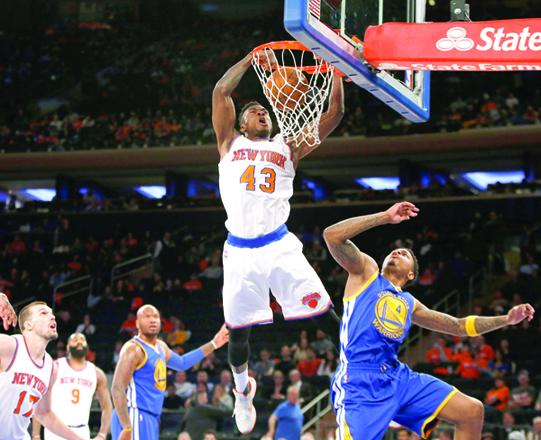 New York Knicks' forward Thanasis Antetokounmpo dunks the ball in front of Golden State Warriors' forward Brandon Rush in their NBA basketball game in New York, on Sunday (AP photo by Kathy Willens)
NEW YORK — Klay Thompson woke the Warriors from their slowest start of the season with 17 of his 34 points in the second quarter, Draymond Green tied Tom Gola's franchise record with his ninth triple-double of the season, and Golden State beat the New York Knicks 116-95 on Sunday night for their seventh straight victory.
Green made all nine shots as the Warriors (44-4) wrapped up January at 40 games over .500 even with a quiet 13 points from Stephen Curry. Green finished with 20 points, 10 rebounds and 10 assists for the Warriors, who were held to a season-low 18 points in the first quarter.
They charged back with 64 over the middle two quarters — the Knicks had only 65 total through three — and looked back to normal after a sluggish Saturday in Philadelphia.
Carmelo Anthony had 24 points and 10 rebounds for the Knicks, who lost for the fifth time in six games.
Hornets 101, Lakers 82
Marvin Williams and Michael Kidd-Gilchrist had 19 points and 12 rebounds apiece, and the Charlotte Hornets sent the Los Angeles Lakers to their franchise record-tying 10th consecutive defeat.
Kobe Bryant scored 23 points in 23 minutes, but the Lakers matched the 1994 team for the longest skid in the 16-time NBA champion franchise's proud history. Los Angeles dropped to 9-41, guaranteeing three straight non-winning seasons for the first time since 1961.
Kemba Walker had 12 points, seven rebounds and six assists for the Hornets, who wrapped up their four-game road trip with a decisive win over the Western Conference's worst team.
Trail Blazers 96, Timberwolves 93
CJ McCollum and Damian Lillard scored 21 points apiece, and the Portland Trail Blazers handed the Minnesota Timberwolves their 11th straight road loss.
Portland extended their winning streak to four and improved to 3-0 against the Timberwolves this season.
Karl-Anthony Towns, a contender for Rookie of the Year, was the first player on the court in double figures and finished with 21 points and 13 rebounds for the Timberwolves. It was his 25th double-double, the most of any rookie this season.
Clippers 120, Bulls 93
Jamal Crawford scored 12 of his 26 points in the fourth quarter, leading a dominant bench effort for the second straight game, and the Los Angeles Clippers defeated the Chicago Bulls for their fourth consecutive victory.
J.J. Redick added 21 points and DeAndre Jordan had 17 points and 20 rebounds for the Clippers, who improved to 15-3 without Blake Griffin. Their four-game streak has coincided with Griffin being out at least a month after breaking his right hand while punching the team's assistant equipment manager.
Jimmy Butler scored 23 points for the Bulls, who have lost four of six and dropped to 10-11 on the road.
Heat 105, Hawks 87
Chris Bosh scored 18 points and the Miami Heat extended their winning streak to four games with a victory over the Atlanta Hawks.
Dwyane Wade and Luol Deng each had 17 points and Amar'e Stoudemire finished with 13 points and 12 rebounds for the Heat, who led by as many as 22 and never trailed.
It is Miami's first four-game winning streak in the regular season since March 28 to April 2, 2014.
Paul Millsap and Al Horford each scored 17 for Atlanta, who have lost three straight.
Magic 119, Celtics 114
Evan Fournier scored 24 points and Aaron Gordon had 19 points and 14 rebounds as the Orlando Magic snapped an eight-game losing streak with a win over the Boston Celtics.
Rookie Mario Hezonja scored 17 points, Tobias Harris had 16 and Nikola Vucevic had 16 points, 13 rebounds and seven assists for the Magic.
Marcus Smart led Boston with 26 points. Isaiah Thomas added 23 points and Avery Bradley scored 22. The loss stopped a five-game win streak for Boston, who had beaten Orlando 113-94 two nights earlier.
Mavericks 91, Suns 78
Deron Williams scored 27 points and the Dallas Mavericks won without Dirk Nowitzki, surging past the lowly Phoenix Suns.
Dwight Powell had six straight points for all his scoring to give the Mavericks the lead for good in the fourth quarter.
Nowitzki sat out the opener of a back-to-back set and the first of Dallas' five games in seven nights. The Mavericks were hoping they could rest their 37-year old leading scorer and still beat a team with 13 straight road losses. Dallas did that thanks to a 23-5 run over the final 9 minutes and gave up its fewest points in the fourth quarter this season, outscoring Phoenix 23-9.
Rookie guard Devin Booker led the Suns in scoring for the third straight game with 19 points.
Related Articles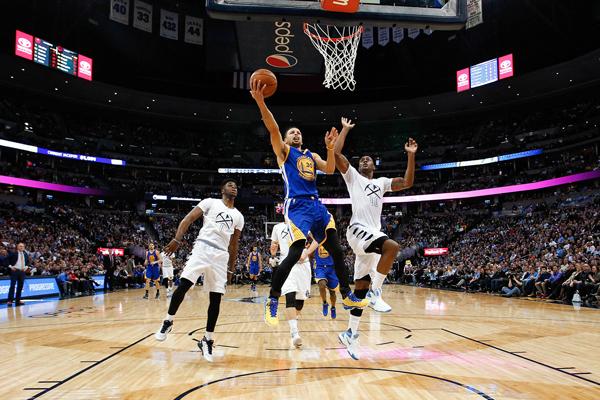 Jan 15,2016
DENVER — Stephen Curry was just about unstoppable in the fourth quarter, except near the very end.Curry scored 20 of his 38 points in the fi
Jan 12,2016
Forward LeBron James scored 12 of his 37 points in a decisive 14-0 fourth-quarter run, as the Cleveland Cavaliers beat the Philadelphia 76er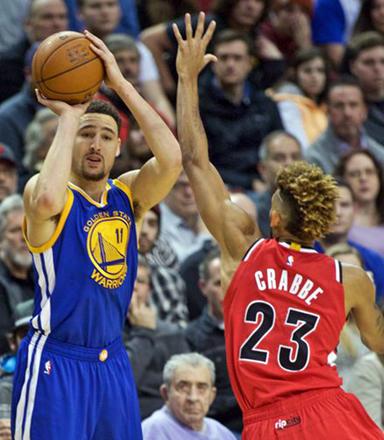 Jan 10,2016
Klay Thompson and Stephen Curry combined for 62 points as the Golden State Warriors trounced the Portland Trail Blazers 128-108 at the Moda
Newsletter
Get top stories and blog posts emailed to you each day.