You are here
Vettel win is a relief for all except Mercedes
By Reuters - Mar 30,2015 - Last updated at Mar 30,2015
SEPANG, Malaysia — An ebullient Sebastian Vettel spoke at length about the importance of his first win for Ferrari when addressing reporters after his Malaysian Grand Prix triumph on Sunday, yet his beaming smile pretty much said it all.
He was back, Ferrari were back and most importantly, Formula One was back.
Vettel upset the odds with a stunning drive at Sepang, overhauling pole-sitter Lewis Hamilton's Mercedes thanks to Ferrari's ability to get the best out of the faster medium-compound tyres in Malaysia's sweltering heat.
The team tactics were also superb, opting to keep the four-time world champion out on track during an early safety car period as rivals dived into the pits for new tyres, and he rode the advantage all the way to the chequered flag.
Not only had the German and Ferrari claimed their first victories since 2013 but, by finally finding a way to beat the dominant Mercedes "fair and square" as he put it, the series can now hope for a proper title race.
The 2015 season is only two races old, yet before Malaysia Formula One was awash with negative storylines and feared Mercedes could win everything at a canter.
Red Bull's Christian Horner, principal of Vettel's once-dominant but now troubled former team, had suggested Mercedes needed to be reined in by the authorities to level things out.
Vettel's own German Grand Prix had been axed due to a lack of finances and the confusion surrounding Fernando Alonso's winter testing crash and withdrawal from the Melbourne opener all added to the negative tone.
A Ferrari victory was the shot in the arm that the sport needed. As Mercedes' Nico Rosberg said on the podium at Sepang: "All I can say now, on behalf of our team is: Game on, Ferrari."
Vettel, following in the footsteps of seven-times champion compatriot Michael Schumacher, fulfilled a dream when he joined Ferrari at the end of last season but there remains plenty of work to do.
The Italian outfit, rebuilt after failing to win a race in a season for the first time since 1993, have no illusions about that even if Mercedes felt they had received a 'wake-up call'.
"Since I joined Ferrari I felt incredibly welcome and together we have worked to improve things. The potential, as I always said, is huge, it's good to see what a step forward we did over the winter," Vettel said.
"This is a special day, it has been a while since both I and team won for the last time.
"I'd like to be in the same position at every race but we must be realistic, Mercedes struggled today but have a great package and our target is to make the gap smaller at every Grand Prix and make sure that we are the team right behind them."
Mercedes, who had romped to a one-two finish in Australia, recognised the danger Ferrari posed following the first practice session in Malaysia and were taking the threat seriously.
"We were not expecting them to be as quick as they were. Vettel is up there with us," said world champion Lewis Hamilton, runner-up on Sunday.
"Ferrari and Sebastian were the best today so they are a title contender — both Ferrari drivers," added third-placed Rosberg.
Vettel's teammate Kimi Raikkonen was perhaps the unluckiest driver of the weekend, yet the Finn overcame a qualifying setback and early puncture in the race to finish fourth.
The next Grand Prix is in Shanghai on April 12 and the cooler conditions are likely to put Mercedes back in command.
But Malaysia left no doubt that Ferrari are back in business.
Related Articles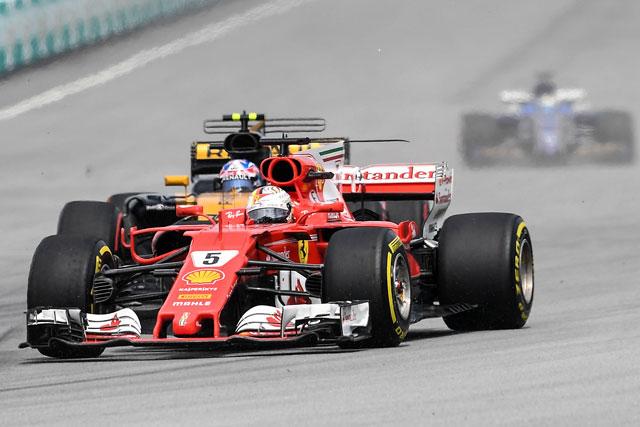 Oct 02,2017
SEPANG, Malaysia — Sebastian Vettel fell further behind Formula One championship leader Lewis Hamilton after Sunday's Malaysian Grand Prix,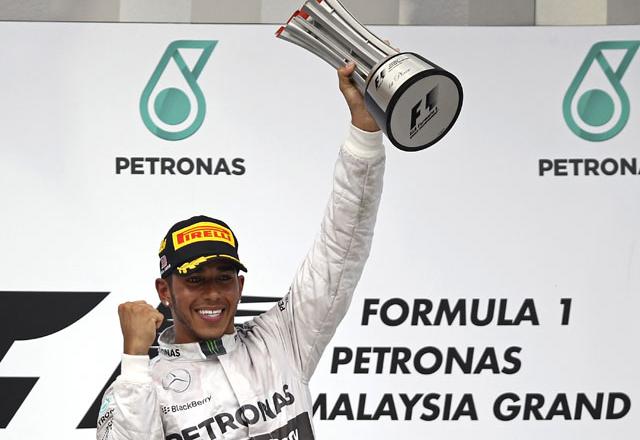 Mar 30,2014
Britain's Lewis Hamilton won the Malaysian Grand Prix with a pole-to-flag victory ahead of Nico Rosberg on Sunday in a first Mercedes one-two since they returned to Formula One as a works team in 2010.
Oct 02,2016
SEPANG, Malaysia — Daniel Ricciardo claimed an elusive maiden win of the season at a dramatic Formula One Malaysian Grand Prix on Sunday, th
Newsletter
Get top stories and blog posts emailed to you each day.