You are here
Spurs extend home dominance to 26 games
By AP - Dec 28,2015 - Last updated at Dec 28,2015
San Antonio Spurs' point guard Tony Parker shoots the ball past Denver Nuggets' point guard Jameer Nelson during their NBA basketball game in San Antonio, on Saturday (Reuters photo by Soobum Im)
SAN ANTONIO — San Antonio immediately bounced back from a rare loss and beat Denver 101-86 on Saturday to extend their franchise record for consecutive home wins to 26.
Kawhi Leonard had 20 points for the Spurs, who maintained their eight-game lead atop the NBA's Southwest Division.
The day's other key contests were in the Eastern Conference: Miami beat state and division rival Orlando to move one-and-a-half games above the Magic and stay within half a game of leader Atlanta, which comfortably beat New York; while Boston used a strong team effort to earn a victory over Detroit.
San Antonio's LaMarcus Aldridge had 12 points and nine rebounds, and Boris Diaw had 16 points for the Spurs, who have won all 17 home games this season to add to the final nine of the previous campaign.
Denver's Nikola Jokic scored 22 points on 10-for-19 shooting.
Miami rallied in the fourth quarter to win 108-101 at Orlando, with Dwyane Wade and Chris Bosh each scoring 24 points.
Orlando led 76-69 after three, but Wade fuelled Miami's rally with 12 points in the fourth. The Heat outscored the Magic 39-25 in the final period.
Nik Vucevic led Orlando with 22 points and 10 rebounds.
Atlanta overcame a slow start to win their sixth straight game, beating New York 117-98.
Paul Millsap scored 22 points and Al Horford added 19 for the Hawks, who trailed by 15 points midway through the first quarter and were down by 14 late in the third before completely taking over the game, going up by 20 points early in the fourth.
Carmelo Anthony, returning after missing one game with a sprained right ankle, finished with 18 points and 12 rebounds for the Knicks, who have dropped three straight.
Boston had six players score in double figures and the Celtics won 99-93 at Detroit.
Avery Bradley scored 18 points and Isaiah Thomas had 17 points and nine assists for the Celtics, who hung on in a tight finish.
The Pistons were within two points when former Detroit player Jonas Jerebko hit a baseline jumper with 10.7 seconds left to seal the result.
Pistons centre Andre Drummond had 22 points and 22 rebounds for his fifth 20-20 game of the season.
Dallas' J.J. Barea made a career-high seven 3-pointers and finished with 26 points, powering the Mavericks to a 118-111 win against Chicago.
Barea went 7-of-8 from beyond the arc and continued the form that saw score a career-high 30 in the previous game, while Zaza Pachulia contributed 17 points and 12 rebounds for the Mavericks.
Derrick Rose led the Bulls with 25 points, including nine in the fourth quarter, but had a key turnover before getting called for a 5-second violation when Chicago had a chance to tie in the final 11 seconds.
Charlotte's Kemba Walker scored 11 of his 22 points in the fourth quarter to steer the Hornets to a 98-92 win against Memphis.
Nicolas Batum had 20 points and 11 rebounds for the Hornets, who trailed 81-76 early in the final period.
Mike Conley scored 19 points for Memphis.
Portland's Allen Crabbe scored a career-high 26 points and the Trail Blazers shut down LeBron James to rout Cleveland 105-76.
Crabbe scored 21 in the first half, helping Portland arrest a five-game losing streak. He was 4 for 6 from three-point range for the night.
C.J. McCollum had 16 points for the Trail Blazers.
James missed his first four shots, had six points at halftime and didn't play in the fourth quarter. His 12 points total matched his season low.
Toronto used some hot perimeter shooting to win 111-90 at Milwaukee, rattling off eight three-pointers to take the lead late in the third quarter and then finishing the match with seven straight threes.
The Los Angeles Clippers shook off some bad pre-game injury news — Blake Griffin will be out at least two weeks with a torn tendon in his quadriceps — and won 109-104 at Utah.
Indiana belatedly found their three-point range in the fourth quarter, hitting six, to win 102-88 at Minnesota.
New Orleans hung on during a scoreless final two minutes to edge Houston 110-108, with Tyreke Evans stealing Trevor Ariza's inbounds pass in the final seconds to seal the win.
Washington inflicted a sixth successive home defeat on Brooklyn, beating the Nets 111-96 to get back to an even 14-14 win-loss record.
Philadelphia notched only their second win of the season by beating Phoenix 111-104, taking their first road win after 23 successive defeats dating back to last season.
Related Articles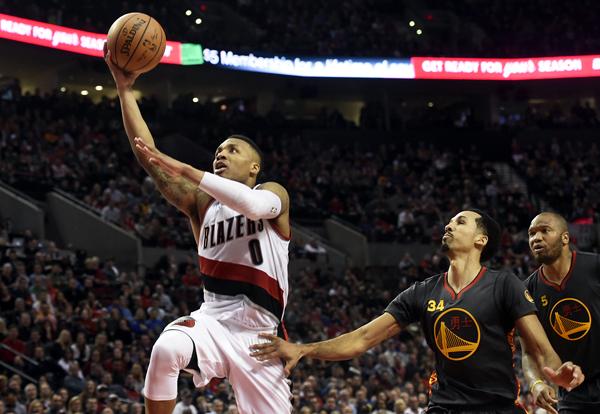 Feb 20,2016
PORTLAND, Oregon — Portland's Damian Lillard scored a career-high 51 points to lead the Trail Blazers to a stunningly dominant 137-105 victo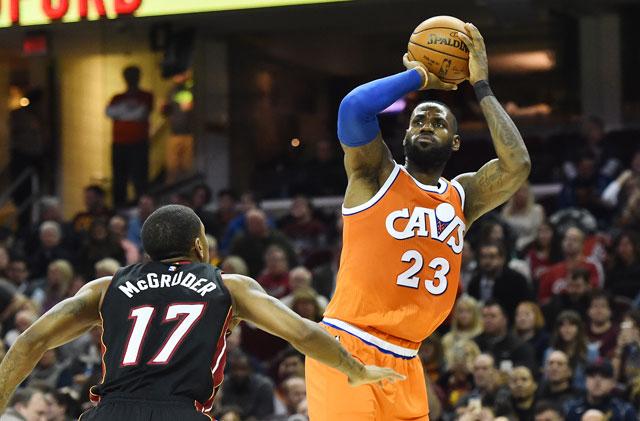 Dec 11,2016
CLEVELAND — LeBron James scored 17 of his season-high 44 points in the fourth quarter and reached another career milestone as the Cleveland
Oct 31,2017
Kyrie Irving played his best game with his new team, finishing with 24 points and six assists to lead the Boston Celtics to their fifth stra
Newsletter
Get top stories and blog posts emailed to you each day.