You are here
Shorthanded Mavericks beat Pelicans even as high-scorers rested
By Reuters - Jan 08,2016 - Last updated at Jan 08,2016
Raymond Felton scored a team-high 22 points, and Chandler Parsons scored 19 of his 21 points in the first half, to lift the shorthanded Dallas Mavericks to a 98-89 victory over the New Orleans Pelicans at Smoothie King Centre.
Playing the night after a double-overtime victory over Sacramento, Dallas (21-15) rested four starters — Dirk Nowitzki, Zaza Pachulia, Wesley Matthews and Deron Williams — but still held the Pelicans to 36 per cent shooting in the win.
The quartet of rested players normally account for 55 per cent of Dallas scoring.
Pacers 95, Magic 86
Paul George scored 20 points and grabbed seven rebounds to lead the Indiana Pacers to a 95-86 victory over the Orlando Magic at the Amway Centre.
George Hill had 16 points, including nine in the final period. Monta Ellis had 19 points and seven assists, and Ian Mahinmi finished with eight points and a game-high 12 rebounds for Indiana (20-15).
Cavaliers 121, Wizards 115
LeBron James scored 34 points and Kyrie Irving had 19 of his 32 in the fourth quarter as the Cleveland Cavaliers won their fifth straight game with a 121-115 victory over the Washington Wizards.
James helped stake the Cavaliers (24-9) to an 18-point lead by hitting all four of his three-pointers less than four minutes into the third quarter.
The Wizards (15-18) countered with their own barrage from beyond the arc, eventually tying the game 95-95 with 10:53 remaining. Irving dominated from there, scoring the game's next 10 points.
Raptors 91, Nets 74
Jonas Valanciunas collected a season-high 22 points and grabbed 11 rebounds as the Toronto Raptors pulled away in the second half en route to an 91-74 victory over the Brooklyn Nets.
Valanciunas had his best game since returning from missing 17 games with a broken left hand. He made his first six shots, finished 8-for-13 and recorded his seventh double-double while playing 30 minutes.
Pistons 99, Celtics 94
The Detroit Pistons snoozed through two-and-a-half quarters but then rallied from 13 points down to pull out a 99-94 victory over the Boston Celtics.
Reggie Jackson, who played at nearby Boston College, scored nine of his game-high 24 points in the final 6:01 as the Pistons (20-16) won for the third time in four games.
Nuggets 78, Timberwolves 74
Danilo Gallinari scored a game-high 20 points, leading the Denver Nuggets to a 78-74 win over the Minnesota Timberwolves at Target Centre.
Trailing by two, Minnesota had a chance to tie the game late but Andrew Wiggins missed a pair of shots and Karl-Anthony Towns had his put-back attempt blocked.
Spurs 123, Jazz 98
Tim Duncan had a season-high 18 points and led eight San Antonio players scoring in double figures as the Spurs took charge early and ran away with a 123-98 win over the Utah Jazz to remain unbeaten at home.
San Antonio shot 68 per cent from the floor in the first quarter and never looked back, winning for the sixth straight time. The Spurs' 123 points tied their most in a game this season, equaling Monday's total in a win over Milwaukee by the same score.
Suns 111, Hornets 102
Mirza Teletovic scored 19 points including five of Phoenix's season-high 19 three-pointers and the Suns needed them all to snap a nine-game losing streak with a 111-102 win over the Charlotte Hornets.
Brandon Knight added 18 points for the Suns (13-25), who hit 19 of 33 three-pointers (57.6 per cent) and won for the first time since beating the New Orleans Pelicans here on December 18.
It was also the 100th NBA coaching win for Phoenix's Jeff Hornacek.
Thunder 112, Grizzlies 94
Kevin Durant racked up 26 points and a game-high 17 rebounds to lead the Oklahoma City Thunder to an 112-94 victory over the Memphis Grizzlies at the Chesapeake Energy Arena.
Durant shot only nine of 18 from the field in a below average shooting performance by his standards, but in his first game back from a strained big toe he used his activity on the backboards to find a way to make an impression on the game.
He finished one rebound away from tying his career high.
Knicks 98, Heat 90
The New York Knicks broke a streak of eight straight losses in this once-bitter rivalry, defeating the Miami Heat 98-90 at American Airlines Arena.
The Knicks were led by Carmelo Anthony, who had 25 points, and Robin Lopez, who had 19. Knicks rookie forward Kristaps Porzingis, who was held scoreless in the first half, finished with 12 points.
Clippers 109, Trail Blazers 98
Chris Paul scored 21 points and dished out a season-high 19 assists to guide the Los Angeles Clippers to a 109-98 victory over the Portland Trail Blazers at the Moda Centre.
JJ Redick scored 20 points, Paul Pierce added 17 and DeAndre Jordan contributed 14 points and 14 rebounds for the Clippers (23-13), who won their seventh straight game, the NBA's longest active streak.
Related Articles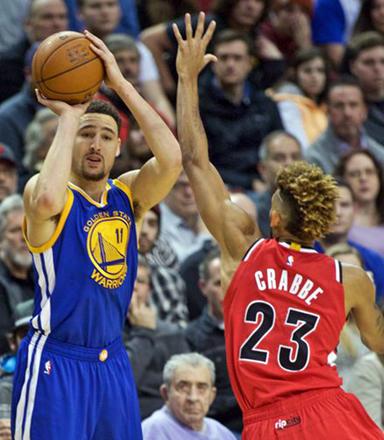 Jan 10,2016
Klay Thompson and Stephen Curry combined for 62 points as the Golden State Warriors trounced the Portland Trail Blazers 128-108 at the Moda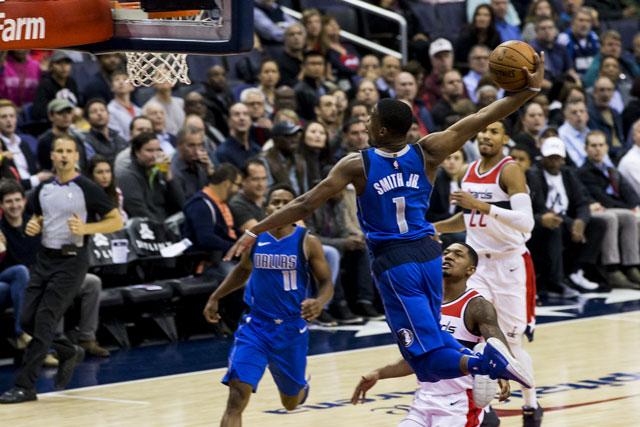 Nov 08,2017
Harrison Barnes scored 31 points as the Dallas Mavericks, owners of the NBA's worst record, upset the Washington Wizards 113-99 on Tuesday n
Oct 31,2017
Kyrie Irving played his best game with his new team, finishing with 24 points and six assists to lead the Boston Celtics to their fifth stra
Newsletter
Get top stories and blog posts emailed to you each day.