You are here
Riyadi junior basketballers head to Italian tourney
By Aline Bannayan - Jun 12,2019 - Last updated at Jun 12,2019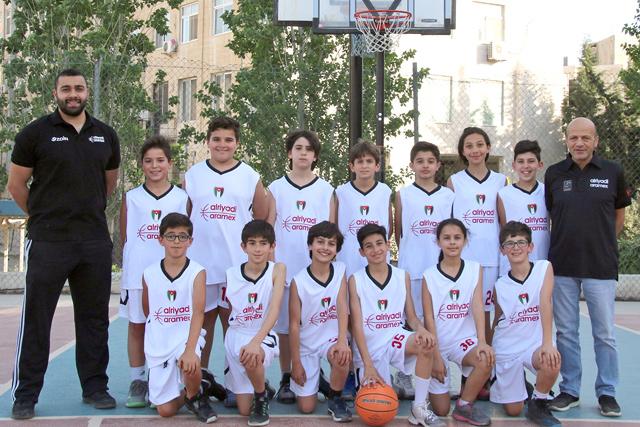 Riyadi Club coaches and team members (Photo courtesy of Riyadi Club)
AMMAN — Riyadi Club's junior basketball teams leave home on Saturday to take part in 27th Mini-Basket in Piazza Tournament in Matera, Italy.
Riyadi, who were the first Arab team to compete at the Matera tourney — the biggest annual European event for players under 11 — will be participating for the 18th time, joining basketball enthusiasts gathering from around the globe including 52 clubs from over 14 countries.
As the Riyadi youngsters prepared to leave Amman, Riyadi President Fadi Sabbah underlined his team's pride in being a long time partner of the tourney. "We are very proud of our 20 year old partnership with the most prestigious minimarket tournament, the beautiful city of Matera and its people," Sabbah told The Jordan Times.
"This year's edition is special since Matera is the European Capital of Culture which will add to the valuable experience our kids will get on and off the basketball court," he added.
"Our team has a lot of energy and great potential. They will play hard and will have a lot of fun… and by watching them we will have fun too."
Mini-Basket in Piazza is organised by Pielle Matera Club and endorsed by the Italian and European basketball federations. Riyadi first competed in Matera in 1998. Since then, they have made Matera a cornerstone of their basketball programme and their best result came in 2003 with a 3rd place finish.
Riyadi received the Italian president's trophy in 1998. In 2004, the organising committee selected Sabbah to coach the " World All Star Team" against the "Italian All Star Team" in an exhibition game and in 2005 and 2008 Riyadi won the Sportsmanship award.
Ever since their first time in Matera, Riyadi's youngsters have always been warmly welcomed by residents of Matera. Reading the "Athletes' Oath" in Arabic at the opening ceremony has now become a tradition. Organisers note that "'Mini-Basket in Piazza" is not just basketball, as children from different nations, races and cultures not only play basketball, but enrich their lifelong experiences as they visit cultural and historical monuments and participate in many activities on the sidelines. Riyadi's involvement has also been a chance to promote Jordan.
Riyadi's mini-basketball programme was established with the primary goal of introducing young children to the game, while providing them with the basic principles of basketball, all in a fun and competitive way.
The programme's ultimate goal aims to prepare the young players for the under 14 and 16 categories. With that in mind, in 1998, Riyadi was the first Jordanian club to reinstate a mini basketball programme after a 26 year hiatus. Besides playing in the U-14 league, one of Riyadi's many basketball programmes is the Super League, which has 300 players from ages 6–12 competing in the club's year-round mini-basket programme.
Having built a sustainable base of players, and after years of sponsorship by Aramex, in 2016, Riyadi won the Jordan Basketball League crown, nearly 20 years after the team's predecessor Jazira-Aramex won in 1997.
Newsletter
Get top stories and blog posts emailed to you each day.