You are here
Kingdom's taekwondo champion Abu Ghaush prepares for worlds
By JT - Mar 25,2019 - Last updated at Mar 25,2019
AMMAN — Three years ago, most Jordanians would be hard pressed to name a national sportsman or woman outside of football, but there is one name that will instantly come to mind since that historic day in 2016, according to the Jordan Olympic Committee News Service.
Ahmed Abu Ghaush became an overnight sensation by winning Jordan's first ever Olympic medal at the Rio Olympic Games when he took the taekwondo world by storm and dominated his weight all the way to gold.
He had come from nowhere to lift the Kingdom's spirits with a performance that we have never seen before, and his life has been one big rollercoaster of emotions since!
Abu Ghaush began to play taekwondo at the age of six when he joined a local taekwondo centre with the support of his family. They saw that he was always playing at home and they felt it was a good way for him to burn some energy! He loved it so much from the beginning.
"My first international tournament was in Egypt in 2010, when I was 14, as part of the national team for juniors. I won my six fights and achieved the gold medal. It was a memorable moment for me. I benefitted from this experience and it gave me the incentive to continue the pursuit of my dreams and my aspirations in the sport," Abu Ghaush said.
On August 19, 2016, Abu Ghaush made history for Jordan by winning its first Olympic gold.
"It was the most beautiful moment in my life. All the people were very happy that night, the atmosphere in Rio was incredible. I cannot describe that moment. My phone did not stop ringing with congratulations. To top it all off I received a phone call from His Majesty which then really made me realise the magnitude of the achievement. That call meant so much to me," he said
"My life completely changed after Rio. So many people are now following my results at international championships. They are expecting me to win every tournament I enter so that responsibility has brought extra pressure now. But it also encourages me to train harder and be my best for every tournament that I enter," he added.
When Abu Ghaush was a teenager, he stopped playing for two years after breaking his pelvis and damaging the cruciate ligament on his left knee, one of his toughest career challenges.
"But, thank God, I managed to overcome this obstacle and succeeded in winning the Olympic gold. I suffered injuries again last year, which was very difficult for me to take with a broken rib and more muscle problems, but again I recovered and became fully fit," Abu Ghaush said.
After a great start to the year, with gold medals in Fujairah and Turkey, the champion is preparing to participate in the World Championships in May, hoping to become the first Jordanian to win a gold medal.
"I won bronze in 2017, but I am determined to go all the way this time," he concluded.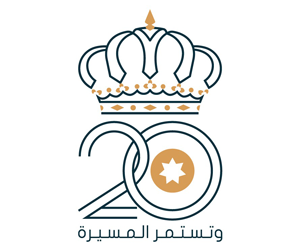 Newsletter
Get top stories and blog posts emailed to you each day.