You are here
Kalisz, Dressel shine on memorable night for US
By Reuters - Jul 27,2017 - Last updated at Jul 27,2017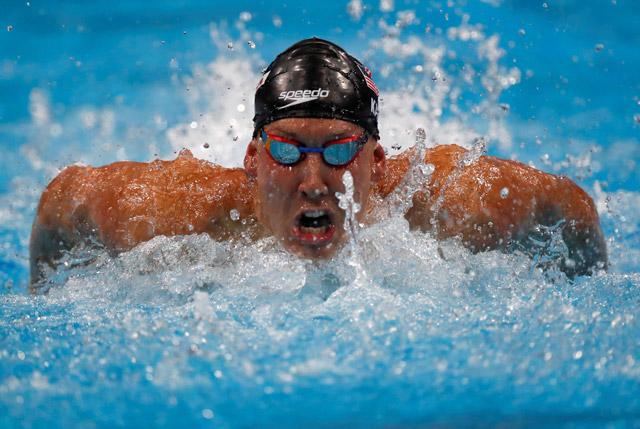 US' Chase Kalisz competing in the men's 200m medley final at the 2017 FINA World Championships in Budapest on Thursday (Reuters photo by David Balogh)
BUDAPEST — Chase Kalisz continued America's dominance of the men's 200 metres individual medley as the United States enjoyed a memorable evening at the World Championships on Thursday.
Kalisz's win set the tone before rising U.S. star Caeleb Dressel snatched victory in the men's 100 metres freestyle and the American quartet powered to gold in the women's 4x200 freestyle relay.
Michael Phelps and Ryan Lochte had dominated the 200m medley event since 2003 and the only American in the field delivered again as Kalisz posted one minute 55.56 seconds at the Duna Arena.
The 23-year-old produced a Phelps-like roar of celebration and double-arm splash to celebrate his gold medal.
Kalisz said that the enormity of his task had weighed on his mind for months.
"Michael and Ryan have been the centrepieces of that tradition for over 15 years now and for me [the prospect of getting] silver and stopping that streak, it took a toll on me," he told reporters.
Japanese Kosuke Hagino, the 2013 silver medallist, had cut loose on the backstroke before Kalisz took control on a swift breaststroke leg and freestyle finale.
Hagino touched for silver 0.05 seconds back.
"I would've definitely laughed at you months ago if you had told me this was going to be my first title," Kalisz added. "I was over three seconds slower."
There was a similar outcome in the 100m freestyle when Dressel took off his goggles and hit the water in euphoric style after taking gold in an American record time.
Dressel, 20, dominated the blue riband event from start to finish, clocking a highly impressive 47.17 seconds. Nathan Adrian secured an American one-two and Mehdy Metella of France took bronze.
"It's nice to go one-two with Nathan, there is nothing like that, Americans on top," an ecstatic Dressel said. "I just want to do my best every time I enter the water with the flag on my cap."
A further smile stretched across Dressel's face on hearing that his gold represented America's first in the 100m since Anthony Ervin's two-lap win in 2001.
China's bid to win a hat-trick of world titles in the women's 50m backstroke was scuppered by a jubilant Etiene Medeiros of Brazil.
Medeiros posted a time of 27.14 seconds as she held off defending champion Fu Yuanhui of China by 0.01 seconds in a fingertip finish. Aliaksandra Herasimenia of Belarus secured bronze.
Local favourite Katinka Hosszu of Hungary had briefly lifted the arena noise to deafening heights in the women's 200m butterfly final.
Hosszu, 28, set the pace in the opening stages of a race won defiantly by Mireia Belmonte of Spain in two minutes 05.26 seconds. Franziska Hentke took silver with Hosszu landing bronze.
Katie Ledecky then put the disappointment of losing an individual final for the first time at a world championships behind her by anchoring the US to 4x200m relay gold.
Leah Smith, Mallory Comerford and Melanie Margalis had gone stroke for stroke with China before Ledecky powered away on the final leg. Their time of seven minutes 43.39 seconds was just outside the world record.
China finished 1.17 seconds back and Australia took bronze.
"I have no frustrations about yesterday any more," beamed Ledecky following her 200m freestyle defeat.
Related Articles
Mar 06,2016
AMMAN — The stage is set for sport's biggest night of the year — The Black Iris Sports Awards — taking place on Monday night The cream
Sep 20,2014
North Korea's Om Yun Chol beat his own world record in the men's 56-kilogramme clean and jerk by 1 kilogramme on Saturday to grab weightlifting gold on the first day of competition at the Asian Games.
May 07,2017
AMMAN — Fencing in Jordan seems to be on the right track after more medals were secured at the Arab Junior Fencing Championship being hosted
Newsletter
Get top stories and blog posts emailed to you each day.