You are here
Jordan U-23 football takes on South Korea in Asian quarters
By Aline Bannayan - Jan 18,2020 - Last updated at Jan 18,2020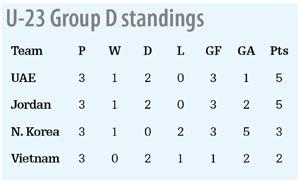 AMMAN — The national U-23 Olympic football team takes on South Korea on Sunday in the quarterfinals of the 4th Asian Football Confederation (AFC) U-23 Championship currently under way in Thailand.
Jordan held the UAE 1-1 to finish second in Group D after it beat North Korea 2-1 and held Vietnam 0-0. With the top two teams from each group moving on to the quarters, Jordan needed to win its last match. However, North Korea's 2-1 win over Vietnam kept Jordan in second spot and moved it to the quarters of the qualifying tournament for the 2020 Tokyo Olympics. Vietnam needed to win by a difference of two goals to secure the second qualifying spot from the group; however, it exited the event finishing fourth in the group.
Jordan has done extremely well to reach the quarter-finals and there has been no shortage of players who have stood up for them.
Ihab Al Khawaldeh initially started the tournament on the bench but forced his way into the starting line-up got the goal that drew against the UAE.
Officials hope Jordan will advance past the quarters and has a chance at reaching the Olympic Games. South Korea is strongly favoured to win the title. They reached the quarters after they beat Uzbekistan 2-1, China 1-0 and Iran 2-1. In other quarterfinal matches, Saudi Arabia plays Thailand, Australia plays Syria and Uzbekistan plays the UAE.
In 2018, Jordan's U-23 team was knocked out of Round 1 of the 3rd AFC U-23 Championship. In 2016, they reached the quarter-finals and in 2014 they finished third.
Compounding the Jordanian team's injury list was leading star Mousa Ta'mari not being released by his Cypriot club to join the team.
Jordan's other national teams were eliminated in Asian competitions last year. The U-16 squad was eliminated in qualifiers and failed to advance to the U-16 AFC Championship which serves as a qualifier for the FIFA U-17 World Cup. In the earlier edition, Jordan bowed out of the Round 1 of the 2018 AFC U-16 Championship.
The U-16 women's squad was eliminated in qualifiers and failed to advance to the AFC U-16 Women's Championship. Similarly, the U-19 women's and men's teams were also eliminated from qualifiers for the AFC Championship.
The U-19 men's team had impressive results in five past editions. The best performance came when it finished fourth in 2006 and advanced to the FIFA Youth World Cup in Canada in 2007. Jordan exited the first round in 2008 and 2010 and 2018 and reached the quarters in 2012. This was the third time Jordan failed to qualify after the 2014 and 2016.
Newsletter
Get top stories and blog posts emailed to you each day.