You are here
Jordan Professional Football League concludes
Ahli, Sarih drop to 1st Division
By Aline Bannayan - Jan 19,2021 - Last updated at Jan 19,2021
AMMAN — The Jordan Professional Football League (Pro League) has wrapped up the football season — one that was certainly different in every aspect due to the COVID-19 pandemic.
With no fans filling the stands, Wihdat took home their 17th title while Jazira finished in the runner-up spot, with Ramtha following up closely behind in third place.
Salt managed to hold on to fourth place ahead of former champs Faisali, who settled for fifth.
Hussein took 6th spot followed by Ma'an, who were promoted last year. Aqaba, who joined the Pro league two years ago, held on to 8th place ahead of one time champ Shabab Urdun. Sahab held on to 10th place after wins in the final two weeks while Sarih, who were promoted last year, could not stay in the Pro League and dropped alongside veterans Ahli after a disappointing season.
Jazira have been close to the title for the past three seasons, but lost momentum during the competition. The club has won the title four times, but lately have been unable to move past second spot.
After the Jordan Cup was scrapped from the agenda for the first time since the competition kicked off in 1980, the football season has ended with titles split between two teams. Faisali overcame Jazira to win their record 17th Jordan Super Cup while Wihdat defeated Ramtha to win their 10th Jordan Football Association Shield.
Next season, Wihdat is set to play in the preliminary round of the Asian Champions League while Faisali and Salt are set to play in the Asian Football Confederation (AFC) Cup. This season, reigning league champs Faisali played alongside Jazira in the AFC Cup, which was later scrapped with the COVID-19 pandemic halting regional and international sporting agendas.
Likewise, 2022 World Cup and 2023 Asian Cup national team qualifiers were postponed to 2021.
Compared to this season, the 2019/20 season saw Faisali win the Pro League title along with the Jordan Cup and Wihdat win the Jordan Super Cup. That Ras were relegated alongside Baqa'a who played 18 consecutive seasons in the Pro League.
Since the league kicked off in 1944 with only Faisali, Urdun, Ahli and Homenetmen competing, Faisali are 34 time record league champs while Wihdat won 17 times since they joined in 1980.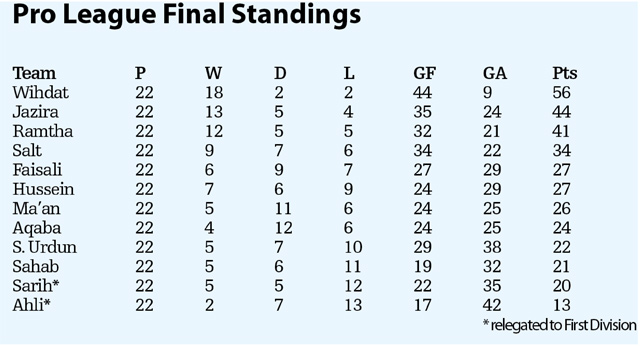 Newsletter
Get top stories and blog posts emailed to you each day.