You are here
Jordan football league resumes Friday
By Aline Bannayan - Mar 30,2017 - Last updated at Mar 30,2017
AMMAN — Teams return to local football action on Friday when the 17th week of the Jordan Football Professional League resumes after a two-week break for national team's Asian Football Confederation (AFC) Asian Cup qualifiers.
During the break Jordan beat Hong Kong 4-0 in a friendly before opening Asian Cup qualifiers with a 7-0 home win over lowly Cambodia.
Before heading to break Wihdat led the standings after scoring an important 3-0 win over 4th placed Manshieh. Jazira dropped to second after they were held 1-1 with Hussein, while Faisali remained third after a 0-0 draw with That Ras.
Wihdat will next play Ahli who lost 3-0 to 7th placed Shabab Urdun and dropped to 8th, while Baqa'a, who have managed to move out of the relegation zone for now, take on Jazira.
Baqa'a moved from last to 10th after their second consecutive win beating 9th placed Sahab 3-1, while That Ras remained 11th joining Sarih who dropped to last in the relegation zone. Ramtha are fifth after beating Sarih 2-1 and next play 6th placed Hussein.
Wihdat also lead their AFC Asian Cup Group C after they beat Oman's Saham 2-1. They earlier scored a 1-0 win over Lebanon's Nijmeh and held Bahrain's Muharraq 1-1.
Representing Jordan in the Asian Cup for the first time, Ahli are now third in Group A after they held Oman's Suweiq 0-0. They earlier held Iraq's Zawra 1-1 and lost their opening match 1-0 to Syria's Jeish.
Wihdat, who exited the Asian Champions League, are looking to win their fourth consecutive and 16th overall league title, while Faisali have not won the league in the past four years and eyeing their 33rd record title.
Joining the top three this season is Manshieh who joined the league alongside Sahab. Former Jordan Cup champs That Ras are now in the relegation zone, while Baqa'a, a usual top five team is also struggling in the lower half of standings. Jazira's Syrian pro Mardig Mardigian has maintained his scoring proficiency and leads the top scorers list with 12 goals followed by Wihdat's Munther Abu Amara with eight.
Related Articles
Apr 06,2017
AMMAN — It's becoming an interesting season for football fans with teams in pursuit of the Jordan Professional Football League title which s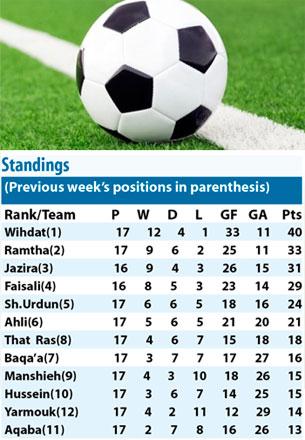 Mar 08,2018
AMMAN — Wihdat face Ahli and seem poised to retain the lead with the aim of retaking the title as Week 18 of the Jordan Professional Footbal
Mar 14,2018
AMMAN — While the battle for the title is nearly clear, the struggle at the other end of standings is closely contested as Week 19 of the Jo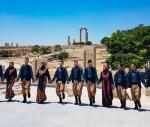 Newsletter
Get top stories and blog posts emailed to you each day.