You are here
Jazira lead Jordan Cup as matches resume Monday
By Aline Bannayan - Dec 24,2016 - Last updated at Dec 24,2016
AMMAN — Round 3 of the Jordan Cup Round kicks off on Monday with Jazira taking control of the competition as well as keeping their lead in the Profession League.
Jazira lead Group B after they beat That Ras 2-0. They next face Hussein who beat Sarih 2-1. Wihdat moved up the standings after they beat Shabab Urdun 2-0 and next play That Ras.
Hussein now tie Wihdat, That Ras and Shabab Urdun in second place trailing leaders Jazira in the group with only the top two teams from each group moving on to the semis, which will be played over two rounds with no Division 1 teams playing this year.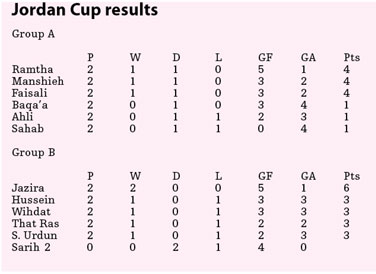 Group A leaders Ramtha and Manshieh face off after Ramtha held Faisali 1-1, Manshieh held Sahab 0-0. Baqa'a play Faisali after holding Ahli 1-1 while bottom placed Sahab play Ahli.
So far in the current season, Jazira leads the Pro League standings ahead of Wihdat and Faisali. Ahli won the first major competition on the 2016/17 football calendar, when they beat reigning league champs Wihdat 2-1 to win the 34th Super Cup. In the Jordan Football Association Shield — back on the calendar after four years — Shabab Urdun scored a major 5-1 win over Faisali. It was Shabab Urdun's second Shield title after they first won in 2007.
Last season, Wihdat retained the league title for their third consecutive and 15th league title since they moved up to the Professional League in 1975. Faisali beat Wihdat to clinch the Super Cup while it was Ahli who made history when they beat Shabab Urdun to win their first Jordan Cup final.
It was momentous for Ahli fans and officials as the title came after years in the backstage. Although the club is a long-time veteran and founder of the game in the Kingdom, Ahli were relegated to Division 1 in 2004 for the first time in their history. However, they have been back in the headlines after making it back to the Pro League in 2014, finishing fifth in 2015 and third last year.
Related Articles
Dec 29,2016
AMMAN — Jazira maintained their leading heading into the final week of 2016 as Week 9 of the Jordan Professional Football League kicks off F
Jan 08,2017
AMMAN — Round 4 of the Jordan Cup Round kicks off on Monday with final Leg 1 standings beginning to take shape as team increase their focus
Dec 14,2016
AMMAN — Week 6 of the Jordan Professional Football League is scheduled to kick off Thursday with Jazira still in the lead and all-time rival
Newsletter
Get top stories and blog posts emailed to you each day.