You are here
Cavaliers crush 76ers in decisive 14-0 fourth-quarter
By Reuters - Jan 12,2016 - Last updated at Jan 12,2016
Richard Jefferson of the Cleveland Cavaliers dunks the ball past Robert Covington of the Philadelphia 76ers in their NBA basketball game in Philadelphia, on Sunday (AFP photo by Mitchell Leff)
Forward LeBron James scored 12 of his 37 points in a decisive 14-0 fourth-quarter run, as the Cleveland Cavaliers beat the Philadelphia 76ers 95-85 on Sunday.
James also finished with nine assists and seven rebounds for Cleveland, which improved their Eastern Conference-leading record to 26-9 with their seventh straight victory.
The Cavaliers also won their fifth straight on the road and their sixth straight over Philadelphia, and completed their first four-game season sweep of the 76ers since 1995-96.
Jahlil Okafor had 21 points to lead Philadelphia, which dropped their third straight and saw their NBA-worst record fall to 4-36.
Rockets 107, Pacers 103 (OT)
After a hail of three-pointers, Houston turned a late defensive stand into an overtime victory over Indiana at Toyota Centre.
The Rockets surrendered the first six points of overtime, all on layups, but rallied with long-range efforts from Patrick Beverley (16 points, six assists), Trevor Ariza (24 points) and Corey Brewer (12 points).
Dwight Howard finished with 21 points and 17 rebounds, and James Harden had 21 points, nine rebounds and nine assists. Five Pacers scored in double figures, including Paul George, who had 20 points but just two after the third quarter.
Grizzlies 101, Celtics 98
Zach Randolph had 25 points and 13 rebounds off the bench to lead Memphis back from a 21-point deficit against Boston at FedExForum.
The Celtics had a chance to tie when Jeff Green made a bad inbounds pass with 3.9 seconds left.
Avery Bradley (14 points) missed a three-point attempt and then Isaiah Thomas, who led the Celtics with 35 points and eight assists, made a three-pointer, but it was after the buzzer.
Memphis won their sixth straight home game. Boston lost their third straight game.
Knicks 100, Bucks 88
Carmelo Anthony posted his 11th double-double of the season, scoring 24 points and grabbing 10 rebounds to pace New York over Milwaukee at Madison Square Garden.
Anthony also had eight assists and rookie Kristaps Porzingis registered another balanced game with 15 points, six rebounds and five blocked shots.
Robin Lopez finished with 13 points and nine rebounds before fouling out midway through the fourth quarter.
Milwaukee received 28 points and 10 rebounds from Greg Monroe and 20 points from Khris Middleton.
Clippers 114, Pelicans 111 (OT)
Chris Paul had 25 points, 11 assists and five rebounds as Clippers captured their ninth win in a row.
Jamal Crawford contributed 21 points for the Clippers, who had seven players score in double digits. Wesley Johnson and Luc Mbah a Moute added 15 and 14 points, respectively.
Jrue Holiday had a game-high 29 points to lead the Pelicans, who dropped their third in a row and did not have Anthony Davis (back contusion). Tyreke Evans finished with 26 points, seven rebounds and seven assists.
Mavericks 93, Timberwolves 87
Dirk Nowitzki scored a game-high 29 points as Dallas edged Minnesota at Target Centre.
Chandler Parsons added 14 points and Zaza Pachulia scored 13 as the Mavericks handed the Timberwolves their sixth straight loss.
Andrew Wiggins led Minnesota with 21 points.
Nuggets 95, Hornets 92
Danilo Gallinari scored 27 points, Emmanuel Muiday had 11 in his return to the line-up and Denver beat Charlotte.
Gary Harris added 12 points for the Nuggets, who snapped a four-game losing streak at home. Denver is just 6-11 at Pepsi Centre this season.
Jeremy Lamb and Cody Zeller had 15 points each for the Hornets, who have lost seven straight on the road and overall. They finished 0-4 on their Western Conference road trip.
Trail Blazers 115, Thunder 110
Damian Lillard made five three-point shots in the final 3:20 to rally Portland over Oklahoma City at the Moda Centre.
Lillard scored 17 of his 31 points in the fourth quarter as the Trail Blazers snapped a three-game losing streak. CJ McCollum added 22 points.
Kevin Durant scored 28 points and Russell Westbrook had 25 points, nine rebounds and 15 assists for Oklahoma City, which led 85-80 heading into the fourth quarter.
Jazz 86, Lakers 74
Forward Gordon Hayward scored 25 points to spark the Utah Jazz to a 86-74 victory over the Los Angeles Lakers at Staples Centre.
Guard Rodney Hood had 14 points and six rebounds for Utah (17-20), which won for the second night in a row. The Jazz defeated the Miami Heat 98-83 on Saturday in Salt Lake City.
Guard Lou Williams, coming off a career-high 44 points in a loss to the Oklahoma City Thunder on Friday, had 18 points on 5-of-17 shooting from the field for the Lakers (8-31), who lost their fourth straight.
Related Articles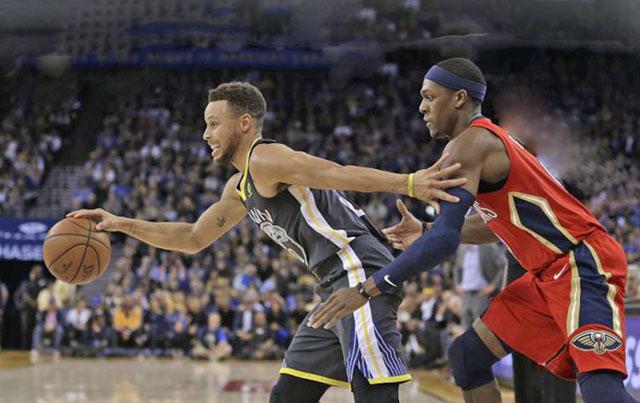 Nov 28,2017
Bogdan Bogdanovic hit a driving banker over Draymond Green with 12.6 seconds remaining Monday night to break a tie and lift the Sacramento K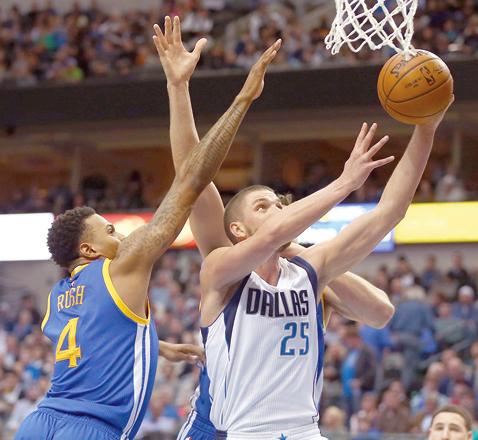 Jan 01,2016
DALLAS — The Golden State Warriors flopped without Stephen Curry, getting blown out for just their second loss of the season behind 23 point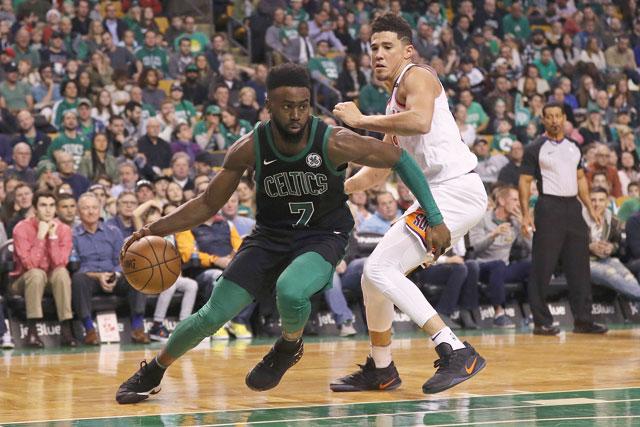 Dec 03,2017
Reuters Kyrie Irving scored five of his 19 points in the final 1:53 to help stop a Phoenix comeback and allow the Boston Celtics to esc
Newsletter
Get top stories and blog posts emailed to you each day.