You are here
Yemen MSF says hospital hit by air raid, no casualties
By AFP - Oct 27,2015 - Last updated at Oct 27,2015
SANAA — Air strikes have hit a medical facility run by Doctors Without Borders (MSF) in north Yemen, MSF said Tuesday, as rebel shelling killed 11 civilians in the south of the country.
The facility operated by the MSF charity in Saada "was hit by several air strikes last night with patients and staff inside the facility," the organisation said on Twitter.
MSF spokeswoman Malak Shaher told AFP that there were "no casualties" in Monday night's raids.
A Saudi-led coalition of Arab states launched an air campaign against Shiite Houthi rebels and their allies in late March in support of President Abed Rabbo Mansour Hadi.
Saada is the stronghold of the Iran-backed Houthis who overran the capital unopposed in September 2014 before advancing on several Yemeni provinces.
Air raids have been blamed for scores of civilians casualties since March.
In Afghanistan, at least 30 people were killed earlier this month in a US bombing of an MSF hospital in Kunduz.
In southwestern Yemen, at least 11 civilians were killed in artillery shelling by the Houthi rebels and their allies on residential parts of Taez — a city seen as key to controlling Sanaa.
"Eleven civilians were killed and eight were wounded in shelling on Taez during the past 48 hours," a health official told AFP.
Hashem Al Sufi, a commander of pro-government forces in Taez, accused Houthi rebels and militia supporters of former president Ali Abdullah Saleh of carrying out the shelling.
He added that 28 rebels were also killed in 24 hours of clashes and coalition air strikes in Taez. Seven pro-government fighters also in the battles, he said.
AFP could not independently verify this toll as the rebels rarely acknowledge their losses.
Loyalists control the centre of Taez, encircled by the Houthi rebels and allied forces loyal to Saleh.
The city, neighbouring Sanaa, has been a key battleground as forces loyal to Hadi seek to regain ground from the rebels.
In July, loyalists backed by the Saudi-led coalition evicted the rebels from five southern provinces and have set their sights on Sanaa.
Around 5,000 people have been killed in the conflict since March, more than half of them civilians, according to UN estimates.
Based on information gathered by the UN Human Rights Office, "the conflict in Yemen has caused an estimated 2,615 civilian death" since the Saudi-led coalition was launched on March 26. "Another 5,193 civilians have been injured."
Related Articles
Nov 25,2015
ADEN — Fierce fighting raged Wednesday between Yemeni pro-government forces and Iran-backed rebels for control of a region near a key shippi
Jan 10,2016
DUBAI — A missile strike on a Doctors Without Borders (MSF) clinic in Yemen killed at least four people Sunday, the group said, condemning w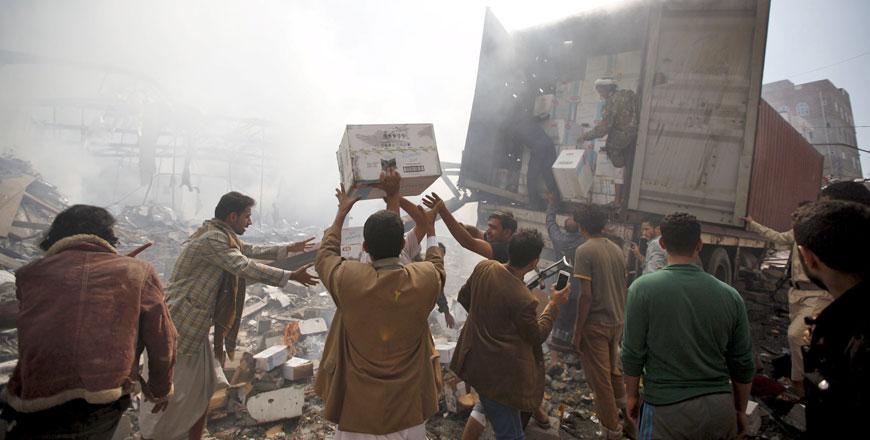 Oct 25,2015
ADEN — Heavy clashes and air strikes in Yemen's third city Taez left at least 36 fighters dead on Sunday, army sources said, as aid workers
Newsletter
Get top stories and blog posts emailed to you each day.