You are here
Yemen fighting persists outside rebel-held capital
By AFP - Dec 26,2015 - Last updated at Dec 26,2015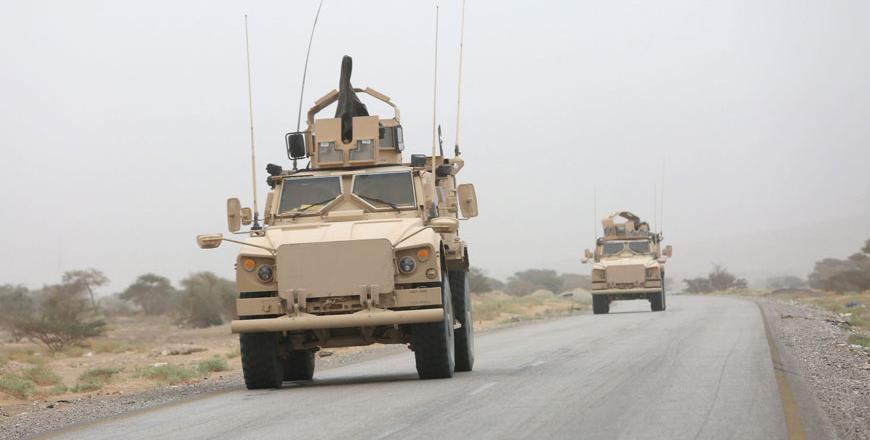 Armoured vehicles drive along a road during a fight against Houthi rebels in an area between Yemen's northern provinces of Al Jawf and Marib on Saturday (Reuters photo)
ADEN — Yemeni loyalists killed at least 20 Iran-backed rebels Saturday in a pushback against insurgents seeking to retake positions to the northeast of the capital they control, military sources said.
"The Houthis [rebels] on Friday launched an offensive in the direction of Jabal Al Salb in Nihm" district of Sanaa province, "but were repelled on Saturday morning", a loyalist commander told AFP.
"At least 20 Houthis were killed" since Friday night, another military source said, adding that an unspecified number of loyalist troops also died in the fighting.
Last week, pro-government forces captured the Jabal Al Salb area 40 kilometres outside Sanaa.
Forces loyal to Yemeni President Abed Rabbo Mansour Hadi and the Saudi-led military coalition supporting them have sent troops and armoured vehicles to reinforce the district.
Another six loyalists were killed on Saturday in a rebel rocket attack on the presidential palace in Marib, a town east of Sanaa under loyalist control, a pro-government military source said.
In Hajja province bordering Saudi Arabia, loyalists fended off a rebel attack north of Haradh town, which was recaptured by pro-government forces last week, a loyalist officer said.
"We're facing a counteroffensive from the Houthis who want to reconquer Jabal Al Nar" mountainous area they lost last week, he said.
Supported by Saudi Apache helicopters, pro-government forces "repelled the attack and inflicted heavy human losses on the Houthis", he added.
Coalition fighter jets led dawn raids on rebel positions in Majzar area in northern Jawf province, which is mostly under loyalist control, a spokesman for the pro-government Popular Resistance militia said.
Loyalist forces advanced in Ghayl area in the same province, around 20 kilometres northeast of Majzar, spokesman Mohamed Al Behaih added.
Strikes also targeted rebel positions in the Baqim and Kitaf areas in northern Saada province, the rebels' stronghold, loyalist military sources said.
The Houthis confirmed the strikes in a statement.
Taez hospital closes
Meanwhile, rebel rocket fire hit residential areas of the southwestern city of Taez, causing "several casualties", a military source said.
Two rebels and two loyalists died in clashes in the city's southern and western districts, while six more Houthis died in an ambush in Maqbana to the northwest of the city, the source said.
The largest hospital in Taez, which is under rebel seige, has closed due to "all its medicine and surgical materials running out", the hospital's management said in a statement on Saturday.
During peace talks last week, both sides had agreed to "allow for a full and immediate resumption of humanitarian assistance" into Taez.
But this aid "never reached residents in the centre of Taez, as Houthis seized it to give it to their supporters," Abdelkarim Shamsan, the head of a local humanitarian organisation, said.
Fighting persists in Yemen nine months since the coalition entered the war to support President Hadi, despite his government announcing the extension of a repeatedly violated ceasefire earlier this week.
Warplanes and troops from the Saudi-led coalition have been supporting forces loyal to Hadi since March.
The rebels seized Sanaa last year and then advanced south to second city Aden, forcing Hadi to flee to Saudi Arabia.
Following territorial gains by loyalists, Hadi returned to Aden in November after six months in exile.
The conflict has escalated dramatically since March 26, with nearly 6,000 people killed according to UN figures.
Related Articles
Sep 17,2016
ADEN — Yemeni pro-government forces battled Shiite Houthi rebels on two fronts Saturday, including east of Taez where they are struggling to
Nov 25,2015
ADEN — Fierce fighting raged Wednesday between Yemeni pro-government forces and Iran-backed rebels for control of a region near a key shippi
Aug 24,2015
SANAA — Iran-backed rebels in Yemen fired rockets into a residential district of Taez, killing 14 civilians, mostly women and children, offi
Newsletter
Get top stories and blog posts emailed to you each day.