You are here
Yemen clashes rage despite US call for truce
By AFP - Nov 17,2016 - Last updated at Nov 17,2016
ADEN — Clashes raged in Yemen killing at least 27 people Thursday as the Saudi-led coalition said military operations will continue despite US Secretary of State John Kerry announcing a truce.
Fighting between loyalist forces and Shiite Houthi rebels and their allies intensified on the outskirts of the flashpoint city of Taez, killing four soldiers and five insurgents, military officials said.
Pro-government forces pressed on with a three-day-old offensive to recapture the presidential residence and police headquarters in the southwestern city, they said, as rebels brought in reinforcements.
Further to the east, seven rebels and five soldiers were killed in clashes in Shabwa province, as both parties fought for control of the oil-rich Usaylan region, other military sources said.
Meanwhile, warplanes from the pro-government Saudi-led Arab coalition pounded rebel positions in Saada, the northern fiefdom of the Houthis, as well as in Nahm and Sarwah, close to the rebel-held capital Sanaa, they said.
Six other rebels were killed in an ambush in the central province of Baida, the officials said.
The fighting continued despite Kerry's announcement of a new ceasefire starting on Thursday.
The US chief diplomat said on Tuesday that rebels were ready to observe a ceasefire plan taking effect from November 17, but Yemeni President Abed Rabbo Mansour Hadi's government said it was not aware of any new peace initiative.
Kerry spoke a day after meeting Houthi negotiators in Oman.
The Houthis and the party of their ally, former president Ali Abdullah Saleh, confirmed their commitment to the truce, in a statement on the rebel television channel Almasirah's website.
But the spokesman of the Saudi-led coalition, Major General Ahmed Assiri, told AFP: "Until now there is no demand from the legitimate government [of Yemen] to observe a ceasefire.
"Consequently, the operations of the Yemeni army, supported by the coalition, will continue."
Six attempts to clinch a ceasefire in Yemen have foundered, including a three-day October truce that fell apart as soon as it went into force.
It was designed to allow aid deliveries to millions of homeless and hungry Yemenis.
The UN says more than 7,000 people have been killed and nearly 37,000 wounded in Yemen since the Arab coalition launched a military campaign in March 2015 in support of the government against the Iran-backed rebels.
Related Articles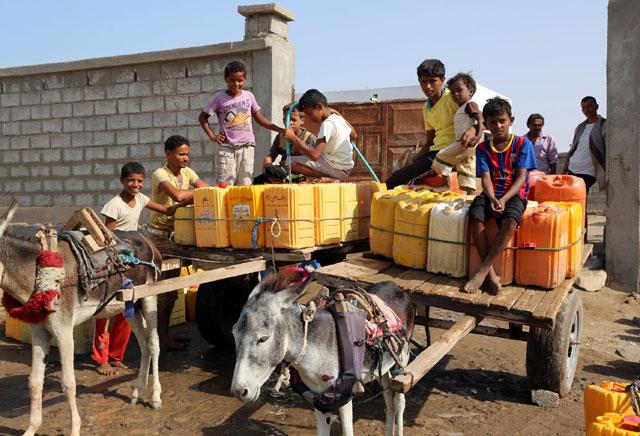 Oct 19,2016
ADEN — Clashes killed dozens of fighters across Yemen before a UN-brokered ceasefire was to begin Wednesday, as warring parties came under m
May 16,2015
Fierce clashes between rebels and pro-government forces killed dozens across south Yemen on Saturday, threatening to derail a humanitarian ceasefire drawn up to bring vital aid to the war-wracked country.
Oct 22,2016
ADEN — Fierce gun battles erupted overnight between Yemeni rebels and pro-government forces along the border with Saudi Arabia despite a thr
Newsletter
Get top stories and blog posts emailed to you each day.