You are here
Yemen's warring sides agree prisoner swap before Ramadan
By Reuters - May 26,2016 - Last updated at May 26,2016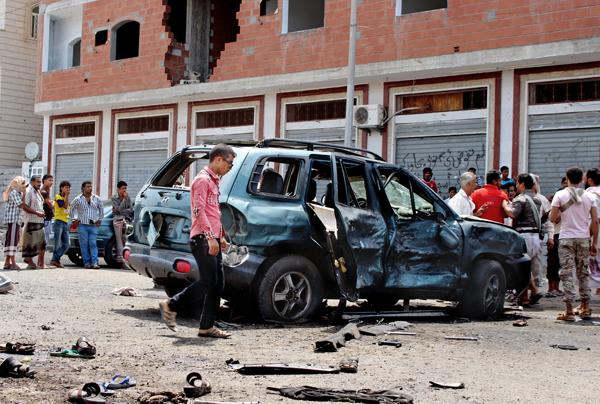 People gather at the scene after a pair of suicide bombings attack in the southern city of Aden, Yemen, on Monday (AP photo)
KUWAIT — Yemen's warring parties have agreed to a prisoner exchange before the Muslim holy month of Ramadan in early June, sources from both delegations told Reuters on Thursday.
The decision was a show of goodwill between the Iran-allied Houthis and Yemen's Saudi-backed exile government as peace talks in Kuwait aimed at ending a year-long war dragged into a second month. However, the two sides appeared to differ on the number of prisoners to be released.
Sources from the Houthi militia's delegation said 1,000 prisoners would be swapped, while a government source said the agreement entailed the release of "all detainees", who number more than 4,000.
The sides will submit a list of prisoner requests to UN mediators within two days, after which "local committees" would be created to facilitate the exchanges, the Houthi sources said.
At a news conference earlier in the day, UN envoy Ismail Ould Cheikh Ahmed told reporters officials from the International Committee of the Red Cross had met with the delegations to explain its possible role in a release process.
A prisoner swap has been a long-sought sign of progress for the talks.
Government sources at the UN-backed peace talks said in early May an agreement had been struck to release all prisoners within 20 days, but Houthi delegates said they had only considered the proposal, not approved it.
A tentative UN-backed ceasefire has been in place since last month to give the peace talks in Kuwait a chance. Both sides have regularly accused the other of violations.
Related Articles
May 10,2016
CAIRO —Yemen's Houthi fighters have denied reports that warring parties have reached a preliminary agreement on Tuesday to release all priso
Sep 02,2018
ADEN — Yemen's warring parties will not meet directly at UN-brokered peace talks in Geneva this week, likely to focus on a prisoner exchange
May 17,2016
KUWAIT CITY — Yemen's government suspended its participation in talks with Iran-backed rebels Tuesday for the second time this month, the fo
Newsletter
Get top stories and blog posts emailed to you each day.