You are here
As US pushes for Mideast peace, Saudi king reassures allies
By Reuters - Jul 29,2018 - Last updated at Jul 29,2018
Mohammed Bin Salman, the crown prince of Saudi Arabia, is pictured in January 2017 (AFP photo)
RIYADH — Saudi Arabia has reassured Arab allies it will not endorse any Middle East peace plan that fails to address Jerusalem's status or refugees' right of return, easing their concerns that the kingdom might back a nascent US deal which aligns with Israel on key issues.
King Salman's private guarantees to Palestinian President Mahmoud Abbas and his public defence of long-standing Arab positions in recent months have helped reverse perceptions that Saudi Arabia's stance was changing under his powerful young son, Crown Prince Mohammed Bin Salman, diplomats and analysts said.
This in turn has called into question whether Saudi Arabia, birthplace of Islam and site of its holiest shrines, can rally Arab support for a new push to end the Israeli-Palestinian dispute, with an eye to closing ranks against mutual enemy Iran.
"In Saudi Arabia, the king is the one who decides on this issue now, not the crown prince," said a senior Arab diplomat in Riyadh. "The US mistake was they thought one country could pressure the rest to give in, but it's not about pressure. No Arab leader can concede on Jerusalem or Palestine."
Palestinian officials told Reuters in December that Prince Mohammed, known as MbS, had pressed Abbas to support the U.S. plan despite concerns it offered the Palestinians limited self-government inside disconnected patches of the occupied West Bank, with no right of return for refugees displaced by the Arab-Israeli wars of 1948 and 1967.
Such a plan would diverge from the Arab Peace Initiative drawn up by Saudi Arabia in 2002 in which Arab nations offered Israel normal ties in return for a statehood deal with the Palestinians and full Israeli withdrawal from territory captured in 1967.
Saudi officials have denied any difference between King Salman, who has vocally supported that initiative, and MbS, who has shaken up long-held policies on many issues and told a US magazine in April that Israelis are entitled to live peacefully on their own land — a rare statement for an Arab leader.
The Palestinian ambassador to Riyadh, Basem Al Agha, told Reuters that King Salman had expressed support for Palestinians in a recent meeting with Abbas, saying: "We will not abandon you ... We accept what you accept and we reject what you reject".
He said that King Salman naming the 2018 Arab League conference "The Jerusalem Summit" and announcing $200 million in aid for Palestinians were messages that Jerusalem and refugees were back on the table.
The Saudi authorities did not respond to a request for comment on the current status of diplomatic efforts.
Red lines
Diplomats in the region say Washington's current thinking, conveyed during a tour last month by top White House officials, does not include Arab East Jerusalem as the capital of a Palestinian state, a right of return for refugees or a freeze of Israeli settlements in lands claimed by the Palestinians.
Senior adviser Jared Kushner, President Donald Trump's son-in-law, has not provided concrete details of the US strategy more than 18 months after he was tasked with forging peace.
A diplomat in Riyadh briefed on Kushner's latest visit to the kingdom said King Salman and MbS had seen him together: "MbS did the talking while the king was in the background".
Independent analyst Neil Partrick said King Salman appears to have reined in MbS' "politically reckless approach" because of Jerusalem's importance to Muslims.
"So MbS won't oppose Kushner's 'deal', but neither will he, any longer, do much to encourage its one-sided political simplicities," said Partrick, lead contributor and editor of "Saudi Arabian Foreign Policy: Conflict and Cooperation".
In Qatar, Kushner asked Emir Sheikh Tamim Bin Hamad Al-Thani to pressure Hamas to cede control of Gaza in return for development aid, the diplomats said.
One diplomat briefed on the meeting said Sheikh Tamim just nodded silently. It was unclear if that signalled an agreement or whether Qatar was offered anything in return.
"The problem is there is no cohesive plan presented to all countries," said the senior Arab diplomat in Riyadh. "Nobody sees what everyone else is being offered."
Kushner, a 37-year-old real estate developer with little experience of international diplomacy or political negotiation, visited Jordan, Saudi Arabia, Qatar, Egypt and Israel in June. He did not meet Abbas, who has refused to see Trump's team after the US embassy was moved to Jerusalem.
In an interview at the end of his trip, Kushner said Washington would announce its Middle East peace plan soon, and press on with or without Abbas. Yet there has been little to suggest any significant progress towards ending the decades-old conflict, which Trump has said would be "the ultimate deal".
"There is no new push. Nothing Kushner presented is acceptable to any of the Arab countries," the Arab diplomat said. "He thinks he is 'I Dream of Genie' with a magic wand to make a new solution to the problem."
Related Articles
Feb 26,2019
ABU DHABI — White House adviser Jared Kushner, giving a broad outline of a US peace plan for the Middle East, said it will address final-sta
Feb 28,2019
RIYADH — White House Adviser Jared Kushner held talks with Saudi Arabia's king and crown prince during a regional tour to rally support for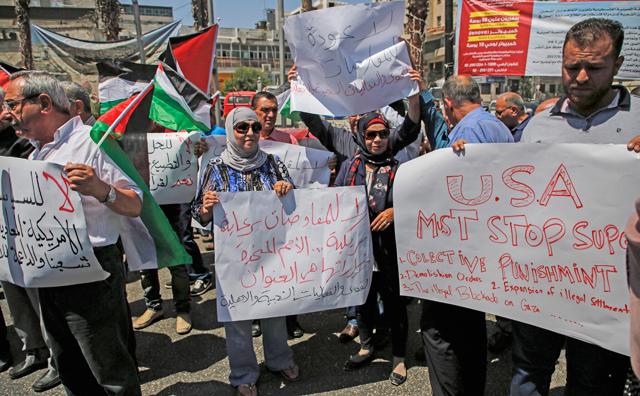 Aug 24,2017
OCCUPIED JERUSALEM — US President Donald Trump remains "very committed" to achieving Israeli-Palestinian peace, his son-in-law an