You are here
US marines conduct large drills with rebels in southern Syria
By Reuters - Sep 13,2018 - Last updated at Sep 13,2018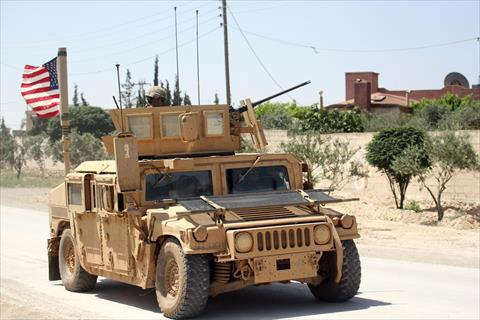 In this file photo, the US flag flutters on a military vehicle in the Manbej countryside, Syria, on May 12, 2018 (Reuters photo)
AMMAN — A Syrian rebel commander said on Thursday rare military exercises with US marines in southern Syria sent a strong message to Russia and Iran that the Americans and the rebels intend to stay and confront any threats to their presence.
Colonel Muhanad Al Talaa, commander of the Pentagon-backed Maghawir Al Thawra group, told Reuters the eight days of drills that ended this week at the US military outpost in Tanf were the first such exercises with live-fire air and ground assault, involving hundreds of US troops and rebel fighters.
"These exercises have a big importance and have beefed up the defences of the area, and raised the combat capabilities and morale... of civilians in the area," Talaa told Reuters by phone from Tanf, near Syria's borders with Jordan and Iraq.
A US military spokesman said the exercises were a show of force and that the Pentagon had notified Moscow through "deconfliction" channels to prevent "miscommunication or escalate tension".
"The exercise was conducted to reinforce our capabilities and ensure we are ready to respond to any threat to our forces within our area of operations," Colonel Sean Ryan told Reuters in an e-mail response to a question on the exercises.
Russia and the Syrian government have repeatedly called on Washington to pull out its troops from Tanf base, where it has declared a 55km-radius "deconfliction zone" off-limits to others.
Rebels say hundreds of US marines arrived this month in Tanf to join special operations troops already based in the garrison and participate in the drills, amid heightened US-Russian tensions in Syria and a naval buildup in the Mediterranean.
The "deconfliction zone" has become a safe haven for at least 50,000 civilians who live in the Rukban camp that lies within it. Russia's defence ministry in August repeated an accusation that Washington has been harbouring Daesh militants within the zone.
"We are staying whether the Russians or Iranians want or not," the rebel commander added.
The outpost, surrounded by desert, was established during the battles against Daesh militants who used to control eastern Syria bordering Iraq.
After Daesh was driven out, US-led coalition warplanes struck Iranian-backed militias on several occasions to prevent them advancing, in what Washington has described as self-defence.
Tanf lies on the strategic Damascus-Baghdad highway, once a major supply route for Iranian weapons into Syria.
This makes the base a bulwark against Iran and part of a larger campaign against Iran's military expansion in the Middle East.
Control of the area has long been a goal of the Syrian government and its Russian and Iranian allies.
Rebels say the US military's new policy to bolster Tanf's capabilities is a big shift.
"The American position has changed completely towards the Iranians. Before it was just putting a line to the Iranians not to approach the areas," Talaa added.
Tehran's failure to end its military presence in Syria could provoke a US military response, Talaa added.
Newsletter
Get top stories and blog posts emailed to you each day.