You are here
US forces set up base in Syria's Manbij after Turkish threats — local official
By Reuters - May 09,2018 - Last updated at May 09,2018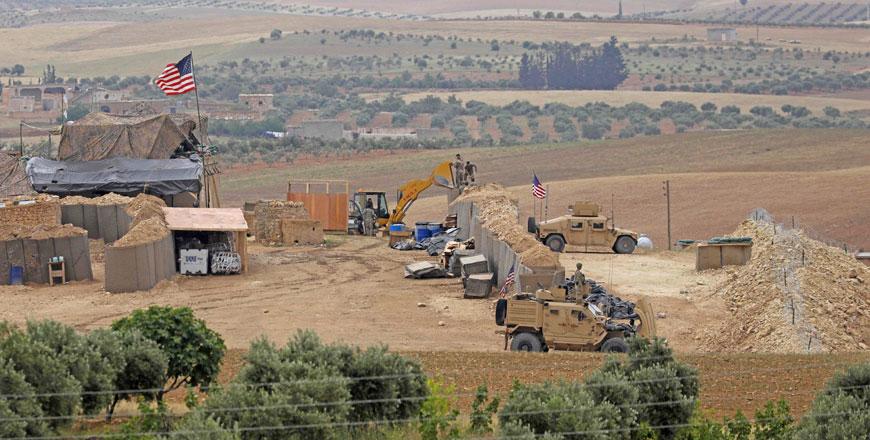 This photo taken on Tuesday shows vehicles and structures of the US-backed coalition forces in the northern Syrian town of Manbij (AFP photo)
MANBIJ, Syria — US forces set up a new base in Manbij in northern Syria some three months ago after Turkish threats to march on the town, a US-backed militia official there said on Wednesday.
Turkish President Recep Tayyip Erdogan has repeatedly threatened to send troops to Manbij after they expelled the Syrian Kurdish YPG militia from the Afrin region, further to the west, in March.
Ankara regards the YPG as an extension of the outlawed Kurdish PKK, which has waged an insurgency inside Turkey for decades. Turkey has been furious with the United States, its NATO ally, for supporting the YPG in Syria.
The new garrison, where a Reuters photographer took pictures this week, also houses French troops, said Sharfan Darwish, spokesman for the Manbij Military Council of the US-backed Syrian Democratic Forces (SDF), which is spearheaded by the YPG.
US and French forces patrol the front between the SDF and Turkey-backed insurgents, and the base was established shortly after Turkey launched its assault on the Afrin region, Darwish said.
"After the Turkish attack on Afrin and the increase in Turkish threats towards Manbij, coalition forces built the base to monitor and protect the border [between the combatants]," Darwish said.
The US-led coalition, which fights Daesh militants in Syria alongside the SDF, declined to comment on Darwish's remarks.
Ankara mounted its offensive in January against the YPG militia in Afrin, seizing the town in March.
The United States provided no support to the YPG fighters in Afrin and said it had no presence there. But it has forces and bases in the much larger swathe of territory they control further east, stretching towards Iraq.
Related Articles
Jan 23,2018
ANKARA/BEIRUT — Turkey seeks to avoid any clash with US, Russian or Syrian forces but will take any steps needed for its security, a Turkish
Apr 04,2018
MANBIJ, Syria — On the outskirts of Syria's Manbij, Kurdish-led fighters have dug trenches and US-led coalition soldiers patrol from land an
Jun 07,2016
BEIRUT/BAGHDAD — US-backed Syrian fighters have surrounded the Daesh-held city of Manbij from three sides as they press a major new offensiv
Newsletter
Get top stories and blog posts emailed to you each day.