You are here
UN urges Saudi-led coalition to speed Yemen imports, avoid starvation
By Reuters - May 26,2018 - Last updated at May 26,2018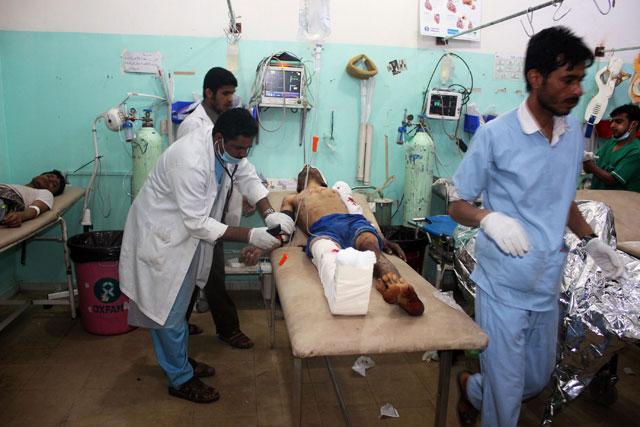 Yemeni doctors treat a man wounded in reported air raids by the Saudi-led coalition that hit a bedouin tent in Rahal, in the Houthis' northern heartland of Saada province, on Friday (AFP photo)
GENEVA — The United Nations aid chief urged the Saudi-led military coalition that controls Yemen's ports to expedite imports of food and fuel supplies, warning that a further 10 million Yemenis could face starvation by year-end.
Yemen is the world's worst humanitarian crisis, according to the United Nations, with some 8.4 million people severely short of food and at risk of starvation.
For the past three years, the Yemeni government backed by Riyadh's coalition which is armed and supported by the United States and Britain has battled Houthi fighters aligned to Iran.
"I am particularly concerned about the recent decline of commercial food imports through the Red Sea ports," Mark Lowcock, UN emergency relief coordinator, said in a statement read out to a Geneva briefing on Friday.
For several weeks at the end of last year, the Saudi coalition imposed a blockade on Yemeni ports which it said was to prevent Houthis from importing weapons. This had a severe impact on Yemen, which traditionally imports 90 per cent of its food.
Under international pressure the coalition lifted the blockade, but tightened ship inspections.
Lowcock said commercial food and fuel imports remained "well short of pre-blockade averages".
"If conditions do not improve, a further 10 million people will fall into this category by the end of the year," he said.
Yemen is one of world's poorest countries and the United Nations says more than 22 million people need humanitarian assistance out of a population of around 25 million.
Confidence among commercial shippers has eroded due to delays, "including as a result of inspections undertaken by the Saudi-led coalition after these vessels have been cleared by UNVIM", Lowcock said, referring to a UN verification system.
In a bid to speed up the delivery of aid to Yemen, the United Nations said last month it was beefing up its own inspections of ships.
"I call on the government of Yemen, with the support of the coalition, to take active steps to boost commercial imports of food, fuel and humanitarian supplies through all Yemen's ports," Lowcock said.
Houthi forces have also increased restrictions on the work of aid agencies in the northern areas they control, and it has become more difficult to reach civilians along the western coast and in the city of Taiz, he said.
Lowcock, referring to violations by Houthis in northern areas, said: "Humanitarian staff are being detained and intimidated and visas are being delayed and denied. Programmes and missions are being interfered with in ways which contradict humanitarian principles."
The Saudi-led coalition is carrying out air strikes in Yemen in support of restoring the internationally-recognised government. Houthi forces have launched missiles into Saudi Arabia and the United States voiced alarm on Friday that a Houthi missile struck a Turkish vessel carrying wheat to Yemen this month.
Some 10,000 people have been killed in the war, which has triggered a major cholera outbreak that threatens to re-emerge with the ongoing rainy season.
Key supplies, including some needed to combat the deadly water-borne disease, remain on the prohibited list of imports, Lowcock said.
Related Articles
Dec 27,2017
PARIS — French President Emmanuel Macron has urged Saudi Arabia's King Salman to "lift entirely the blockade" against Yemen so that humanita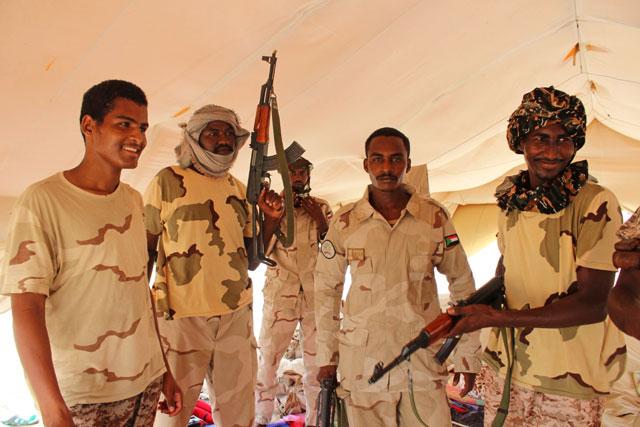 Jun 05,2018
ADEN, Yemen — The UN Yemen mediator is in talks with the Houthi movement to hand over control of Hodeidah Port to the United Nations in an a
Mar 02,2016
UNITED NATIONS — A World Food Programme (WFP) ship carrying humanitarian aid offloaded its cargo in Yemen on Wednesday, the United Nations s
Newsletter
Get top stories and blog posts emailed to you each day.