You are here
UK foreign minister urges Arab states to end Qatar boycott
By AFP - Jul 09,2017 - Last updated at Jul 09,2017
KUWAIT CITY — British Foreign Minister Boris Johnson on Saturday urged Arab states to end their Qatar boycott, downplaying the odds of a military escalation in the worst crisis to grip the Gulf in years.
Johnson met with his Kuwaiti counterpart Sheikh Sabah Khaled Al Sabah on Saturday and was scheduled to visit Qatar later in the day.
"What people need to see is de-escalation and progress towards tackling the funding of terrorism in the region, and progress towards an end to this blockade," Johnson said, voicing support for Kuwait as a mediator in the crisis.
Johnson, who also held talks in Saudi Arabia on Friday, said it was "highly unlikely" that the current standoff would descend into military conflict.
"Everybody I have talked to said the opposite. No possibility of a military confrontation," he said.
"The blockade is unwelcome and we hope there will be a de-escalation," he added.
Saudi Arabia, the United Arab Emirates, Egypt and Bahrain last month announced the severing of all diplomatic ties with Qatar over allegations the emirate bankrolled extremists and had close ties to Saudi's archrival Iran.
On June 22, they issued a 13-point list of demands, including downgrading ties with Iran and shutting down broadcaster Al Jazeera, as a prerequisite to lift the sanctions, which include the closure of Qatar's only land border and suspension of all flights to and from the country.
Doha has refused to comply with the demands and denies accusations of ties to extremist groups.
Kuwait has been leading mediation efforts to resolve the crisis that is threatening the existence of the 36-year-old Gulf Cooperation Council.
Kuwaiti officials have held talks with the foreign ministers of Germany and fellow Gulf Cooperation Council member Oman, which has not joined the Qatar boycott.
US Secretary of State Rex Tillerson is scheduled to arrive in Kuwait on Monday for talks on the Gulf crisis.
Related Articles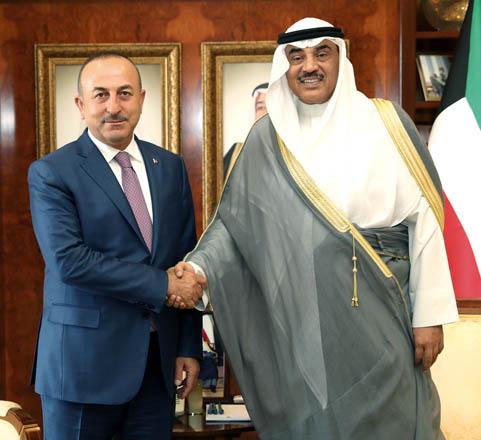 Jun 16,2017
KUWAIT CITY — Turkish Foreign Minister Mevlut Cavusoglu on Thursday held talks in Kuwait to push mediation efforts aimed at resolving a stan
Jul 16,2017
KUWAIT CITY — French Foreign Minister Jean-Yves Le Drian held talks with top officials in Kuwait on Sunday in a bid to bolster the emi
Oct 24,2017
KUWAIT CITY — Kuwait, the main mediator in a near-five- month political crisis between Qatar and its Gulf rivals led by Saudi Arabia, warned
Newsletter
Get top stories and blog posts emailed to you each day.