You are here
Two killed on Gaza-Egypt border in confrontation between Hamas, militants
Hamas says it tries to stop gunmen crossing Gaza-Egypt border
By Reuters - Aug 17,2017 - Last updated at Aug 17,2017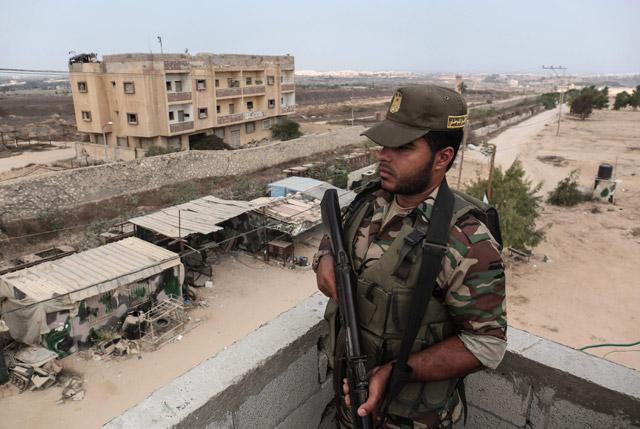 A member of Palestinian security forces loyal to Hamas patrols the southern Gaza Strip town of Rafah near the border with Egypt on Thursday (AFP photo)
GAZA — An Islamist killed a Hamas security official on the Gaza Strip's border with Egypt on Thursday in what was described as the first suicide bombing against Hamas.
Hamas, which runs Gaza and has an uneasy truce with Israel, has stepped up patrols on the frontier aiming to prevent hardline extremists moving to and from the Sinai peninsula, where Daesh insurgents have battled Egyptian troops for years.
Hamas has also worked to prevent extremists from breaching the truce that ended its 2014 war with Israel, Gaza's other neighbour.
"A security force stopped two persons who approached the border. One of them blew himself up and was killed. The other was wounded," the Hamas-run interior ministry said in a statement.
It said several Hamas security officials were hurt, and hospital officials told reporters that one of them died of his wounds.
An extremist group claimed the men who clashed with Hamas as its members, saying they tried to reach Sinai so as to attack Israel from there. Israel and Egypt have been cooperating in Cairo's crackdown on the Daesh terror group in Sinai.
"The brothers didn't find a place to breathe in Gaza, so they headed towards the Sinai front to take part in the fight against the Jews and those who protect them there," said a statement posted on a pro-Salafi website, Ibn Taymia Media Centre.
Hamas has been pursuing improved relations with Egypt, which keeps its border crossing with Gaza largely shut. Cairo has accused the group in the past of aiding Sinai militants. Hamas has denied those allegations.
Gaza's Salafis are proponents of global holy war endorsed by the Daesh terror group and Al Qaeda.
Hamas, which has carried out suicide bombings in Israel in the past, seized control of the Gaza Strip in 2007 from forces loyal to Western-backed Palestinian President Mahmoud Abbas. It has shown little tolerance for Salafi movements, detaining many of their members and raiding homes in searches for weapons.
In a statement, Hamas' armed wing said it would "not hesitate to defend our people, our land and to protect the project of resistance against all threats".
Related Articles
Feb 04,2015
Egyptian troops fired warning shots over the frontier into Gaza on Tuesday after a bomb exploded on Gaza territory near an Egyptian army convoy, Egyptian security sources said, blaming Islamist group Hamas, which denied the charge.
Jul 09,2015
BEIT HANOUN — Ali Wahdan, a maths teacher from Gaza, lost his wife, 11 members of his family and a leg to Israeli bombardment of the t
Feb 05,2015
In a statement read by a masked gunman, 10 armed Palestinian factions jointly condemned on Thursday an Egyptian decision to list the military wing of the Islamist group Hamas as a terrorist organisation.
Newsletter
Get top stories and blog posts emailed to you each day.