You are here
Turkey opposition candidate visits jailed Kurdish leader
UN says upcoming elections will not be credible under post-coup emergency measures
May 09,2018 - Last updated at May 09,2018
ISTANBUL, Turkey — The candidate of Turkey's main opposition in presidential polls visited on Wednesday the jailed ex-leader of the pro-Kurdish party, in a symbolic move aimed at warming ties between rivals of President Recep Tayyip Erdogan.
Republican People's Party (CHP) presidential candidate Muharrem Ince met with the Peoples' Democratic Party's (HDP) charismatic former leader Selahattin Demirtas, who is also standing for the presidency in the June 24 elections, the HDP said.
The meeting took place at the prison in the Edirne region of northwest Turkey where Demirtas is being held.
The HDP named Demirtas as its presidential candidate even though he is currently behind bars and standing trial in several cases on charges including links to a terror group.
Turkish media reports said the visit took place under tight security, with Ince walking into the prison without making any statement.
The CHP sees itself as the guardian of Turkey's secular and national traditions, and has not always had easy relations with the HDP. The visit marked the first time a senior CHP figure had met Demirtas in prison.
Demirtas hailed the visit as "important and meaningful", in a written message published by the HDP after the talks.
"Mr Ince's visit is an example of humanitarian solidarity showing a political courtesy rather than a political message to our voters," Demirtas said.
Demirtas said the visit highlighted "injustices" engulfing both his party — several of whose MPs are in jail for alleged links to Kurdish militants — and also the country which is currently ruled under state of emergency laws since the 2016 failed coup.
"Me and my fellow colleagues are being held as political hostages but unfortunately the outside is not much different from a semi open-prison," he said.
But he hoped despite the "unfair race" — where all the state's resources would be mobilised for Erdogan — the elections would open the way for democracy, freedom and peace.
The visit is part of Ince's drive to meet with all presidential candidates ahead of the elections. He already met with Iyi (Good) Party leader Meral Aksener and Felicity Party leader Temel Karamollaoglu.
Ince said he would meet with Erdogan later on Wednesday at the ruling Justice and Development Party (AKP) headquarters in Ankara, in another unusual encounter given the fractious relationship between the two parties.
Also on Wednesday, the United Nations humans rights chief said that Turkey's upcoming presidential elections will not be credible unless the country lifts restrictive emergency measures imposed following the 2016 coup.
"Over the past two years, through successive states of emergency, the space for dissent in Turkey has shrunk considerably," prince Zeid Raad said in a statement, noting a crackdown on media criticism and freedom of assembly.
"It is difficult to imagine how credible elections can be held in an environment where dissenting views and challenges to the ruling party are penalised so severely," prince Zeid added.
The state of emergency was introduced in Turkey five days after the attempted putsch on July 15, 2016.
More than 1,300 associations and foundations have been shut down under the measures.
In addition, more than 140,000 public sector employees have been sacked or suspended including judges over alleged links to putschists or Kurdish militants.
Meanwhile, some 50,000 people have been taken into custody on terror charges.
Related Articles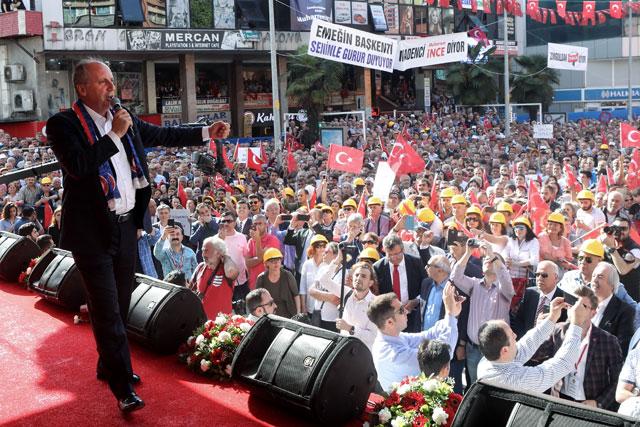 May 23,2018
CORUM, Turkey — Turkey's opposition is fielding a leftist candidate known for impassioned speeches and even anti-American rhetoric in a bid
May 03,2018
ANKARA, Turkey — Turkey's main pro-Kurdish party on Wednesday said its charismatic former leader Selahattin Demirtas would challenge Preside
Jun 24,2018
ANKARA — Recep Tayyip Erdogan and his AK Party were heading for victory in Turkey's presidential and parliamentary elections late on Sunday,
Newsletter
Get top stories and blog posts emailed to you each day.