You are here
Turkey makes more arrests in hunt for Istanbul attacker
By AFP - Jan 03,2017 - Last updated at Jan 03,2017
ISTANBUL — Turkish authorities on Tuesday intensified efforts to identify a suspected extremist from Central Asia behind the massacre of 39 people at an Istanbul nightclub who had reportedly fought in Syria for the Daesh terror group.
Police released pictures of the suspect who went on the rampage at the plush Reina nightclub on New Year's night, spraying about 120 bullets at terrified partygoers before slipping away into the night.
So far, 16 people are being held over the attack, including two foreigners detained by Turkish police at Istanbul's main airport.
But the killer remains on the run.
There was frenzied speculation surrounding a 28-year-old Kyrgyz man with a strong facial resemblance to the attacker but he was allowed to fly back home by the Turkish authorities and later released after questioning in Kyrgyzstan.
Of the 39 dead, 27 were foreigners, mainly from Arab countries, and emotional funerals were held for some of the victims on Tuesday.
'Wandering dangerously'
Daesh on Monday claimed the massacre, the first time it has clearly stated being behind a major attack in Turkey.
The suspect — who has not been named but reportedly may be from Kyrgyzstan or Uzbekistan — was staying in a rented flat in Konya before moving to Istanbul to carry out the attack, press reports said.
The Dogan news agency said those detained included a woman suspected of being his wife with whom he had stayed in Konya along with two children.
It quoted his wife as saying in a statement to police she only found out about the attack from the news.
Reports said police have made progress in the investigation after speaking to the taxi driver who drove the attacker to the club, and tracing calls he had made on the driver's mobile phone.
The Hurriyet daily said the attacker showed signs of being well-trained in the use of arms and had fought in Syria for Daesh militants.
Hurriyet's well-connected columnist Abdulkadir Selvi said the suspect had been trained in street fighting in residential areas in Syria and used these techniques in the attack, shooting from the hip rather than as a sniper.
Just 28 bullets failed to hit a target and the gunman disoriented revellers at the club by using stun grenades when he changed a magazine.
"This specially-trained terrorist has still not been detained and is still wandering dangerously amongst us," Selvi wrote.
He said a Daesh strike was also planned in Ankara on New Year's eve but that it had been prevented after eight Daesh suspects were arrested in the capital.
Together with a unexpected jump in inflation, anxiety over the attack pushed the Turkish lira to a new historic low of 3.6 to the US dollar.
'Hard to understand'
Near the entrance to the nightclub on the shores of the Bosphorus, an impromptu shrine was set up with pictures of the dead where well-wishers have been piling up flowers.
"The attacker arrived at the door and opened fire towards me," club manager Ali Unal told AFP.
"My foot slipped and I fell down, the gunshots didn't stop."
Police meanwhile released the first clear images of the attacker, including one taken by security cameras on the night of the attack.
And a chilling video of the suspect taken near Taksim Square in central Istanbul was also released, showing him recording himself with a selfie stick and smiling faintly into the camera.
It was not immediately clear how the footage had been obtained.
In a statement circulated on social media, Daesh said one of its "soldiers" had carried out the carnage, accusing Turkey — a majority-Muslim country — of being a servant of Christians and saying the shooting was a response to Ankara's military action against extremists in Syria.
The shooting took place just 75 minutes into 2017 after a bloody year in Turkey in which hundreds of people were killed in violence blamed on both Daesh terrorists and Kurdish militants.
The foreigners who died — most of them from Arab countries and including Muslims — had come to the club to celebrate a special night in style.
They included three Lebanese nationals, two Jordanians and three Iraqis, as well as several Saudis.
"Terrorism has no religion, it targets us all, it targets people who love life," Lebanese Prime Minister Saad Hariri said at Beirut airport as he received the bodies.
Arab Israeli Lian Nasser, who was laid to rest on Tuesday, was the youngest victim at 18 and on her first trip away from her family.
"She was kind, loveable and clever," her uncle Rani told AFP at the funeral in her small predominantly Muslim hometown of Tira north of Tel Aviv. "It's so hard to understand."
Related Articles
Jan 04,2017
ISTANBUL — Turkey has identified the gunman in the Istanbul nightclub massacre, the foreign minister said on Wednesday, as the president vow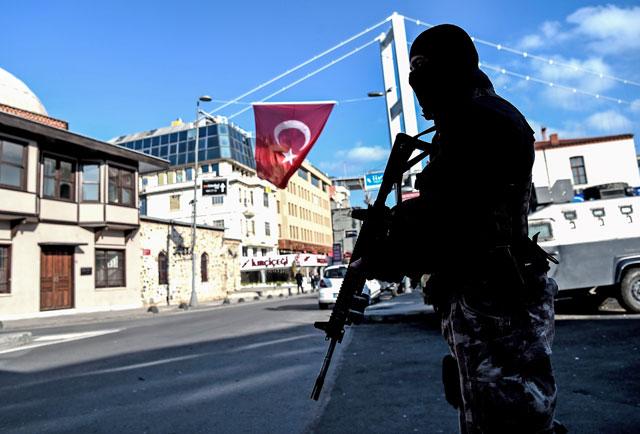 Jan 08,2017
ISTANBUL () — The attacker who shot dead 39 people on New Year's night at an Istanbul nightclub has been identified as an Uzbek extermist wh
Jan 17,2017
ISTANBUL — A 34-year-old Uzbek man suspected of slaughtering 39 people at an Istanbul nightclub on New Year's Eve confessed to the massacre
Newsletter
Get top stories and blog posts emailed to you each day.