You are here
Turkey hits Syrian Kurd group again
Ankara views Syria's YPG and PYD as terror groups
By AFP - Oct 22,2016 - Last updated at Oct 22,2016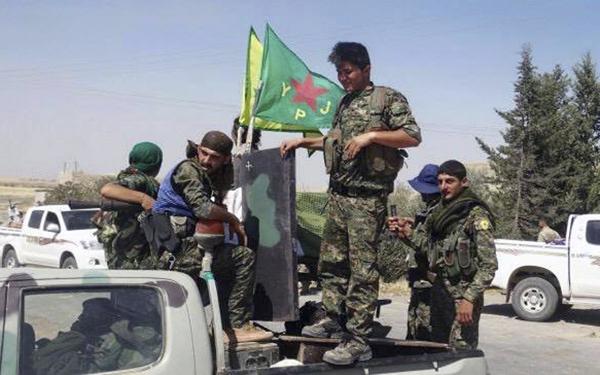 In this file photo released on June 23, 2015, provided by the Kurdish fighters of the People's Protection Units, which has been authenticated based on its contents and other AP reporting, Kurdish fighters of the YPG, sit on their pickup in the town of Ein Eissa, north of Raqqa city, Syria (AP photo)
ANKARA — Turkey hit Kurdish militia targets in northern Syria for the second time in less than 72 hours, the military said on Saturday, as Ankara vowed further action.
Rockets struck 70 People's Protection Units (YPG) targets on Friday, the Turkish armed forces said in a statement that did not reveal whether any militia fighters had been killed.
The strikes came after two Ankara-backed Syrian opposition fighters were injured when YPG forces opened fire south of the flashpoint town of Jarabulus, the military said, quoted in the official Anadolu news agency.
Turkey views Syria's YPG and Kurdish Democratic Union Party (PYD) as terror groups linked to the outlawed Kurdistan Workers' Party (PKK), staging an insurgency in Turkey since 1984.
Turkish Foreign Minister Mevlut Cavusoglu threatened further action against the YPG and PYD, saying that if they "continued to attack [Syrian opposition fighters] fighting against Daesh".
Quoted by Anadolu, the minister again accused the YPG of seeking to create its own larger "canton" rather than focusing on the fight against the Daesh terror group, pointing to "attacks on moderate opposition" as evidence of this.
The PKK is proscribed as a terrorist organisation by the United States and European Union.
Late Wednesday, Turkish jets struck YPG positions and the armed forces claimed they killed up to 200 fighters from the group, but the Syrian Observatory for Human Rights put the toll lower.
The monitor said at least 11 fighters from the Syrian Democratic Forces — a US-backed alliance of about 30,000 Kurdish and Arab fighters — were killed and 24 wounded.
Turkey has clashed with the United States over the YPG, with the Americans' support to the Syrian Kurdish militia causing friction between the two NATO allies.
Despite Ankara's protests, Washington believes the YPG is the most effective fighting force against Daesh in Syria.
'Terror-free zone'
Turkey's Prime Minister Binali Yildirim said on Friday the US was making a mistake supporting the Syrian Kurdish fighters.
"Unfortunately their use by the United States against Daesh and being supplied with arms is a big mistake. We have made it clear to them," he said.
On August 24 Ankara launched an operation in northern Syria to remove Daesh from its border and stop the YPG's westward advance.
Turkey has sent dozens of tanks and hundreds of troops into Syria to support rebels seeking President Bashar Assad's ouster, and the army says 1,265 square kilometres have been secured since August.
President Recep Tayyip Erdogan said Saturday that Turkish-backed rebels would next advance on Al-Bab after having recaptured from Daesh Jarabulus and Al Rai in the early days of the operation.
"We have to prepare a terror-free zone," he said during a televised speech from Bursa, northwestern Turkey.
He reiterated Turkey's position that it would not work with the YPG in any US-led coalition operation to expel Daesh from its de facto capital, Raqqa.
Last Sunday, Ankara-backed rebels seized the emblematic northern town of Dabiq from the extremist group, having already taken Al Rai as well.
Erdogan again voiced his opposition to the creation of a "terror corridor" — referring to the joining of the Kurdish "cantons" of Afrin and Kobane.
Separately the Turkish military said it hit 52 Daesh targets in northern Syria, while the Dogan news agency said seven Ankara-backed rebels were killed in clashes with the extremist group.
Related Articles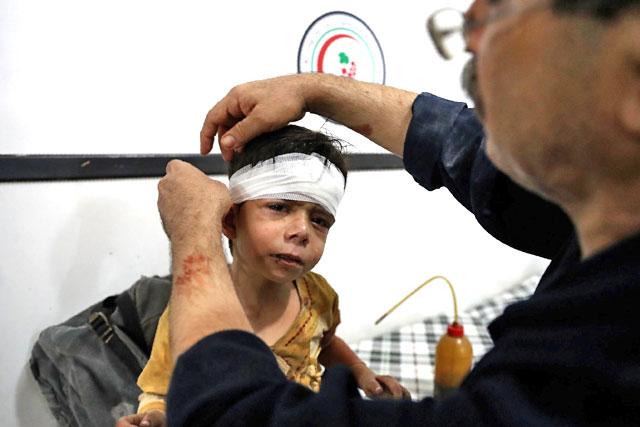 Aug 24,2016
ISTANBUL — Turkey on Tuesday vowed to give full support to moves to free a key Syrian border town from the control of Daesh extremists as ex
Nov 25,2016
ANKARA — The Turkish army blamed the Syrian regime for an air strike Thursday in northern Syria that killed three soldiers — the first time
Aug 24,2016
KARKAMIS, Turkey — Turkish tanks and hundreds of opposition fighters thrust deep inside Syrian territory on Wednesday in a lightning operati
Newsletter
Get top stories and blog posts emailed to you each day.