You are here
Tunisians mourn protester as tensions mount
By AFP - May 24,2017 - Last updated at May 24,2017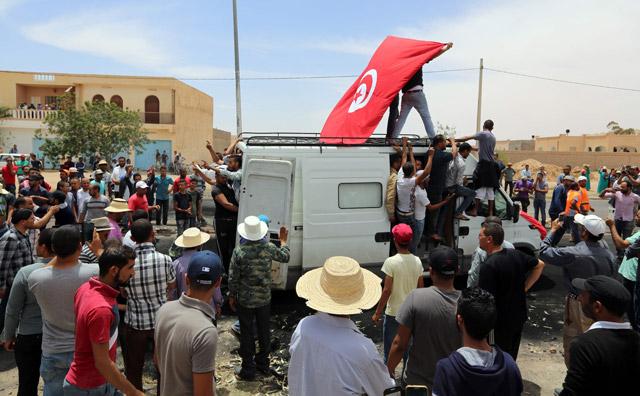 Tunisians mourn at the funeral of protester Anouar Sakrafi, in his hometown of Bir Lahmar in the southern Tunisian province of Tatatouine, on Tuesday (AFP photo)
BIR LAHMER, Tunisia — Thousands attended the funeral Tuesday of a protester killed during clashes in southern Tunisia as officials warned tensions could escalate amid demonstrations over social and labour issues.
Anouar Sakrafi, in his early 20s, died of wounds sustained on Monday when he was run over by a national guard vehicle during clashes with security forces at an oil and gas plant, the scene of long-running protests over joblessness.
Security forces fired tear gas as protesters tried to storm the El Kamour facility in the desert region of Tataouine, 500 kilometres south of Tunis, local radio said.
The interior and health ministries said Sakrafi's killing was an accident.
An AFP correspondent on Tuesday saw a stream of vehicles heading for his funeral in his home town of Bir Lahmer, 30 kilometres from the city of Tataouine.
"With our souls, with our blood, we sacrifice ourselves for you, martyr!" thousands of people chanted before the funeral, which passed off peacefully.
Protesters have been camping outside the El Kamour pumping plant for around a month, blocking trucks from entering, to demand a share of resources and employment in the sector.
Calm prevailed on Tuesday at the El Kamour plant.
In the city of Tataouine, also the scene of clashes on Monday, stones and tyres littered the streets and buildings showed evidence of being set alight.
Most of the city's shops were closed and police stations were deserted.
Six years since the uprising that toppled veteran dictator Zine El Abidine Ben Ali, Tunisia is facing renewed protests over joblessness and perceived marginalisation of the country's periphery.
'We won't give up!'
National guard spokesman Khalifa Chibani warned on Tuesday of further escalation.
"There is incitement on social media... calls for civil disobedience... and even a coup d'etat," he told local radio Mosaique FM.
In a special sitting of Tunisia's parliament, Assembly President Mohamed Ennaceur said Tunisia was "passing through a delicate phase".
Tataouine residents have long demanded more jobs and a bigger share of the revenues from oil extraction in the region.
Last month protestors there booed Prime Minister Youssef Chahed off stage during a heated town hall meeting.
On Monday the health ministry said 50 people were hospitalised after suffering from broken bones or the effects of tear gas during the clashes in both El Kamour and Tataouine.
Authorities said around 20 members of the security forces were wounded.
Two protests were held in the capital, with demonstrators echoing the rallying cry of Tataouine residents and chanting: "We won't give up!"
Mosaique FM said fighting also broke out overnight during a rally in Kebili, 230 kilometres northwest of Tataouine, in support of the El Kamour protesters.
A hundred or so people also demonstrated on Tuesday morning in the central town of Gafsa, an AFP reporter said.
'Democratic regime'
President Beji Caid Essebsi vowed earlier this month to deploy the army to protect key economic installations from disruption by protests.
But a group set up to coordinate protests across Tunisia blamed Essebsi for Sakrafi's killing.
"The head of state is responsible for this death, for what happened in Tataouine and in other regions, especially after his speech" on deploying the army, said the National Coordination of Social Movements.
The latest unrest came as parliament debates a controversial bill that would allow officials facing prosecution for alleged corruption to be amnestied in exchange for paying back embezzled funds.
The bill, backed by Essebsi, has prompted a backlash from civil society groups which say it would "whitewash the corrupt".
Government spokesman Iyed Dahmani insisted on Tuesday that Tunisia was a "democratic regime".
"In all democracies, there is no other solution: apply the law and dialogue with the protesters," he told Shems FM radio.
But La Presse newspaper warned that "the anger of the protesters [could] snowball".
It said the government must tackle the issue, which "makes Tunisians feel that nothing has changed since January 14, 2011" — the day Ben Ali fled the country he had dominated for more than two decades.
"Otherwise, the worst is to be feared."
Related Articles
May 23,2017
TATAOUINE, Tunisia — A young protester was killed on Monday after a national guard vehicle "accidentally" ran him over in south Tunisia, rai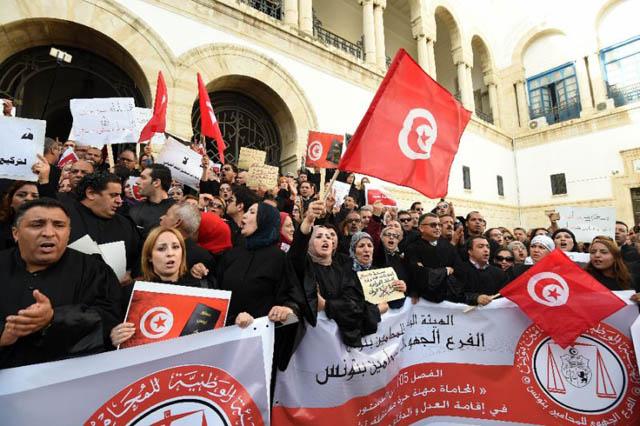 May 08,2017
TUNIS — Protests over jobs and development in southern and central Tunisia have halted production or shut fields of two foreign energy
Jan 10,2018
TUNIS — More than 200 people have been arrested and dozens hurt during clashes in several parts of Tunisia, the interior ministry said Wedne
Newsletter
Get top stories and blog posts emailed to you each day.