You are here
Tunisia democratic transition 'blocked' — electoral chief
By AFP - Jan 10,2017 - Last updated at Jan 10,2017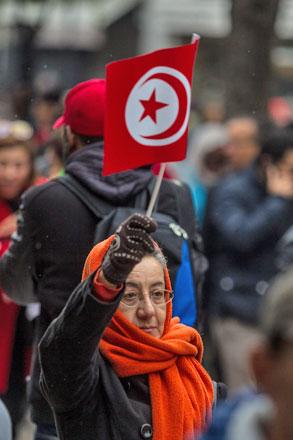 A woman holds a flag during a demonstration against terrorism and those involved in such activities at the Habib Bourguiba street in Tunis, Tunisia, on Sunday. Hundreds of Tunisians march against those returning to the country who were involved in terror activities in crisis and war zones (Anadolu photo)
TUNIS — Tunisia's transition to democracy after its 2011 revolution has hit a roadblock, the electoral commission chief said Tuesday, criticising a delay in holding the first local elections since the uprising.
"Tunisia stood out... through its partially succesful transition and it is unacceptable that this march towards democracy be cut short," Chafik Sarsar told La Presse newspaper.
"Everything is blocked... We have missed a date with history," he said.
Tunisia, whose 2011 uprising inspired similar revolts across other Arab countries, has been touted as a regional example of a successful transition to democracy after a revolution.
Sarsar criticised parliament's delay in adopting an electoral law necessary to hold the country's first municipal and regional polls since the revolt that toppled longtime dictator Zine El Abidine Ben Ali.
He said the electoral commission needed "eight months from the publication of the law" to organise the polls.
If the elections are held in 2018, they will be immediately followed by the 2019 presidential elections, he said, warning holding these so close together risked "tiring out" the electorate.
Tunisia passed a new constitution in 2014 and held free parliamentary and presidential elections the same year.
But authorities have struggled to redress Tunisia's economy and solve youth unemployment — particularly among new graduates — since the 2011 revolt.
On Tuesday morning some 40 unemployed graduates broke in to local government offices in the town of Sidi Bouzid in central Tunisia, which was the cradle of the 2011 uprising, an AFP correspondent said.
They had travelled from the town of Meknassi some 50 kilometres away to demand authorities provide them with jobs.
Security forces arrested about 10 protesters before calm returned to the town by midday.
In January last year, authorities imposed a nationwide nighttime curfew after Tunisia witnessed some of its worst social unrest since the 2011 uprising.
Anger erupted after the death of a 28-year-old unemployed man who was electrocuted when he climbed a power pole while protesting in the central town of Kasserine, also in the country's centre.
That unrest had echoes of the public anger after the death of a young fruit seller who set himself on fire in Sidi Bouzid in December 2010 in protest at unemployment and police harassment.
Related Articles
May 03,2014
Tunisia's next presidential and parliamentary elections will probably be held in the second half of November, the election agency chief said on Saturday, about polls that will mark the country's final step towards full democracy.
Dec 17,2015
SIDI BOUZID, Tunisia — Tunisia marked five years Thursday since the start of its revolution, with the prime minister vowing no return to "ty
Jun 16,2014
Tunisia's election authority has proposed a parliamentary vote on October 26 and the first round of presidential polls a month later, marking the final step towards full democracy in the cradle of the 2011 Arab Spring uprisings.
Newsletter
Get top stories and blog posts emailed to you each day.