You are here
Trump tells Middle East to 'drive out' extremists
By Reuters - May 21,2017 - Last updated at May 21,2017
US President Donald Trump, flanked by Ivanka Trump and White House senior adviser Jared Kushner, delivers remarks to the Arab Islamic American summit in Riyadh, Saudi Arabia, on Sunday (Reuters photo)
RIYADH — US President Donald Trump called on Arab leaders to do their fair share to "drive out" terrorism from their countries on Sunday in a speech that put the burden on the region to combat militant groups.
Trump, who generated controversy with his push to ban many Muslims from entering the United States, described the fight against terrorism as a battle between good and evil rather than a clash of civilizations.
"America is prepared to stand with you in pursuit of shared interests and common security. But nations of the Middle East cannot wait for American power to crush this enemy for them," Trump told leaders of 55 Muslim majority countries representing more than a billion people.
"The nations of the Middle East will have to decide what kind of future they want for themselves, for their countries and frankly for their families and for their children," he said.
"It's a choice between two futures and its a choice America cannot make for you. A better future is only possible if your nations drive out the terrorists and drive out the extremists.
"Drive them out! Drive them out of your places of worship. Drive them out of your communities. Drive them out of your holy land and drive them out of this earth," he said.
Trump's "America first" philosophy helped him win the 2016 election and has rattled allies who depend on US support for their defense. The president, who is struggling to contain a brewing political scandal at home, made clear in his address that Washington would partner with the Middle East but expected more action in return.
"Terrorism has spread across the world. But the path to peace begins right here, on this ancient soil, in this sacred land," he said in Saudi Arabia, the first stop on a nine-day tour that includes Israel, Italy and Belgium.
The speech in a gilded hall bedecked with chandeliers is part of an effort to redefine his relationship with the Muslim world after Trump frequently attacked Muslims on the campaign trail last year and tried to ban many from entering the United States.
Trump received a warm welcome from Arab leaders, who set aside his campaign rhetoric about Muslims and focused on his desire to crack down on Iran's influence in the region.
As a candidate, Trump proposed temporarily banning Muslims from entering the United States. In office he ordered temporary bans on people from certain Muslim-majority countries, which have been blocked by courts that ruled they were discriminatory.
Introducing Trump, Saudi King Salman described their mutual foe Iran as the source of terrorism they must confront together.
"Our responsibility before God and our people and the whole world is to stand united to fight the forces of evil and extremism wherever they are... The Iranian regime represents the tip of the spear of global terrorism."
The United States and Gulf Arab countries announced agreement to coordinate efforts against the financing of terrorist groups.
Related Articles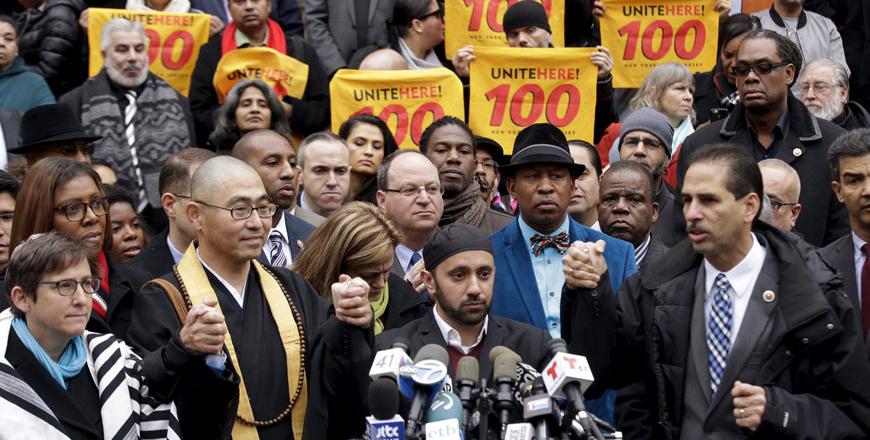 Dec 09,2015
WASHINGTON — A growing global backlash against Republican presidential front-runner Donald Trump's proposal to ban Muslims from entering the
May 27,2017
TAORMINA, Italy — G-7 leaders on Saturday wrapped up their annual summit with an unprecedented display of division over climate change as US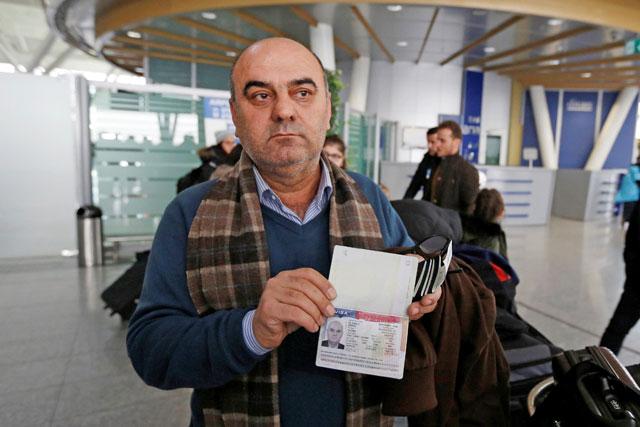 Jan 29,2017
BAGHDAD/CAIRO — A global backlash against US President Donald Trump's immigration curbs gathered strength on Sunday as several countries inc
Newsletter
Get top stories and blog posts emailed to you each day.