You are here
Top UK anti-terrorism officer says Syria-related arrests soar
By Reuters - Aug 26,2014 - Last updated at Aug 26,2014
LONDON — Britain's top counter-terrorism police officer said on Tuesday arrests linked to fighting in Syria had risen dramatically this year and that significant progress was being made to trace a British man suspected of murdering American journalist James Foley.
Launching an appeal to Muslim communities to help identify "aspiring terrorists", Mark Rowley, the National Policing Lead for Counter Terrorism, said Britain had been escalating its efforts to address rising terrorism problems relating to Syria.
"There is a lot at stake," Rowley said in a statement. "High priority operations, especially against those involved in attack planning or on the cusp have increased greatly."
A video released by Islamic State (IS) last week showing the beheading of Foley, apparently by a masked knifeman speaking English with a London accent stirred proposals for tough new laws to deal with British Islamist militants travelling to Iraq and Syria to join the jihadists.
"Every reasonable person in the country has been touched by the pitiless murder of James Foley at the hands of Islamic State terrorists, and the murderer's apparent British nationality has focused attention on extremism in the UK as well as the Middle East," he said in a statement.
"Investigators are making significant progress but we will not be giving a running commentary."
On Sunday, the British ambassador to the United States said Britain was close to identifying Foley's killer.
A number of possible identities have been suggested by British media although sources on both sides of the Atlantic have told Reuters that there was little likelihood of the British government naming the suspect imminently.
Foley's murder sparked another round of soul-searching in Britain which has wrestled with how to deal with Islamist militants at home since the September 11, 2001, Al Qaeda attacks on the United States.
Since then, four young Britons carried out suicide bombings in London which killed 52 people in July 2005 while the murder last year of an off-duty soldier on a London street by two British Muslim converts has exacerbated concerns.
The government estimates at least 500 Britons have travelled to Syria or Iraq, where IS has seized large swathes of territory, and has repeatedly warned that those who have gone posed a serious risk on their return.
Fivefold rise in arrest rate
Rowley said there had been 69 arrests this year for terrorism offences linked to Syria, from fundraising to travelling abroad for terrorist training, a fivefold rise in the arrest rate compared to last year.
"The growth of dangerous individuals poses challenges for policing, especially when nearly half of Syria travellers of concern were not known as terrorist risks previously," he said, adding that the biggest growth rates in police investigations were in London and central England.
"We are appealing to the public, family members and friends to help identify aspiring terrorists. They may be about to travel abroad, have just returned or be showing signs of becoming radicalised."
Home Secretary Theresa May said on Saturday the government was looking at new laws to try to prevent Britons going abroad to fight, while London Mayor Boris Johnson has called for those who travelled to Syria and Iraq without telling the authorities to be presumed to be terrorists.
However, the Quilliam Foundation, a counter-extremism think tank criticised the "knee-jerk" reaction of combining law and war to combat Islamist issues at home.
"Law and war each have their respective time and place and we have already seen implementations of arbitrary rendition, detention without trial, profiling, losing the right to silence at ports of entry and exit, and occupation of certain countries," it said.
"Britain has had no shortage of these measures during war times, yet our terrorism problem globally seems to have gotten worse."
Related Articles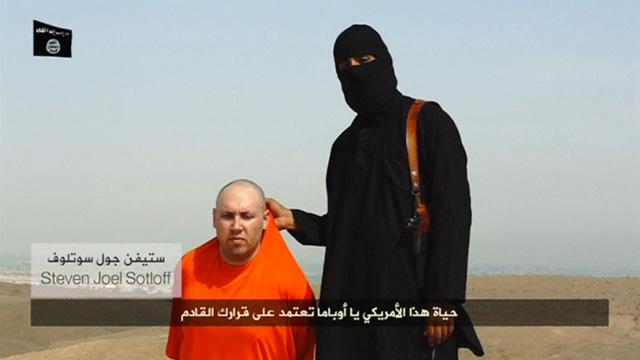 Aug 21,2014
A British Muslim leader called on Thursday for action to tackle a jihadi sub-culture after an Islamic State video showed a suspected Briton beheading US journalist James Foley held hostage in Syria.
Aug 20,2014
Friends, relatives and colleagues have paid tribute to American journalist James Foley, apparently executed by Islamic State jihadists, with his mother praising him for giving his life to expose the suffering of the Syrian people.
Aug 20,2014
US President Barack Obama said on Wednesday the beheading of American journalist James Foley by Islamic State militants "shocked the conscience of the entire world" and he vowed the United States would do what it must to protect its citizens.
Newsletter
Get top stories and blog posts emailed to you each day.